Dos Diablos Fine Mexican Food now open
September 9, 2009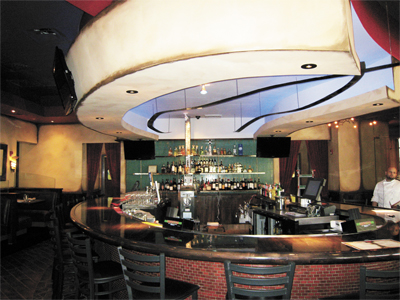 SCOTTSDALE – Three successful Valley businessmen are now first-time restaurateurs. They have joined forces with chef/consultant Matt McLinn to fill a gaping hole in north Scottsdale's dining line-up.
The result is Dos Diablos Fine Mexican Food, housed in the former Mancuso's, a warm, yet edgy dining and live entertainment experience.
Located in the upscale Summit Shopping Center in north Scottsdale, Dos Diablos is sure to be one of the Valley's dining and live music hot spots.
Under the direction of noted Valley chef/consultant Matt McLinn, the former owner of Méthode Bistro, and the inspiration of co-owners, David Stone, Patrick Melson and Carlton Cull, Dos Diablos offers comforting Southwestern dishes with a twist as well as time-honored favorites such as wood-oven pizzas, hickory grilled prime Angus steaks and fresh daily seafood specials. McLinn's take on Southwestern cuisine includes such dishes as the fresh guacamole with lime and pumpkin seeds for $12; the smoked chili beef roast in cazuela with vegetable skewer for $19; or the Diablos double cut pork chop "barbacoa" with watercress, almonds and vegetable skewer for $24.
"As someone who has enjoyed eating at some of the best restaurants in the United States, I want what every diner wants … quality, quantity and great service," said David Stone, co-owner Dos Diablos. "At Dos Diablos, quality, quantity and great service is our hallmark in a unique, eye-catching, entertaining environment."
Designed by DPA Architects, Dos Diablos features a custom crafted bar topped in alder, red velvet chairs and curtains and custom leather snake/croc embossed banquettes. Co-owners David Stone, Patrick Melson and Carlton Cull, while from disparate backgrounds, worked hand-in-hand to determine the focus and design of the restaurant. Each owner was in agreement that they wanted to create a memorable, unique restaurant environment where people of all ages were comfortable dining whether seated at the custom-designed bars, in their custom designed banquettes, in the private dining room or dining al fresco on the patio.
Dos Diablos Fine Mexican Food is located at 32527 N. Scottsdale Rd. in north Scottsdale. For more information, visit
www.dos-diablos.com
, call 480-575-6695 or fax your reservations to 480-488-7921.
Brandon Stanley performs a live concert at the
Cave Creek Coffee Company
September 9, 2009

Saturday, Sept. 19
7:30 p.m.
Cave Creek Coffee Company
6033 E. Cave Creek Road, Cave Creek
CAVE CREEK – Solo acoustic performer, Brandon Stanley performs a live concert at Cave Creek Coffee Company on Saturday, Sept. 19.

Stanley will debut songs from his new album titled, Big Old World, in addition to his hit single If I Fall ranking in the top 40 singles across America! According to Brandon Stanley, "the songs from my new album are an expression of my life, where I come from, who I was and who I have become. My music is my expression of the world through my eyes which encompasses the peaks and valleys of success, redemption, and beauty that is created when following your dreams."

With a distinct selection of in-house varietal coffee roasts and blends, Cave Creek Coffee Company also offers a wide selection of wine, beer, infused martini selections, and delicious food and desserts.

Doors open at 7 p.m. Tickets are $10 in advance online or $12 at the door.
For more information on the Brandon Stanley performance at Cave Creek Coffee Company please call 480-488-0603 or visit their website at www.cavecreekcoffee.com.