My View
By Don Sorchych | September 2, 2009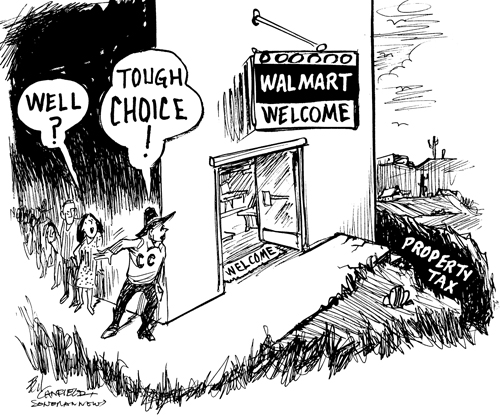 Walmart

On November 3rd, when Cave Creek voters decide whether to remain a town or renew its forward momentum, seems a long way off. So far there has been little public outcry about Walmart's plans to grace us with their presence.

We are told the PAC organizers, or should I say PAC signature collectors, have thrown ex-Councilwoman Grace Meeth and community organizer and snoop Anna Marsolo under the proverbial bus. Marsolo, like many critics of Walmart, does not live in Cave Creek.

I hear PRIZE PAC Chairman Dean Phillips has done the same thing about union overtures. It is surprising the SEIU or UFCW have not yet shown its ugly head since they have shadowed Walmart wherever they go.

And if unions get involved, it should not be forgotten they have local food businesses to protect, except for non-union and bankrupt Basha's. It is not only a battle of philosophy but survival at the local level as well.

Cave Creek consumers have no choice for grocery purchases other than Carefree, Scottsdale and Phoenix. Purchases at Walmart would result in a three percent sales tax paid to Cave Creek if voters allow them to locate on Cave Creek Road, inside the town limits.
However, we are in a situation that looks exactly like Home Depot did. Remember we, including me, were proud of telling Home Depot to take a hike.

The celebration was short as Home Depot moved down the road and spawned a huge shopping center that is still growing. We get the traffic and all the rest while Phoenix gets the tax dollars.

History has a habit of repeating itself and we have an identical choice to make.
Walmart executives visited with the ever-hungry, ever-expansive Phoenix. They were welcomed, of course. There is a property, for sale, in a small county island south of Walmart's chosen location in Cave Creek. It is exactly the right size at 20 acres.

If we do what we did with Home Depot we will get the same result. Walmart will take the 20 acres, annex into Phoenix, and the unsavory Phoenix Mayor Phil Gordon and District 2 Councilwoman Peggy Neely can again have a laugh at Cave Creek's expense, while their sales tax registers go "ka-ching."

Not again, please!

The issue is really simple and no rational person could argue the choice is difficult. Either Walmart or a property tax. A huge property tax in uncertain times.

But it is more than that. Walmart threatens no Cave Creek businesses, although it does threaten businesses in other towns and cities. Is that Cave Creek's problem or concern? Did Carefree ask our opinion about their developments? Did Phoenix? Did Scottsdale? Of course not.

I think Cave Creek residents deserve a place to buy food and about everything else one would need, one that would not trample on existing town core businesses.

Shari Jo and I went to my high school reunion in Illinois a few weeks ago. We stayed in a motel about ten miles from Depue, where I grew up. We could see a Walmart a few hundred yards away.

When I discovered I had left my medications at home I called Walgreen's to see how I could get them. They suggested another Walgreen store about an hour away. After they reluctantly agreed to send prescriptions to Walmart, the Walmart pharmacists worked for two days to fill the prescriptions.

We bought fresh food there and when rain was forecast for the next day, we found small packets of rain gear for less than $5. Shari Jo was able to find eye drops for an infected eye in their health and beauty section.

On the morning before driving to Peoria to catch our plane, we both bought books at Walmart to pass the time while we flew. The convenience was astonishing, the prices low and the quality high. No yellow page search, no driving from store to store.

How convenient to do one stop shopping a few minutes from anywhere in Cave Creek.

So far, the opponents of Walmart have chosen to neglect what I just said and demonize Walmart. They can't argue responsibly about Walmart's value to Cave Creek and choose to use one-sided propaganda, with much of the muckracking from unions.

PAC members and supporters say they should locate in a commercial center on Carefree Highway.

Why? So far this is a free country and they can locate where they wish. Walmart is expert in such choices and their critics are not. And tellingly, the Carefree Highway option is years away, perhaps ten years, and Cave Creek's problems need short term solutions, not one a decade away.

Walmart is criticized for its personnel policies, yet seems to have no problem in being fully staffed. No one is forced to work there. Walmart estimates they will have 300 job openings and many Creekers I know will be the first in the employment line. Perhaps even elitists from out of town may apply, although they argue we should respect their businesses and stay insolvent.

Then there are the tired union assertions about attracting crime, undesirables, traffic, noise and generally – calamity. They tout the poor unfortunates that live in the neighborhood. It is also a cause for people to rally around when they have nothing else to do.

Walmart didn't become the biggest and best in what they do without critics. There are many such big and successful businesses. Capitalism is sometimes messy, but no philosophy of commerce has even come close to this company's achievements.

Are there things I don't like about Walmart? Yes there are. They are way too submissive to Obama's attempts to socialize our country, and maybe government healthcare would help their bottom line, while destroying America.

Somewhere along the line I hope the powers that be in Walmart get a good medium and chat with Sam Walton, the deceased founder of Walmart. Sam, I believe, will straighten them out. Walmart would be a distant memory of a failed business under socialist rule; Sam knew it while here and is more certain up there.