Red Cross Ready Schools
September 2, 2009
The American Red Cross and Walmart are partnering to make Arizona schools a safer place by training 1,200 teachers how to save a life through CPR, First Aid and Automated External Defibrillator (AED).

The goal of Red Cross Ready Schools is to increase the capacity of Arizona schools to prevent, prepare for and respond to emergencies.

In the first year, the Red Cross is going to train 30 school staff members to become certified Red Cross instructors and provide them with manikins and supplies to teach their first 40 students. Those Red Cross trainers will then teach their colleagues through blended learning. After the course of a year, 1,200 teachers will be certified in CPR, First Aid and AED.

Red Cross CPR, First Aid and AED teaches participants how to identify and handle cardiac and breathing emergencies as well as identify and treat sudden illnesses and injuries.
Blended learning is an innovative training method that combines online lessons and a skills test with an instructor. The people who are eligible for the Red Cross Ready Schools program are: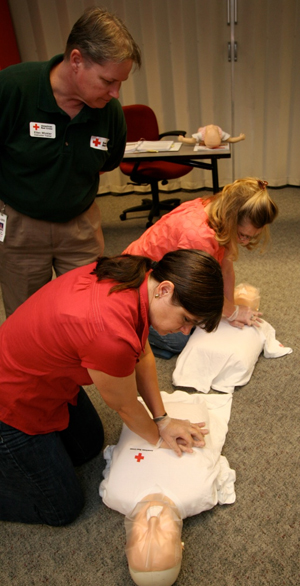 • K-12 school teachers
• Teachers who are not currently required to have certification
• Teachers in our 10-county jurisdiction

There's an online tool available for schools that are interested in the program. Visit www.arizona redcross.org/schools and complete the form.

The Red Cross conducted a focus group with 39 educators from seven counties. The educators, administrators and nurses have been in the education industry from 4-10 years. In the focus group, the Red Cross learned that 35 percent of them have responded to an emergency in the classroom and nearly all of them (96 percent) said they would participate in training if it was offered.

Administrators who participated in the focus group cited many reasons for bringing CPR, First Aid and AED training into the schools. Those reasons include an increase in number of students taking regular medications as well as more students with food allergies and asthma. Also, classes are larger and there are fewer staff members and nurses on campus.

Two Cave Creek school district employees just completed their CPR and First Aid Instructor training and are now ready to certify their colleagues. Pictured are Red Cross Trainer Ellen Winkler (standing) with Cecilia Hoffman (left) and Kathy Bondietti-Odell.
Courtesy photo


Operation Homefront of Arizona hosts annual Freedom Walk commemorating 9/11
September 2, 2009
SCOTTSDALE – On Sept. 11, 2009 Operation Homefront of Arizona will host its 3rd annual Freedom Walk at Memorial Hall in Phoenix with special guest speaker, Treasurer Dean Martin, Mayor Phil Gordon, Mike McAvoy, and Brittney Ship. Entertainment will be provided by CTS Band, Comedian Brad Zinn, James Kolegraf, the Young Marine Drill Team and Sandra Harris. Join Operation Homefront of AZ in continuing a national tradition in reflecting on the lives lost on September 11th as we renew our commitment to freedom and the values of our country and to honor our veterans, past and present.

WHO: Operation Homefront Arizona – Supporting our troop, the families they leave behind and our returning Wounded Warriors.

WHEN: Friday, Sept. 11, 2009, registration begins 4:30 p.m., no registration fee, 6 p.m. - ceremony begins. Walk begins immediately following conclusion of ceremony – media arrival 30 minutes prior to registration.

WHERE: Steele Indian School Park, Memorial Hall, 300 E. Indian School Rd. (3rd Street and Indian School Rd.)
Vocal Scholarship Auditions to be held Tuesday, Sept. 15
September 2, 2009
Area expanded this year to include Anthem, New River

This year the Upscale Singers are able to offer six scholarships for young singers for vocal music lessons – twice the number they've offered in the past! Three high school and three junior high students have a chance to win support for vocal music lessons with the teacher of their choice.

MORE ...