Falcons kickoff at Cienega, Sept. 4
By Pete Mohr | September 2, 2009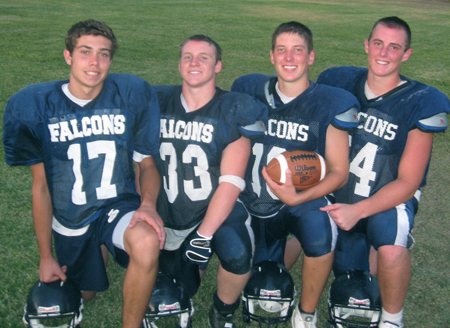 FOUR IN THE FORE: 2009 Falcons will be led by seniors (l-r) Captains Tommy Murphy, Zack Sexton, Paul Walsh and Tyler Souva. A lifetime honor, guys. Congratulations! Photo by Pete Mohr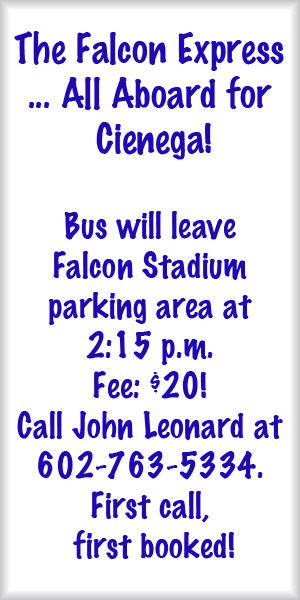 CSHS – "Send ('em) down to Tucson (Vail) and (they'll) get the job done!" Thank you, Mel Tillis, for your "Golden Oldie" whenever a Falcon squad faces an important test down south. Football Falcons, fresh off a solid performance in their August 27 scrimmage (at home) against Coronado, open their 2009 season at Cienega, Friday, Sept. 4, 7 p.m. kickoff. The Bobcats, pre-season favorites in Tucson's Kino Region, rushed for over 300 yards in defeating (Sierra Vista) Buena High School, 28-7, in the opener for both schools, Friday, Aug. 28.

If I had a child (make that "grandchild"!) at Cactus Shadows, I'm not sure I'd want him (or her) driving to and from the Tucson area on the Friday of Labor Day Weekend. So students, save your "road trips" for closer outings: Greenway (Sept. 11) and Shadow Mountain (Sept. 18). Football parents and the CSHS Spirit Line will be on hand to do the support honors at Cienega; and this writer looks to arrive before the end of the 1st quarter.

Props to students and fans who braved the 105 degree temps to show up for the Coronado scrimmage, Aug. 27.

Falcons put up five scores (in order): Tommy Murphy (perfect throw from Paul Walsh), Zack Sexton (rush), Austin Stephens (rush), Trevor O'Hearn (from Walsh) and John Leonard (a strike from Dillon Classen). Falcons won't miss a beat with either Classen or Walsh at the throttle. From Head Coach & Offensive Coordinator Chad DeGrenier's "creative" play-calling, look for some interesting sets when both Classen and Walsh are on the field in the same possession. Classen showed good hands to complement his known speed. He'll be hard to defend.

Defensively, Sexton was a force, with three "Zack-a-Sacks" and five stops in the backfield. Poor open field tackling contributed to the Dons' two scoring plays. If the Bobcats have speed backs, they could be a problem on Cienega's fast-track artificial surface.
"Crow" likes the 'Birds, say, in a 24-21 upset.

Opening Game
Varsity Roster

#2 Jake Krum SR LB/DE
#4 Brady Dombrowski SR REC
#7 Bryce Redmond SR PK/DB
#12 Dillon Classen SR QB/WR
#15 Connor Dubin SR DB/REC
#16 Capt. Paul Walsh SR
QB/holder
#17 Capt. Tommy Murphy SR
REC/DB
#18 Nic Erickson JR RB/DB
#19 Will Bowers JR DB
#22 Zach Duncan SR REC/DB
#24 Austin Stephens JR RB/DB
#26 Max Gersh JR REC/DB
#30 Joree Schneider JR REC/DB
#32 Cameron Larson SO RB/DL
#33 Capt. Zack Sexton SR RB/LB
#36 Anthony Perrota JR RB/LB

#38 Dell Oliver SO REC/LB
#40 Jacob McIntyre JR REC/DB
#48 Michael Millitello SR OL/DL
#50 Tony Matus JR LB
#51 Saul Monteon SO OL
#52 Chris Noel JR OL/DL
#53 Kyle Ledesma SR OL/DL
#54 Mike Schlotman SO LB
#55 Capt. Tyler Souva SR OL/DL
#56 Joey Hughes JR OL/DL
#58 Alex Yazdi JR OL/DL
#62 Parker Larue JR OL/DL
#63 Alex Boat SR OL/DL
#71 Cody Wendel JR OL/DL
#73 Chris Pierce JR OL/DE
#74 Andrew Miller JR OL/DE
#75 Tyler Holm SR OL/DL
#76 Victor Gutierrez JR OL/DL
#77 Nick Sanchez JR DB
#78 Jake Abedrabbo JR DL
#80 Gunner Black JR REC/DB
#81 Connor Henry JR OL/DL
#82 John Leonard JR REC/DB
#83 Trevor O'Hearn SO REC/LB
#84 Eric Johnson JR REC/LB
#85 John Seavey SO REC/LB
#88 Tommy Pritchard SO LB
#90 Nick Miller JR PK

Head Coach/Offensive Coordinator:
Chad DeGrenier
Defensive Coordinator:
Matt Bradshaw
Assistant Coaches:
Chris Frederiksen, Jerry Boat,
Jack DeGrenier
Equipment Manager:
Kevin Sterner
Statistician:
Jake VanDerStad
Head Athletic Trainer:
Courtney Runner
Student Manager:
Jeffrey Donley