"Taste of Cave Creek" set for Sept. 24 at Stagecoach Village
August 26, 2009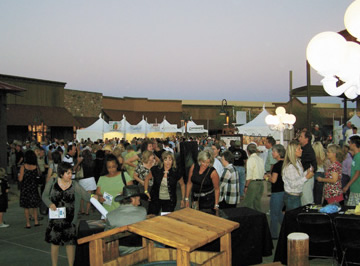 CAVE CREEK – The Town of Cave Creek and the Cave Creek Merchants Chamber of Commerce are once again co-hosting the "Taste of Cave Creek" event from 6 to 10 p.m. on Thursday, Sept. 24 at Stagecoach Village, 7100 E. Cave Creek Road, in Cave Creek.

The festive event will feature flavorful taste samplings from nearly 20 of the area's most popular restaurants, including: Big Earl's Greasy Eats, Binkley's, Bryan's Black Mountain Barbecue, The Buffalo Chip, Cartwright's, Cave Creek Coffee Company, El Encanto, Harold's Cave Creek Corral, The Hideaway, The Horny Toad, Indian Village, Le Sans Souci, Los Mesquites Taqueria, Tonto Bar & Grill, Silver Spur Saloon at Frontier Town, and many others.

The evening also features cooking demonstrations by Mad Coyote Joe and other chefs, a wine tasting at Brix Wine Spot, an art show, and live performances by Cave Creek Cowboy Crew, The Double D Band, and Rondavous. Guests can also view a fashion show sponsored by Instant Karma Boutique, Cave Creek Cowboy Company, Pink Cadillac Boutique, and Glory Bee's.

"Cave Creek is known for its colorful characters, rich history, and relaxed lifestyle," said Cave Creek Mayor Vincent Francia. "We have an eclectic mix of residents so it makes sense that we have many types of cuisine to choose from. Come experience a slice of Cave Creek life and see why citizens are so proud of our town."

This year's supporting event sponsors include Alliance Beverage, APS, Harris Bank, Parkway Bank, and Waste Management. Admission to the "Taste of Cave Creek" is $10. Food and drink tickets cost $1 and food taste samples range from $1 to $2. Parking is free and free shuttle service is available from the Cave Creek Post Office parking lot. An ATM machine will be available at the event.

For more information call 480-437-1110 or visit www.cavecreekchamber.org.
'Coyote Cards' due in by Wed., Sept. 9
CAVE CREEK – The Cave Creek Film & Arts Festival "Coyote Cards," designed to promote local businesses, must be turned in by Sept. 9.

The free card can be found at restaurants and merchants throughout Cave Creek and Carefree and at Cave Creek Town Hall. Stop by and pick up your card if you don't have one.
The more merchants you visit and have checked off on your "Coyote Card" by Sept. 9, the better chances you have of winning prizes during the Cave Creek Film & Arts Festival drawing at the Sept. 24 "Taste of Cave Creek."

It takes 10 checks on your card (visiting 10 businesses) to qualify you for inclusion in a drawing.

Completed "Coyote Cards" should be turned in at the Desert Foothills Library, 38443 N. Schoolhouse Road, Cave Creek.
New Conservatory of Performing Arts opens Tues., Sept. 8
DFT celebrates 12 AriZoni nominations
CAVE CREEK – Desert Foothills Theater (DFT), a division of the Foothills Community Foundation (FCF), is pleased to announce the opening of its new Desert Foothills Conservatory of Performing Arts (DFT COPA), allowing DFT to expand its educational programming to 28 classes this fall. Classes for children and adults begin Tuesday, Sept. 8.

"I am so excited with the depth and breadth of classes we are able to offer," said Lori Vander Maten, DFT education director. "Now that we have more space and classrooms, we are able to expand educational programs, which includes our popular Gecko Teatro Youth Theater. We have been able to secure some wonderful teaching artists and I know our students will be thrilled."

Classes are available for students ages 3 to 93. A complete class listing and instructor bios may be found at www.desertfoothillstheater.com.

The opening of DFT COPA comes on the heels of the 2009 AriZoni Award nominations where DFT received 12 including "Best Overall Production, Non-Contract Musical" for its production of The World Goes 'Round. Dee Dee Wood was nominated for "Best Director" and "Best Choreograph," Kathryn Bailes, Mary Frances Coleman and Shannon Wallace were nominated for "Best Actress in a Leading Role" and Michael Stewart and Eddie Maldonado were nominated for "Best Actor in a Leading Role." Toby Payne was nominated for "Best Sound Design." Petey Swartz was nominated as "Best Director" for DFT's production of Last of the Red Hot Lovers and Morgan Ottersbach as "Best Actress" for the same show.
DFT COPA class registration is available online or by calling 480-488-1981.