Desert Stages Theatre puts wiggle in everyone's waddle
August 19, 2009
Children's Theatre series opens Aug. 21 with The Ugly Duckling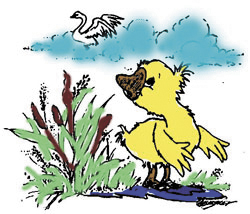 SCOTTSDALE – Gerry Cullity's original adaptation of The Ugly Duckling by Hans Christian Andersen takes center stage at Scottsdale Desert Stages Theatre Friday, Aug. 21 – Sunday, Sept. 20, a triumphant and inventive production performed by children Valley wide, luring an audience of fans young and old.

The Ugly Duckling is the 2009-2010 season opener for DST's Children's Theatre series.
Cullity, who founded DST in 1995 (along with wife, Laurie, executive director; and mother Joan Thompson, DST business manager), turned the beautiful story on its ear with innovative character relationships, original book, music and lyrics, and a seriously imaginative knack for storytelling that keeps adults thoroughly entertained as well.

The fabled tale of the child "duckling" who "honked" instead of "quacked," who was a swan mysteriously born into a family of ducks, who felt the consequences of what it often means to be different, has two casts of more than 70 each busying for opening night.

Tickets are $12 in advance; day of show $12 for children and $15 adults. Reservations recommended. Shows are Friday and Saturdays, 7:30 p.m. and Saturdays and Sundays, 1 p.m. and 3 p.m. Tickets by phone at 480-483-1664 or at the Desert Stages box office at 4720 N. Scottsdale Road, north side of Scottsdale Fashion Square, next to Coco's restaurant.

Another twist to the production is its 19-year-old director Mallory Mitchell who played a goose in the same DST show 10 years ago. Mitchell returned this summer from Occidental College to direct the play.

In addition, actress Jackie Notorio is the only original cast member from the Arizona debut of Cullity's adaptation of The Ugly Duckling in 1995. Jackie was four years old then. Today she's also in The Fantasticks and performing in the two shows at once and back to back.

Scottsdale Desert Stages Theatre is a nonprofit organization that produces live, innovative theatrical entertainment, led by cofounder and executive director Laurie Cullity; business manager and cofounder Joan Thompson; and artistic director Terry Helland. Included in each DST season are productions of original scripts, musical scores and lyrics by cofounder Gerry Cullity whose work is still relished five years after his passing. Upcoming on the DST main stage is the production of Ragtime Oct. 9 – Nov. 1.

DST has three show schedules that run simultaneously from July through May: Actor's Café adult performances in the intimate, proscenium-style 60-seat theatre; the adult main stage Cullity Hall, an innovative theatre-in-the-round; and the Children's Theatre, also performed in main stage Cullity Hall.
PVCC Film Festival opens Sept. 2 with Paradise Now
August 19, 2009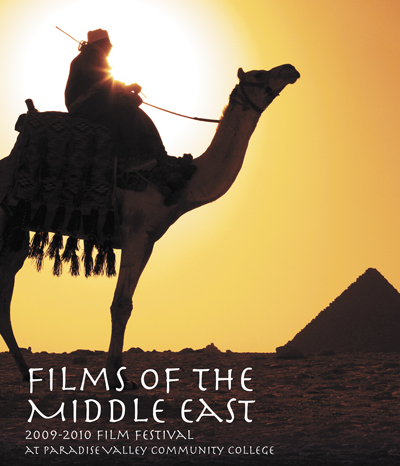 PHOENIX – The Film Festival at PVCC 2009-10 will feature films from the Middle East, a region of the world much in the news. Yet despite so much media, political, economic, and military attention, it is an area of great mystery to most Westerners. Middle Eastern filmmakers have created intriguing films that open up the cultures and conflicts of this region and bring a great sense of humanity to the people who struggle daily.

The Festival will feature four films in September, screened on Wednesday evenings at 6:30 p.m. in the Paradise Valley Community College's Center for Performing Arts, located at 34th Street and Union Hills. Admission to all of the films is FREE! For more information contact the PVCC Box Office at 602-787-7738 or visit www.paradisevalley.edu/cpa.

The first film, on Sept. 2, is Paradise Now made in Palestine in 2005 by Hany Abu-Assad. It tells the story of two Palestinian young men who are recruited to be suicide bombers. As they prepare for their attack with a sense of duty, they begin to question whether this act of violence will advance the cause of their people or create even more hatred and violence in return.

On Sept. 9, we will screen the Israeli film, The Band's Visit made in 2007 by Eran Kolirin. The film is an insightful and touching story of an Egyptian band that travels to Israel for a concert but ends up in the wrong town. The next bus isn't until the following morning so they are cautiously put up for the night by some of the town's inhabitants. Cultural and language difficulties keep the two groups at arm's length, but their shared humanity will bridge those differences and allow them to learn unforgettable lessons about each other and themselves.

Sept. 16 will feature the presentation of Wedding in Galilee, made in 1987 in Palestine by Michel Khleifi. When a Palestinian man living in the Occupied Zone asks the local Israeli military chief for permission to have his son's wedding and reception beyond the curfew, the chief agrees on the condition that he and his soldiers are invited. This creates a world of tension between the two sides that teeters on potential violence as well as great family stress and discord for kowtowing to the local authorities.

The Fall portion of the Festival concludes on Sept. 23 with the screening of two films, West Bank Story and Jellyfish. West Bank Story is a short film made in the U.S. by Ari Sandel as part of his M.F.A. degree in Filmmaking at USC. It went on to win the Academy Award for Best Short Film in 2007. It is a spoof of the classic musical West Side Story set in the West Bank. The results are hilarious, clever, and irreverent.

Jellyfish was made in Israel in 2007 by the husband and wife team of Etgar Keret and Shira Geffen. A touching and whimsical story of the lives of three women living in Tel Aviv: a waitress who finds a mysterious and abandoned little girl on the beach, a new bride who has to endure a miserable honeymoon due to a broken leg, and a Filipino caregiver who must deal with a foreign language, an acerbic old woman, and missing her little boy back in the Philippines. These three lives are woven into an unforgettable tapestry to create a uniquely moving and heartfelt film.