My View
By Don Sorchych | August 12, 2009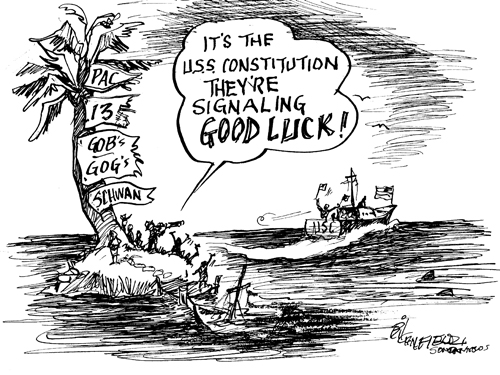 Carefree recall

The recall of Carefree Mayor David Schwan is clarifying. The mayor, his council sycophants, his supporting PACs and his gang of 13 all apparently believe the U.S. Constitution doesn't apply to them. Read attorney and long time politician Tom Rawles on this page.

Not only did Rawles come to that studied conclusion, so did Goldwater's Clint Bolick and Superior Court Judge J. Kenneth Magnum who issued a temporary restraining order to allow recall petition signatures to be gathered at town hall.
The ACLU is considering joining the fray and has asked for witness names, which have been provided.

It appears the Good Old Boys (GOBs) have a fight on their hands they can't win. And don't forget the Good Old Girls (GOGs), Shirley Arnold, Jo Gemmill, Lyn Hitchon, Margaret Stewart and Susan Vanik.

Jo Gemmill may have set the precedent for political involvement as wife of Councilman Bob Gemmill and perhaps led to wife of Councilman Bob Coady, Susan Coady's signature on the petition last Saturday.

The first four women were speakers at town hall a couple of weeks ago. I have been asked who comprises the gang or mob of 13, so here are the GOBs:

David Schwan, Greg Gardner, Dick Stewart, John Crane, Bill Rentilman, Doug Sherrin, Huber Stevens, Arthur Gimson and Gary Hayward.

They are the people that like going to council meetings and praising their fellow town sycophants and the mayor while he assiduously violates constitutional rights of citizens.

Town employees have every right to disobey illegal orders, yet they carry out illegal orders with dispatch. If there is a lawsuit that prevails, one can hope the employees and their bosses will share culpability and liability.

You will note in Your View that kicking people out of the town hall area goes back as far as 1995. Activists were attempting a referendum to leave the northeast corner of Cave Creek Road and Carefree Highway residential, in other words defying the GOBs. I remember that and know the person who wrote it. We also have witnesses that the GOB council gathered signatures for years at town hall with no interference. Access for GOBs, but no one else, except maybe for Kiwanis buddies.

In all of this we have a silent Town Attorney Tom Chenal. Aren't town attorneys paid to assure compliance with law, including the Constitution?

A past event may explain the dilemma.

Bob Anderson was mayor of Carefree and after he left office he was appointed town magistrate by the council.

The Judicial Conduct Commission employees quickly came to town and asked them to reconsider. The commission felt there needed to be a large disconnect between council and the court and recognized the good old boy connections. The town was adamant, so the commission said they would be watching.

Later, a court employee complained about Anderson's incompetence and the commission suspended him. When I sent the commission a records request, they responded that they were required by law to keep such records confidential but Carefree had no such prohibition. I sent a records request to Carefree and they said they had sent all town records concerning Anderson to the commission where the records were restricted.
Cute huh? Protecting the GOBs, just like the commission predicted.

Chenal, like Anderson, was a council member. I think that explains why Chenal has been AWOL on constitutional matters, the application of town ordinances and the legality of the ordinances themselves.

Susan Vanik, freshman council woman and Kiwanis president elect, has already earned her GOG spurs.

Ryan Ducharme explained his recall petition to a woman who is a substantial philanthropist, rumored to have gifted the YMCA $1 million.

Vanik, upon leaving town hall, saw the woman signing the recall petition and told her she would be sorry if she signed since it was a public document and she and her husband would be harassed and intimidated.

The lady, to her credit, completed the petition, no thanks to nosy Vanik.

Who were the harassers and intimidators referred to by Vanik? They could only be Schwan supporters. They are the ones who rule by fear and the petitions give voters an opportunity to assess Schwan, his backers, and vote accordingly.

It is no mystery why Schwan supporters crowd town hall during council meetings. Their presence and threats are what keeps other citizens away and gives the illusion of a competent council, of which the majority is anything but.

In the July 22 edition of Sonoran News we printed an e-mail from GOB Dick Steward to 40 of his perceived faithful. In his e-mail he gave six ideas to quell the rebellion in Carefree.
The first on his list was attendance at council meetings. Next he suggested a website and a petition of support. He opined to have informal sessions to strategize and a PAC to publish newsletters funded by "loose change." And last he wanted to knit their support for Schwan (shared values) into Carefree's 25th anniversary celebration.

I wonder if the shared values include persistent violation of First Amendment rights of recall petitioners?

Questions persist about the purchase of the Eight Sundial Circle building. Councilman Peter Koteas found fault with the building purchase process and contract substance that had been overlooked, or deliberately not discussed by purchasers.

During the last council meeting Councilman Glenn Miller responded about being unaware of prepayment penalties and other issues. Miller said, "That's right, I'm stupid. We just need to admit it was a mistake."

Our investigations so far reveal interesting transactions concerning the building purchase.
The question arises why $25,000 was spent on legal fees since use of a town realtor would have cost nothing. Realtor commissions were built into the building purchase price and why were property transfers made on the day of purchase?

There was a hearing on Aug. 10 in Superior Court concerning the temporary restraining order allowing signature gathering at town hall. Judge J. Kenneth Magnum issued a preliminary injunction until March 10, when the recall election will be held if verified by the town clerk and election officials that a sufficient number of valid signatures was collected.
Hopefully, somewhere along the way the injunction will be made permanent.