'Cuticles – A Natural Nail Salon' offers healthier, acrylic free nails
August 5, 2009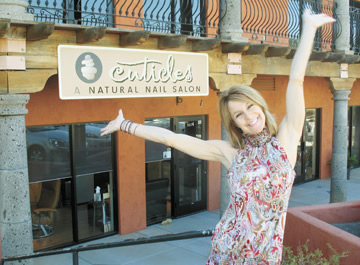 CAVE CREEK – "After working 20 plus years with harsh chemicals and irritating smells from doing acrylic nails I became allergic," confides Patti Lizio. She decided to create a more healthy and pleasant solution.

"Cuticles – A Natural Nail Salon" was born on June 15 and opened for business in the El Palenque Center at 6450 E. Cave Creek Road, suite 107 B.
"Spa Ritual" style manicures are waterless and pedicures are done in a jet-free fiberglass pedicure bowl finished with a hard resin coating to prevent the transfer of germs and biological fluids normally associated with less sanitary methods. Instruments are sterilized in an auto-clave resulting in the perfect, worry-free nail salon ensuring the healthiest of pedicures and manicures.

Experience a very peaceful and calming atmosphere as you relax in a comfortable reclining chair, listening to gentle music filling the air, surrounded by beautiful views of Black Mountain. With the added benefit of being acrylic-free, even your sense of smell will be delighted.

Set up your appointment for one-on-one customized treatment by calling 480-570-7962.