Helping your pet become socially acceptable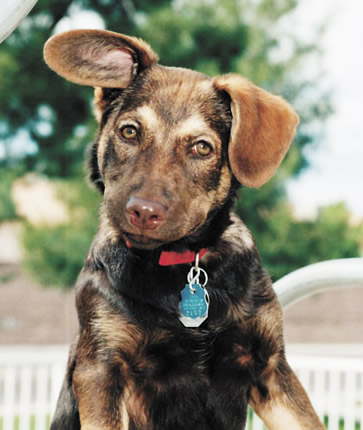 Have you ever taken a brand new puppy on its first walk, or to a dog park with other dogs? This can sometimes be a difficult undertaking, seeing as puppies have yet to be exposed to many humans and animals in their young life. But dogs and cats need to develop social skills just as much as people do! It is important for an animal's health and well-being to become a socially acceptable pet.

More...
Scottsdale Area Pets Go Online

Tranquility Trail Animal Sanctuary, Scottsdale, recently has joined other animal welfare organizations in the area that list their homeless pets on Petfinder.com, the oldest and largest database of adoptable animals on the Internet. The site currently has over 275,000 homeless pets listed, and it is updated continuously.

More...
Local restaurants and businesses benefit with 'Coyote Card'
August 5, 2009
Complete your 'Coyote Card' by Sept. 9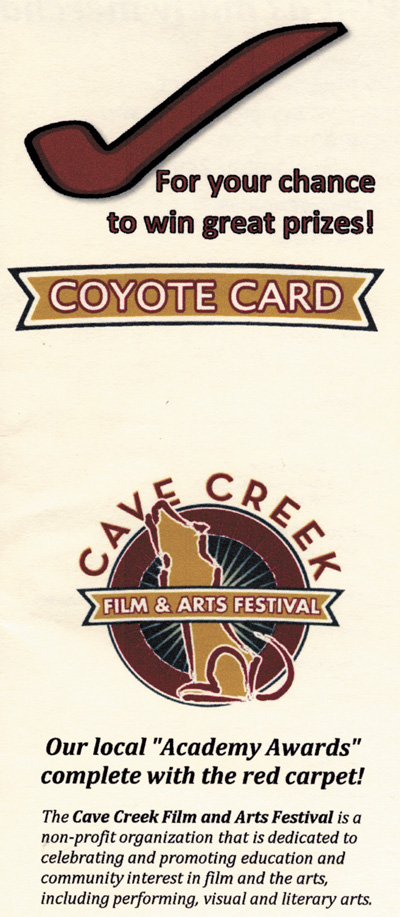 CAVE CREEK – The Cave Creek Film & Arts Festival is sponsoring a "Coyote Card" designed to promote local businesses. The free card can be found at restaurants and merchants throughout Cave Creek and Carefree and at Cave Creek Town Hall. Stop by and pick up your card if you don't have one.

"The more merchants you visit and have checked off on your 'Coyote Card' by Sept. 9, the better chances you have of winning prizes during our drawing at the Sept. 24 'Taste of Cave Creek' event," festival president Judy Bruce said.

It takes 10 checks on your card (visiting 10 businesses) to qualify you for inclusion in a drawing.

Completed "Coyote Cards" must be turned in by Wednesday, Sept. 9 at the Desert Foothills Library, 38443 N. Schoolhouse Road, Cave Creek.
Career Success continues commitment
By Maureen P. Racz, Principal | August 5, 2009
Transitions to the future

The Cave Creek Unified School Board has recently approved the sale of their Cave Creek school site which is located on the corner of Schoolhouse Rd. and E. Cave Creek Rd. This site is currently occupied by Career Success Schools – Cave Creek.

The administration and faculty of Career Success Schools want to assure our students, parents and the community that we will continue to operate and provide services to our students at this site for the 2009-2010 school year. At this time we are not interested in purchasing this property but we have full intentions of relocating the Career Success Schools – Cave Creek to a new location in the northeast valley. We are currently looking for a land site or a property to lease and as more information is available we will be keeping our stakeholders and the community informed.

We want to thank our students and parents for their support during this time of transition and we assure them that we will continue our commitment to maintain our diverse, supportive, exemplary learning environment.
Scottsdale Leadership solicits for 2009 community leader awards
August 5, 2009
SCOTTSDALE – Scottsdale Leadership, Inc., a nonprofit organization serving Scottsdale and the surrounding community, is now accepting nominations for the 2009 Drinkwater Community Leadership, Frank W. Hodges Alumni Achievement, Corporate Leadership, and Youth Leadership awards. All nominations are due by Sept. 4, 2009.

The Drinkwater Leadership award, presented by Merrill Lynch, commemorates former Mayor Herb Drinkwater's commitment to Scottsdale by honoring a member of the community who has made a significant and notable contribution to the greater Scottsdale community.
Scottsdale Leadership alumni are not eligible to receive this award. Previous recipients include William Soderquist, Tim Bray, William Mack and Sam Campana, among others.
The Hodges Alumni Achievement award, presented by Prestige Cleaners, commemorates Frank W. Hodges, a graduate of Scottsdale Leadership Class I, by honoring a Scottsdale Leadership alumnus who has, and continues to illustrate exemplary community service and humanitarian values. Previous recipients of this award include Kurt M. Brueckner, Tina Brown, Melinda Gulick, and Ted Tyler, among others.

The Corporate Leadership award, presented by Dial – a Henkel Company, award honors a company that supports leadership as a key organizational philosophy. Companies eligible for this award will have in place a process for encouraging employees to become involved in community service, honor humanitarian values, and positively impact the community through leadership and financial support. Scottsdale Insurance was the recipient of the award in 2008.

The Youth Leadership award, presented by Scottsdale Active 20-30 Club and Foundation, recognizes a teenager who exhibits leadership skills within their school, community and extracurricular activities. Nominees must be a high school junior or senior.

Award recipients will be honored at Scottsdale Leadership's 10th Annual Spirit of Community Leadership Awards Luncheon, sponsored by APS, on Dec. 4, 2009 at the Hilton Scottsdale Resort & Villas, 6333 North Scottsdale Rd.

To download an award nomination form or for more information, visit
www.scottsdaleleadership.org, or call 480-627-6710.

Scottsdale Leadership has graduated more than 700 alumni who are positively impacting hundreds of civic, philanthropic and cultural organizations. Scottsdale Leadership strengthens the local community by developing, training and empowering dedicated leaders through education, skill development, mentoring and community trusteeship.