Business to Business | August 5 – 11, 2009

Saguaro Grille's signature drink, the "Carefree Cooler" has been this summer's hottest, and coolest, cocktail. This tall, sparkling rum-based, lime-infused sipper is a sure cure for the heat-of-the-summer sizzles. And at the Summer Special price of $5, why not come on in and "Chill at the Grille?"
Lovena Ohl Gallery, 37555 N. Hum Rd. Suite 206 in the Galleria, Carefree, is having a clearance sale with 50 – 75 Percent Off the entire inventory of spectacular contemporary Native American Art and Jewelry. Call 480-600-1697 for more info.
Los Abrigados Bell Rock Resort in Sedona has some fabulous 2 day/1 weekend night and 4 day/3 night mid-week packages – as low as $39.99 per night. So take a short trip to cool down amongst the breathtaking views of Sedona. Call 866-459-4981 for details.
It's time for the Friday Night Art Walk on Aug. 14. Galleries are open from 7 – 10 p.m. Celebrate a night of fun and discovery with Level 9 Gallery, Galeria Bellas Artes', D. Lyon Art Gallery, Studio C4 Gallery, and Steven DeWitt Perrin Gallery.
PostNet at the Summit in Scottsdale, your neighborhood packaging, shipping and printing business partner, is offering 20 Percent Off FedEx and UPS. Also a Free environmentally friendly tote bag with any purchase! Stop in to try your luck at PostNet Trivia for a FREE prize! Stop in today!
Silver Spur Saloon, 6245 E. Cave Creek Rd., in Frontier Town: Check out coupons in their ad this issue for Hamburger, Fries $4 with the purchase of a beverage or $2 Off any Lunch Menu Food Item. And Don't Forget the Bridal Fair Aug 8 & 9 from 9 a.m. – 2 p.m. on the Garden Patio. Call 480-488-3317 for more information.
AZ Wireless & Satellite, your local Verizon Wireless expert, is now offering a FREE class on Saturday, Aug. 15 from 10 – 11:30 a.m. The class focus will be on phone menu functions and becoming more proficient operating your Verizon Wireless Cellular device. Bring your phone and questions. No question too small as we are here to help! The LG rep will also be on hand showing LG phones! Please RSVP to Nicole at 480-595-2211.
Cocomo Joe's is now offering Complimentary Transportation to and from their location every Friday and Saturday from 6 p.m. to close, with some boundary restrictions. Call Koop at 602-388-3066 for details or to schedule your night out!
Chaparral Veterinary Medical Center offers a Small Animal Vaccine Clinic from 8 – 10 a.m. every 2nd and 3rd Saturday of the month. They are located at 32100 N. Cave Creek Rd. and can be reached at 480-595-8600 for additional information.
Happy Harry's Carwash at 29650 N. Tatum Blvd. is offering a $4.99 Exterior Wash just in time for the Monsoon Season. The coupon must be present so clip the coupon in this week's paper to take advantage of this offer.
Let Shelves That Slide install your custom pull out shelves. Please see ad in this week's paper for their summer special or call them at 623-780-2555 for more information. Be sure to mention you read about them in Sonoran News.
No plans to close Carefree Bashas'
By Curtis Riggs | August 5, 2009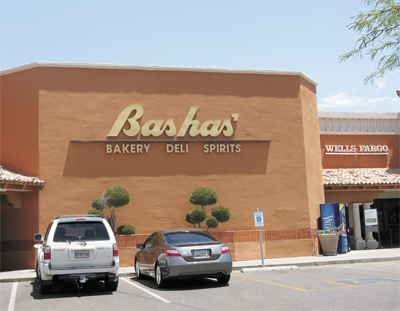 CAREFREE – It appears the Carefree Bashas' store will survive the recent rash of store closures throughout the Valley.

"We are going to stay open. There is no intention of closing the store in Carefree," Carefree Bashas' manager Doreen Churchill said.

The Carefree Bashas' employs approximately 75 people.

The store has long been a staple in the community with many Carefree residents depending on having it nearby and town officials depending on the sales tax revenue the store provides.

Bashas' Supermarkets filed for Chapter 11 bankruptcy protection earlier this month, allowing the supermarket chain to reorganize.

Bashas' corporate media relation's director Kristy Nied confirmed there are no plans to close the Carefree Bashas'.

"They take a lot of things into consideration when closing stores," she said. "At the current time, as part of the reorganization, we are evaluating all stores."