Jerome Pena: TCU or NY Mets?
By Pete Mohr | July 1, 2009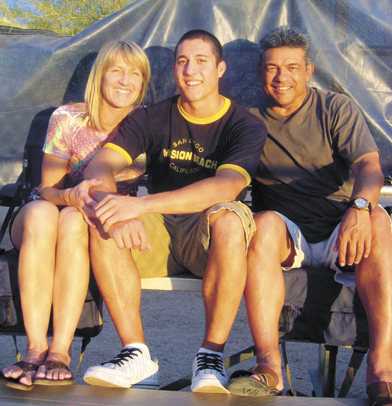 Photo By Pete Mohr
Whenever a tough decision is at issue, everyone likes to have choices, right? 2007 Baseball Falcons Co-Captain (with Zach Wilhelmi) Jerome Pena, (middle) son of Creekers Diane and Frank Pena (also pictured), is no exception. We should all be as fortunate as "Romey." Signed by Texas Christian University (TCU), Fort Worth, Texas, last November out of Western Nevada College, Carson, City, Nev., "Romeo" was selected June 12, 2009 by the New York Mets in the 40th round of the Major League Baseball Amateur Draft. Mets scout Doug Thurman called with the good news. "It was a great feeling! I was excited! Over-whelmed! Getting drafted represented everything I've worked for since I started playing baseball," Pena acknowledged.

But he's also a realist, recognizing that in all likelihood, the Mets won't make a 40th round draftee a financial offer sufficient to keep him from reporting to the Horned Frogs on Aug. 27. TCU is a "Top 25" baseball program. The Frogs recently took College World Series finalist Texas (who'd earlier eliminated Arizona State) to three games at the Super Regionals at the Longhorns' home ballyard in Austin, Texas. Both TCU and the Mets want Pena as a middle infielder. "Romey" to Sonoran News: "I'm flattered, of course, to get drafted – even in the 40th round; but as of today, my intentions are to go to TCU. I'll wait to hear from the Mets."

Congratulations, Jerome! Wherever you may go, good luck!

Meet the Football Falcon seniors … Tommy Murphy
By Pete Mohr | July 1, 2009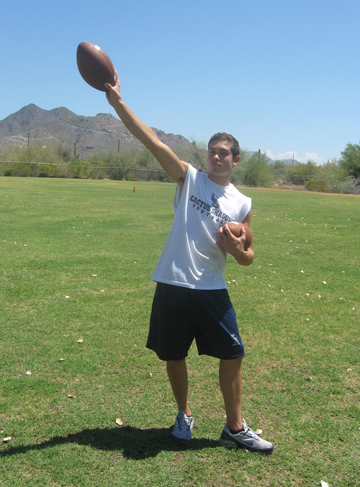 Defensive Back/Wide Receiver
Tommy Murphy
Tommy Murphy is a modest young man. Whether on the football field, basketball court or track, this three-sport athlete lets his performances do the talkin'. Egged on (heckled?) by six of his senior teammates, Murphy surprised this photographer by posing (uncharacteristically) for the accompanying "gag" shot. Then, on second look, the photo actually depicts Murphy doing what he does best: catching (as a wide receiver) or intercepting (as a defensive back) whatever footballs come his way!

Born July 14, 1992 in Chandler, Tommy is the son of Creekers Walt and Carol Murphy. In CCUSD since age 5, he first played organized football (Pop Warner) as a 3rd grader. He would "graduate" to the Freshman Falcons as a tight end; switched to cornerback as a sophomore; then became a wide receiver last season, in addition to winning 2nd Team All-Region recognition as a defensive back. He'll play both ways again this fall. "With Danny (Trittler) gone, Brady (Dombrowski) and I are going to see a lot more balls," he confidently anticipates.

His individual goals? "Playing the best that I can at my #1 sport. I want to make All-State as a defensive back – and be successful as a wide receiver."

I next questioned Murphy about what the Falcons need to do to be successful in their quest for a comeback season. "We need to learn how to focus on making the plays we have to make; and we must discipline ourselves to do whatever is needed to get better. Even this early in pre-season, I think we're tighter, closer as a team. We seniors, more focused, know what needs to be done. Now we've got to go out there and do it!"

Tommy Murphy also knows his play on both sides of the ball will be instrumental in whether or not the Falcons return to the State Playoffs for the first time since their 2006 championship season. The "gag" photo notwithstanding, he accepts that challenge – eagerly, but quietly. That's the Tommy Murphy I'm privileged to know.

A promise is a promise is a promise!
By Pete Mohr | July 1, 2009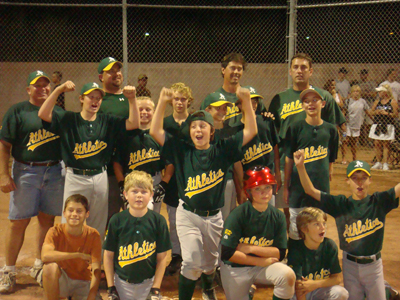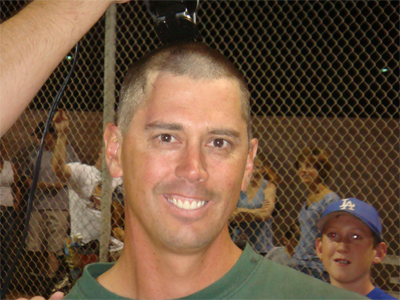 Courtesy Photos
At Lone Mountain Elementary School, June 2, the Cactus Foothills South Little League Champion A's celebrated their playoff victory over the rival Dodgers: (front, l-r) Peter Bos, Andrew Rimmer, Kyle McCaw, Ryan Brown, Kevin Hertig; (middle, l-r) Joshua Hankins, Travis Bailey, Andrew Hulett, Andrew Rioux, Cooper Schwartz, Guy McAtee; (back, l-r) Coach Ken Brown, Coach Mark Bailey, Paxton Ketchum, Manager Bill Schwartz (note "before" full head of hair!), and Coach Guy McAtee. Manager Schwartz promised his team that if they beat the Dodgers, they could shave his head! Please see accompanying "after" photo of the shorn Bill Schwartz!

Congratulations, Bill. You taught your baseball lads a valuable "life lesson": that is, "A promise is a promise is a promise!" Alas, on June 16, in the 1st Round of the "Tournament of Champions," the A's were no-hit (and eliminated), 1-0 by High Desert.