The desert can be poisonous
By Leslie Nichols | June 24, 2009

Part 2


In the previous column I described my paint Hummer's sudden onset of mysterious colic symptoms. The official diagnosis: colitis or inflammation of the colon. There are many causes of equine colitis, top of the list are bacterial changes, sand, or poisoning.

Tests reported that the toxicity was not due to bacteria. An ultra sound ruled out sand colic. So what was going on?

Remember Nicole LeCompte (who manages my horses) reporting of Hummer's eye twitching? Well, it seems this is a critical piece of evidence.

During the first night at Chaparral Hospital, Hummer suffered a mild bout of colic and a medical technician reported that one of his eyes was twitching. Toxicity can affect the nervous system and mild tremors can present, especially around the eyes.

So what poisoned Hummer? Nicole and I went through every detail in his life and came up with zero. Then Dr. Carpenter said something interesting; the day Hummer was admitted into the hospital was 2 days after 50 mph winds. She said that while plant poisonings are not common, they are often seen following a significant windstorm.

Why? Because while your ranch may be poison-proof, your neighbor's property may not be, and the wind can blow in all kinds of unwanted leaves and flowers.

Oleander was suspect number one. "Half a leaf, even a dry leaf," said Dr. Carpenter, "can kill a horse."

But Oleander, while obvious, is not the only poisonous shrub in the valley.

So Nicole and I scoured the property and put a sprig of every weed in a Styrofoam cup of water, placed these cups inside an ice chest, and off we went for a 90 minute consult with Dr. Carpenter.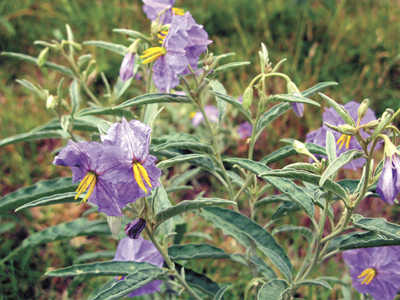 What did we come up with? Silverleaf Nightshade, which is a form of Belladonna. A small field of this beautiful, 2-foot-tall weed was growing just outside the pasture fence. And while the toxins do not affect all horses, many horses are sensitive to it. The timetable and the symptoms fit perfectly. It takes about 48 hours for the toxins to take full effect, and a temperature and severe digestive distress are typical. Further, the five days it took for Hummer's white blood count to return to normal is consistent with plant toxicity.

Final Diagnosis? It's a toss up. Oleander? Absolutely, it's everywhere, and it can be lethal. Silverleaf Nightshade, also everywhere, can be toxic, and in Hummer's case, it was just outside the fence.

Oleander doesn't mix with horses. Period. Look at the photo of Silverleaf Nightshade or research it on the Internet. If you have it on your property, be on the safe side and remove it.

And Hummer? He's back home running the place again … and not foraging on wild weeds.

Leslie Nichols is a progressive horsemanship professional and innovator of the Leslie Nichols Relaxation Program for horses and their owners, and The Fusion Method for Starting Horses. Contact her at leslienicholshorsemanship@gmail.com
AZ Trails 2010 Draft Plan available for public comment

June 24, 2009
PHOENIX – Every five years, the recreational trails staff at Arizona State Parks prepares an information-filled report concerning Arizona's motorized and non-motorized trails and their users. This plan includes recommendations and action strategies to protect and enhance trails throughout the state including those in local city, county and state parks, as well as those on National Forest and Bureau of Land Management lands. The draft for this trails plan is now available for public review and comment. To download the draft plan, go to
http://azstateparks.com/publications/index.html#Trails_2010
.
Before the trails plan was drafted, State Parks staff conducted a series surveys and workshops to find out about what types of motorized or non-motorized trails they use, how often, what they like or don't like, and what trail managers should focus their time and dollars on.
After analyzing the results of this year-long public involvement effort, staff drafted a trails plan that provides information about trail users, their preferences and opinions, important issues facing recreational trails and off-highway vehicle routes in Arizona. The plan also offers a list of recommendations and priority actions that both trail users and land managers can take to protect and improve Arizona's trails.
According to Annie McVay, State Trails Coordinator, 69 percent of adult Arizonans are trails users, up 20 percent from five years ago. When broken out by type of use, 58 percent of Arizonans consider themselves primarily non-motorized trail users and 11 percent consider themselves primarily motorized trail users. The most common non-motorized pursuits are trail hiking, backpacking, mountain biking and horseback riding. The most common motorized pursuits are ATV driving, four-wheel driving, and dirt biking. Some of the top trail issues were protecting access to trails, keeping trails in good condition and mitigating damage caused by trails and their use.
The priority recommendations listed in the plan will be used to develop grant rating criteria and distribute monies from the Arizona Trails Heritage Fund, Off-Highway Vehicle Recreation Fund, and the federal Recreational Trails Program.
Comments on the draft trails plan will be received through June 30, 2009. To comment, send written comments to Trails 2010 Draft Plan, Arizona State Parks, 1300 W. Washington, Phoenix, AZ 85007 or e-mail comments to Trails
2010@azstateparks.gov
.
For information about Arizona State Parks call 602-542-4174 or visit
www.AZStateParks.com
.