For 2009-2010, CSHS Athletics will be "alive and functioning"
By Pete Mohr | June 17, 2009
A.D. Bill Dolezal moving decisively to cover $123,000 revenue shortfall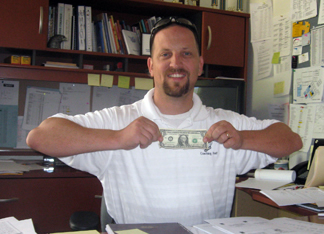 SCOTTSDALE – "The District is doing away with athletics!" "Participation fees are doubling to $600!" Those two are perhaps the most attention-getting of the "grassfire" rumors sparked by CCUSD's significant budgetary difficulties in fiscal 2009-2010. Thanks to Athletic Director Bill Dolezal's proactive invitation that we meet Wednesday afternoon, June 10, I'm pleased to report "the (athletic) sky is not falling."

Dolezal to Sonoran News: "Cactus Shadows athletics will be alive and functioning, dedicated to being a model of excellence. That commitment has not changed – and will not!"

Fact: participation fees (per sport) will remain at $300 per athlete, with a per family "cap" of $900.

Fact: cost of an all-events pass for an "immediate family" (parents and children) will remain at $220.

Fact: Across the (sports) board, there will be no increase in ticket prices.

Fact: CSHS Athletic Department is not expecting to receive any revenue allocation from CCUSD ($123,000 in fiscal 2009-2010, which represented approximately 28.56 percent of $430,737 total revenue).

Dolezal, up-front: "Unfortunately, the burden of making up a $123,000 revenue shortfall will fall mainly on the backs of our coaches. The average salary paid to our 18 varsity coaches will fall from $4,100 to $3,000, plus the 17.92 percent allocation to benefits and withholdings. For our 47 assistant coaches, down 14 from 61 in '08-'09, salaries will average $2,000 vs. $2,842, again plus benefits and withholdings. Taken together, reductions in coaching staff compensation will comprise approximately $99,125, representing right at 80.59 percent of the $123,000 anticipated shortfall. "The coaches who're staying with us are to be commended for their financial sacrifice and dedication to our athletes," he praised.

Dolezal is projecting the remaining $24,000 will be realized through reductions in expenditures for game worker personnel (ticket takers, security), equipment, uniforms and facilities improvements.

On the revenue side, an expected incoming freshman class of an impressive 500 should translate into gains in participation fees and gate receipts. "In 2008-2009, we had approximately 650 participating athletes, representing over one-third of our student population. That's tremendous!," the A.D. emphasized positively.
So, Falcon fans, tab your sports calendar for Friday night, Sept. 25, when the Football 'Birds will host Paradise Valley in their home opener, which will also mark an earlier-than-usual Homecoming celebration. Music Director Gary Wykoff's "Fighting Falcons Marching Band," Rika Cuff's State Champion cheerleaders and new Dance Coach Theresa Chung's State Runner-Up squad will be performing at their energetic best – all with their belts and sashes tightened. But there's no question: Falcon athletics need, more than ever, everybody's support, meaning attendance and volunteerism.
Closing with a little Bobby Bare, my favorite of Country Music legendary storyteller: "I got the hard-time hungries, movin' all over this land. I got the hard-time hungries, doin' the best that I can."

Photo By Pete Mohr:
S-T-R-E-T-C-H! CSHS Athletic Director Bill Dolezal good-naturedly shows Sonoran News how to stretch a dollar bill. For the A.D., there's no humor in the $123,000 revenue shortfall his department faces in fiscal 2009-2010.
Meet the Football Falcon seniors … Dillon Classen
By Pete Mohr | June 10, 2009

Thirteen Falcon seniors will make or break the 2009 season. Beginning with this feature on quarterback Dillon Classen, it will be my privilege to profile weekly one of these 13 seniors. I hope Falcon fans will enjoy getting to know them better. ~ Pete Mohr
Later hereinafter, I'll get to Dillon Classen's "bio" and a recap of his three Varsity seasons, in the first of which, the Falcons' magical 15-0 State Championship run, he saw only limited action, primarily because the durable Phillip Aholt never missed a snap due to injury.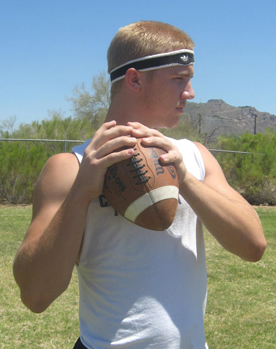 "This is my senior season, the last hurrah, so to speak. I'm ready to go out strong." Does the starting QB understand upon whom the Falcons' anticipated passing game dependency will put the most pressure? "Yep, on me," Classen answers unhesitatingly. "I welcome that pressure." He means it.

Classen, grown to 6'2" and confident his targeted 220-225 lbs. playing weight won't significantly reduce his speed (he's a legitimate threat on options, sweeps and sneaks), talks about "getting to know defenses and recognize coverages better. I've spent a lot of time with Tim (Rattay, quarterbacks coach and NFL alumnus). He's helped me a lot. And every practice he works with me on my throwing mechanics and footwork."

With the Falcons' 2008 "Most Valuable Player" (and 4A Conference top receiver) Danny Trittler having become a "Chappie," you might think Classen would be a little unsettled. Not so. "In Brady Dombrowski and Tommy Murphy, we're going to have two potential superstar receivers – plus three sub-stars, juniors John Leonard, Gunner Black and George Schneider," he points out. "Last year, our opponents knew that we were going to throw to Danny on almost every passing down. We're not going to be as predictable this year. You might say that we've traded Danny (that's being commendably diplomatic, Dillon) for a five-player receiver corps." I hope he's right.

Dillon moved to The Valley in 1999 with his parents, Tom and Cindy, who became Creekers. A quarterback since age 6, Classen was blind-sided by three serious injuries in 2007, acknowledging that "under Tim's influence, I became better football-educated last season."
He and I concurred that the 3-7 Falcons could easily have gone 6-4 and made the State Playoffs. Didn't happen.

Dillon Classen is working hard to lead the Falcons to the comeback season on which they're setting their sights. He and his classmates have a lot of heart. That should serve them to at least a winning season.

Photo By Pete Mohr:
Quarterback Dillon Classen