Upbeat softball celebrates season!
By Pete Mohr | June 10, 2009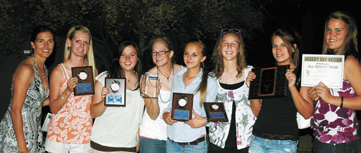 PHOENIX – Far too contagious from my annual respiratory knockdown, I had to regret Head Softball Coach Danica Gianni's thoughtful invitation to attend her team's awards event, generously hosted by softball parents Jeff and Susan Jorde. Coming up on one month later, the accompanying photo had to be published. Why? Because from where I write, the smiles on the faces of these seven Lady Falcons (plus their stylish coach on the far left!) reflect what I personally believe high school athletics are supposed to be all about: improving individual skills through hard work, growing from the camaraderie and competitiveness of teamwork, and yes, just flat-out having fun! Looking at this photo, you might think they'd won Region, gone deep at State or, at the very least, had a winning record. They didn't; but they batted 1.000 in the accomplishments listed above that really matter.

Congratulations, Ladies: (l-r, with awards in parentheses) "Coach Danica" (#1 in my book!) senior Tia Jorde (2nd Team All-Region, Most Improved), senior Co-Captain Kilee Ferguson (Honorable Mention All-Region, Coaches Award, Region All-Academic), senior Co-Captain Carey Riner (Honorable Mention All-Region, Four-Year Commitment recognition), sophomore Shea Smothermon (Best Defense), sophomore Elyssa Hartsock (Best Offense), sophomore pitcher Amber Underdown (broke Nikki Horton's 2007 strikeout record) and sophomore pitcher Camille McIver (2nd Team All-Region).

Count on the word getting out that playing softball at Cactus Shadows is getting closer to "cool." Then watch "Coach One" (her husband, Notre Dame Head Baseball Coach Guy Gianni is "Coach Two") and her Lady Falcons take off!
Their last flight as Falcons!
By Pete Mohr | June 10, 2009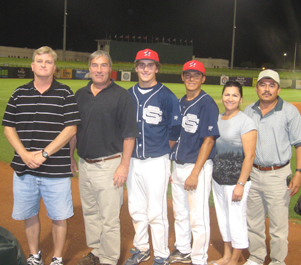 On a baseball-perfect June 5 evening at Surprise Stadium, '09 Falcons Jackson Goulder (l) and Ismael Castro (r) saw action for the South squad, which pulled away in the late innings to decisively defeat the North, 12-5, in the Arizona High School Baseball Coaches Association's annual 4A Conference All-Star Game. Goulder pitched the 3rd and 4th innings. Castro came in from left to hurl the 9th. He also legged out two infield hits. Postgame (l-r, above) CSHS Head Baseball Coach Tom Scala (subbing for Charlie Goulder), Andy Goulder, "Jack," "Izzy," and proud parents Margarita and Ismael Castro. Goulder has signed a letter of intent with Lamar University, Beaumont, Texas. Castro will likely play for Central Arizona College in Coolidge. Congratulations, guys, on your Falcon careers. Good luck at the next level!

Thirteen "make-or-break" seniors
By Pete Mohr | June 10, 2009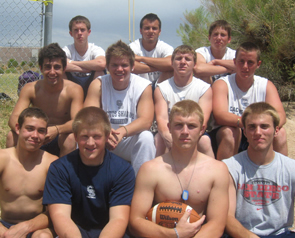 Like the bumper sticker about the colors in the American flag, these 11 Football Falcon seniors "Don't Run!" (Two more, Bryce Redmond and Michael Millettello weren't available for photo.) I won't dignify the two who "ran" (to Chaparral) by identifying them. More on transfers after I've done my due diligence with the Arizona Interscholastic Association (A.I.A.). For right now, an apartment in Scottsdale, with verifying utility bills, seems to "pass muster" with the A.I.A., which can't be expected to be in the business of conducting random residential bed checks! The transfer system stinks! I believe the A.I.A. knows that. These 13 seniors will provide the leadership that will make-or-break what the Falcons are badly needing to be a comeback season after consecutive 3-7 disappointments. (Front, l-r) Tommy Murphy, Alex Boat, Dillon Classen, Brady Dombrowski; (middle, l-r) Connor Dubin, Jake Krum, Zach Sexton, Tyler Souva. (Back, l-r) Zach Duncan, Kyle Ledesma, Paul Walsh. You can do it, guys!