Equine Leadership Summer Camp
May 27, 2009
The Whispering Horse Equine Experience, LLC offers horse camps that promote leadership and personal growth through the unique and subtle language of horses. Through a series of five character based lessons, students develop skills which they are able to apply to real life challenges and experiences. The horses are facilitators, but the lessons learned are about the student. Trail rides, round pen connecting with a gentled wild mustang and classroom 6 Traits Journaling are taught by ADE certified teachers and Nationally Certified Pillars of Character Instructor.

Classes are offered at Spur Cross Stables in Cave Creek and Arizona Cowboy College in north Scottsdale. For additional information contact Liz or Dave Gilkey at 480-227-0617 or visit www.thewhisperinghorse.com.

May 27, 2009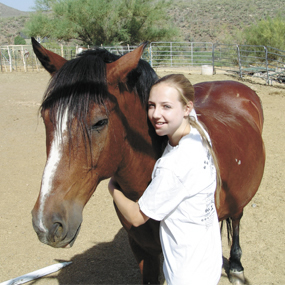 Courtesy Photo:
Lauren Kunkle of Cave Creek provides a massage to Mescal, a 25 plus year old Mexican Mustang. The older horses are treated to a "spa day" by the students to thank them for their years of service.

Foothills Academy College Prep Student wins 1st place award in Essay Contest

May 27, 2009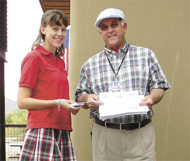 SCOTTSDALE – Meghan Bubel, a Foothills Academy College Preparatory 9th grade student, understands the perils that Christopher Columbus must have faced when he sailed towards North America in the late 1400's. She wrote a brilliant essay on that topic that won her 1st place in the local chapter of the National Society of the Daughters of the American Revolution Essay Contest. "Daughter" Jeri Lyons has worked with Foothills Academy students for several years promoting this opportunity for our students. Meghan was presented with a medallion, certificate and a check for her efforts in the schools awards ceremony on May 21, 2009. Her teachers, Nancy Bleasdale and Diana Kogan, deserve credit for their contribution to Meghan's extensive knowledge in the Social Studies and Essay Writing content areas. We are proud of her accomplishment and look forward to this young sophomore achieving even more academically in the future.
Kiwanis of Carefree sponsored Desert Arroyo Builders Club
May 27, 2009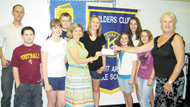 The Kiwanis of Carefree sponsors this youth leadership program which is designed to provide opportunities for middle school students to build character and help in their community.

The money being donated was earned by the Builders Club members through a variety of different activities throughout the year including organizing and running a car wash, holding a bake sale at a flea market, running the concessions at a school dance selling pizza, water soda and other snacks.

According to Brooke Wettmarshausen, the Builders club President, the students chose to donate to Foothills Animal Rescue because it is a local organization and they like the idea of helping animals. Students had a choice of donating to the FAR building fund or to contribute the funds to helping with the day to day needs of the many animals currently in the care of FAR foster homes and they decided they wanted to help with the day to day needs
In addition to this donation, the Builders Club along with the Desert Arroyo Middle School Student leadership Club held a dog walk earlier in the year that resulted in $250 being raised and donated to FAR making a total of $725 that they have donated this school year.

Presentation of check for $475 to FAR: Desert Arroyo Advisor, Nathan Loetz; students (l to r): Gabe Meyer, Paige Taylor, Taylor Roberts, Brooke Wettmarshausen, Lily Voitek, Emily Goodspeed and Skye Phillips. Holding the check: FAR Board Member Laura Jones and Builders Club Kiwanis Advisor Kathy Haugner.