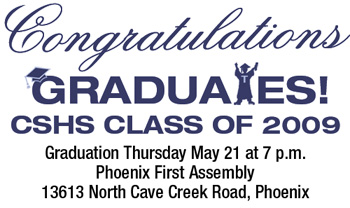 Sandra Day O'Connor (#10 ) upsets #2 Falcs in baseball State Quarterfinals

By Pete Mohr | May 20, 2009
Hustlin' Eagles overcome 12 strikeouts

SURPRISE - On Wednesday evening, May 13, the impressive Surprise baseball venue hosted the State Quarterfinals matchup between the #2-seeded Falcons (22-6) and #10 Sandra Day O'Connor (17-9). Magnificent park, perfect night for baseball, disappointing (but not overly surprising) result: an aggressive SDO, 3 - CSHS, not at their sharpest, 0. The Falcons had not been skunked since Sabino blanked 'em, 10-0, in the March 5-7 Tucson Classic. The Eagles, who'd upset #7 McClintock, 9-2, in their 1st Round, moved on to lose, 5-6, to eventual 4A-I champion (Tucson) Canyon del Oro in the Semis.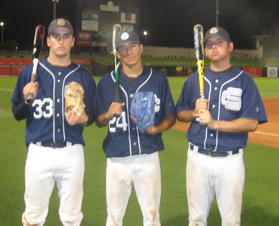 Who wants to read about a season-ending loss that's now almost eight days old? But Sonoran News pays me to write what happened: the good, the bad and the ugly; so, in order, my take.

The good: the Falcons played "good enough" to win – but the Eagles played better. Starter Jackson Goulder scattered six hits, yielding only one earned run, and striking out eight Eagles in 5 1/3 innings of work. Reliever Ismael Castro kept Falcon hopes alive by whiffing four of the five batters he faced. The Goulder-Castro pitching tandem, for sure, did their part.

The bad? SDO starter Aaron Copfer stifled the Falcs on four measly hits, only two of which came in the same inning, the 4th, when an unfortunate base-coaching decision ran Chris Sabanosh into an easy third out at home. The Eagle senior struck out six and walked only one. After Sabanosh led off the "last-call" 7th with a ground single into left, Copfer toughed up a strikeout and two ground ball outs to send the 'Birds home. Postgame, Sonoran News to SDO Head Coach Jeff Baumgartner: "Coach, your pitcher was terrific tonight!" "Thanks. He's come up big for us all season."

And the ugly? Nah, I'd rather remind Falcons fans that (i) winning the Desert Sky Region Championship; (ii) being the only team to beat the Chappies twice (one a 14-4 "mercy" rule embarrassment); and (iii) finishing at a more-than-solid 22-7 are legitimately laudable stats. Congratulations to Head Coach Tom Scala, Assistant Head Coach Shawn Rieck, Assistant Coach Chris Matusz and the Falcons on yet another exciting, winning season. I'd pick you guys to "win it all" again! How 'bout next year?

Photo by Pete Mohr
FOUR HITS, NO RUNS, NO WIN: Sandra Day O'Connor silenced Falcon bats with a four-hitter: (l-r) a double by starting pitcher Jackson Goulder, two singles by rightfielder/reliever Ismael Castro, and one by first baseman Chris Sabanosh, as the Eagles grounded the 'Birds, 3-0, eliminating them from State.

Track saved best for last!
By Pete Mohr | May 20, 2009

I can almost hear Head Coach Jim Marando exhorting his State Track qualifiers to "save your best for last!" If you read the Front-Page Sidebar you can see his Falcon athletes did just that at 4A-I State Championships, Mesa Community College, May 13 & May 16.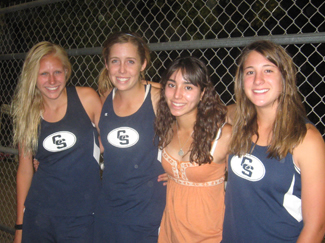 Three new CSHS marks were set, with senior Gus Meyers' impressive 15' pole vault (he still vows to vault 16' before summer's end!) leading off, followed by a 1st for Girls 4x800m Relay [l-r: Lauren Lazo, Natalie Omundson, Jesse Hass, Beau Bremer] cruising to a 9:46.83 CSHS record. Only Omundson graduates!

Just how competitive is State? Boys 4x800m relay [Walker Bohannon, Alex Kaufman, Keith Omundson, Kyle Short] finished 4th, but their 8:10.44 was still good enough to establish a new Falcon record. Short is the only graduating senior. My personal disappointment? I could not stay long enough Saturday night to watch Short end his outstanding CSHS career with a 9:42.96 winning run in the 3200m.

Congratulations, Kyle – and to all your Falcon teammates at State!