Young volunteers earn special recognition in Phoenix
May 13, 2009
Youth honored for their commitment to their communities

The Prudential Spirit of Community reception celebration honoring students from metropolitan Phoenix was held on Saturday, April 18, 2009 at Bentley Gallery. The students are local honorees in the nation's largest youth recognition program based solely on volunteerism. Epitomizing the American spirit of public service, each student has an inspiring history of community involvement. More...

Casey Rice awarded 2009 Sam Walton Community Scholarship
May 13, 2009
PHOENIX – Casey Rice, a senior at Brophy College Preparatory in Phoenix, recently learned he is among students from the Class of 2009 nationwide selected to receive the 2009 Sam Walton Community Scholarship. More...

Local Science Fair leads to big wins
May 13, 2009
This year, the Kiwanis Science Education Committee sponsored the 4th annual Kiwanis Community Science Fair, with over 3,200 local students in grades K-12 participating. This fair has led to bigger and better things for some of the winners who went on to compete in a bigger arena, the Arizona Science and Engineering Fair (AZSEF). More...

Reading, RIDING & Arithmetic At SR Tucker Quarter Horses Summer Camps
May 13, 2009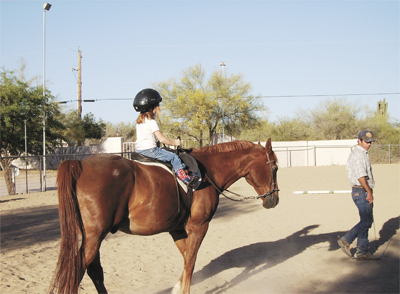 SR Tucker Quarter Horses is proudly offering summer horsemanship and tutoring camps for elementary aged students starting in June. The program offers students 45 minutes of small group reading and/or math tutoring and enrichment in a fun environment focusing on learning about horses and their care. The 45 minutes of riding instruction is for all levels from beginner to advanced. There will be two four week sessions offered during the summer, the first one in June and the second session in July. Students can sign up for once a week or twice a week, Monday and Tuesday mornings.

Academics will be taught by a certified elementary teacher reinforcing phonics, comprehension strategies, reading habits, and math practices. The program will focus on the needs of each individual student. This is a great way to have some fun and keep up on academics at the same time! To learn more about the academic program contact Kristi at kfrederiksen24@gmail.com.

Stacey & Randy Tucker will be teaching the horsemanship part of the camps. Students will learn how to safely communicate with horses. In addition, classes will teach proper grooming techniques and correct riding skills. At the end of each session, the students will have a competition day to show their riding skills. Each student will be judged as if at a horse show and be placed accordingly.

Visit their website at www.SRTuckerQuarterHorses.com so you can learn more about the riding program and see pictures of the facility and the horses. You may also call Randy at (602) 677-9506 or Stacey at (520) 405-9609.

Courtesy Photo: Randy Tucker working one-on-one with a young student on one of his school horses.
To bit or not to bit
May 13, 2009
Bitless bridles are getting a lot of attention, but there's nothing new about going bitless. When the Moors (from Northern Africa) invaded what is now Spain, they introduced the hakma (can you say hackamore?) a braided nose band which they adopted from riding camels. The blending of the two cultures gave birth to the hackamore/two-reins/straight up in the bridle training sequence, which is still in practice today.

But before you toss out that bit, it's important to consider the pros and cons of riding bitless. Bitless communication is an entirely different style and you must learn it, and most importantly, you must teach your horse to respond to it. It takes time and some skill to create sensitivity on your horse's nose and jaw.

You must wean yourself from relying on your hands to control your horse. (This is a good thing, by the way!) You must learn to communicate your ideas by using your focus, your body, and your legs, with your hands simply augmenting your other communication.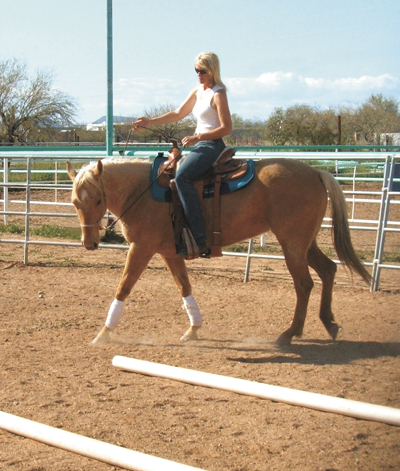 Lateral and vertical flexion take longer to develop sans bit. For the trail rider and backyard enthusiast, this can be a non-issue. For the rider headed into the show ring, the bitless bridle teaches broad concepts without over-exposing your horse's mouth. However, refinement of movement may require returning to the bit. The vacation from the bit will have created sensitivity in your horse's mouth.

There are many was to go bitless. There are bitless bridles, bosels, and natural horsemanship training halters. Mechanical hackamores, by the way, do not fall into this group. Experiment with a rope halter and single loop rein before you make the leap. Good luck!

Leslie Nichols is a progressive horsemanship professional and is innovator of the Leslie Nichols Relaxation Program for horses and their owners, and The Fusion Method for Starting Horses. Contact her at leslienicholshorsemanship@gmail.com
"Open Ranch Day" May 23 at Tierra Madre's Horse Sanctuary
May 13, 2009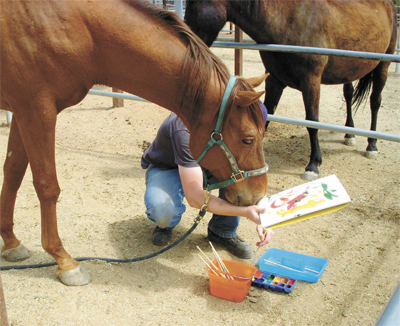 CAVE CREEK –Well-known locally and nationally as the "masters of equine painting," for the first time all 29 horses living at Tierra Madre Horse Sanctuary will work together on a single canvas, measuring 24"x30." The painting will be the centerpiece of the grand prize in a nationwide fundraising raffle on behalf of Tierra Madre Horse Sanctuary.

The public is invited to watch many of the horses add their artistic brushstrokes at Tierra Madre's upcoming "Open Ranch Day" from 8 a.m. – 2 p.m. on Saturday, May 23. Visitors can work with a horse to paint a picture they can take home with them, fully mounted and matted. Kids always flock to the horse shoe painting booth. There will be refreshments galore and nearly a dozen chances for people to win great prizes during the day at a series of raffles. Raffle tickets ($25 each or five for $100) may be purchased at the ranch that day – or any time prior to June 6, grand prize drawing day.

Tierra Madre is requesting a $5 entrance donation from all adults and kids, 12 and under are free. Raffle tickets may be purchased by e-mailing Jim Gath at jim@tierrmadrehorsesanctuary.org, or by calling 480-747-1070.

Tierra Madre Horse Sanctuary is located 1/4 mile south of Tatum Blvd. and Dynamite.

Courtesy Photo