Get the kids out of the house and into big fun!
May 6, 2009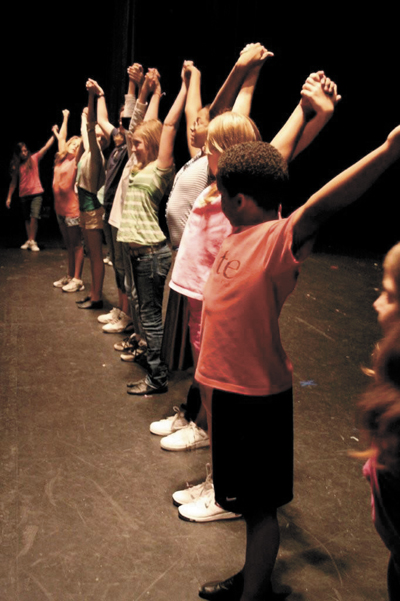 Summer is almost upon us and the kids will be chomping at the bit to get out of the house and into some fun. Desert Foothills Community Education is here to help with cheerleading, golf, leadership, chess, etiquette, hip-hop, horsemanship, movie-making, cooking, art, science, gardening, Child's Play, Super Camp, and more, including an impressive selection of performing arts programs.

"The Odyssey" the adventure of a lifetime
Every summer, the Desert Foothills welcomes C. Nicholas Johnson and his magical creative staff to the Cactus Shadows Fine Arts Center for two weeks of wonder and hard work for grades 2 – 12, culminating in an original multi-media production. This year, June 8 – 20, it's the Ancient Greeks of "The Odyssey." Performing arts campers get it all, intensive training and hands-on creative involvement in mime, theater movement, dance, music, singing, costuming, set design and building, and digital film production.
C. Nicholas Johnson's "The Odyssey" will be performed on the Main Stage at the Fine Arts Center on Friday and Saturday, June 19 and 20. Saturday's performances at 3 and 7 p.m. are open to the public.
The Wildest Musical in the West
Students in grades 3 – 9, can join Desert Foothills Theater's rip roarin' children's theater company, Gecko Teatro for summer theater camp at the Cactus Shadows Fine Arts Center, June 22 – July 3. This season's play is a hilarious western melodrama, "Ye Haw: The Wildest Musical in the West," with upbeat music and comedy 'til the cows come home.
In addition to classes in acting, dance and singing, including the "How To's" of auditioning, students will help create the sets, costumes and props for the show on July 2 at 7 p.m. Camp ends on 'strike' day, with an end-of-camp talent show.
"Cinderella" is a shoe-in
It's all about the shoe, or maybe it isn't. As with all Missoula Children's Theatre musicals, things aren't always as they appear to be. Their original adaptation of the classic fairy tale, "Cinderella," features Mice, Pumpkins, Cleo the Cat, Fido the Dog, Lords and Ladies, Town Criers, the King, and Beggars. There's always an amusing and enlightening twist!
Participants in the Missoula Children's Theatre camp, July 13 – 17, Grades K through 12, will perform in "Cinderella" at 7 p.m. on Friday, July 17, at the Cactus Shadows Fine Arts Center.
On your toes
Due to the high demand for quality ballet training, ages 3 – 5, the Arizona School of Ballet is presenting a satellite program, Ballet is Fun!, at Sonoran Trails Middle School, June 1 – 26. Classes are designed to develop muscular strength, endurance and musicality, as well as increase the student's ability to focus. The program aims to instill discipline, enhance, coordination, imagination and a love for dance. For more information, please call the Arizona School of Classical Ballet at 602-494-3400.
Beautiful music
Summer Band/Strings Music Camp, July 27 – August 31, at Sonoran Trails Middle School is a great way for kids to get back into playing before school starts. Students learn a wide variety of music in one week, and perform in a public concert - a good experience and a delightful concert – at 7 p.m. on Friday, July 31 at the Cactus Shadows Fine Arts Center. The Summer Band/Strings Music Camp is open to students Grades 5 through 8, with at least one year of music instruction.
For more a completed summer catalogue, go to ccusd93.org and click on "Community Education" or drop by the Desert Foothills Community Education office located at 33016 N. 60th Street, one half mile south of Carefree Highway. Hours are 8 a.m. – 4 p.m., Monday through Friday. For more information, call (480) 575-2440.