Falcs spoil P.V. Senior Day; Trojans here for May 5 finale
By Pete Mohr | May 6, 2009
Region title, State top seeding on the line for 'Birds

PARADISE VALLEY – May 4: Embarrassed by a six-inning 1-13 "mercy killing" on Senior Day for 11 graduating seniors, the revenge-determined Troys will bus up the hill, Tuesday afternoon, May 5, with a chance to (i) return rain on the Falcons' Senior Day parade, (ii) knock the Falcons out of the Desert Sky Region Championship and (iii) deny Head Coach Tom Scala's team a possible #1 seeding at 4A Conference - Division I State Tournament which gets underway Saturday, May 9, 11 a.m. first pitch. The Falcs will host a lower-seeded opponent to be determined. But remember, in the Playoffs (State), anything can happen – and sometimes does. Did the Trojans pull off the long-shot upset on May 5? See Front-Page sidebar for results.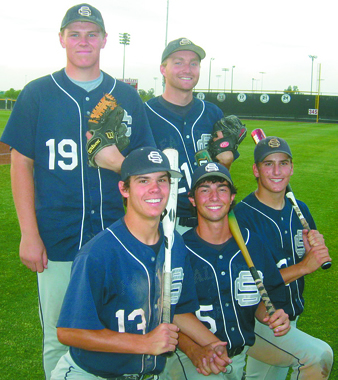 Postgame, Sonoran News to Coach Scala: "Coach, when you blow a team out, 13-1, are you worried that they might come back on you the next day?" "Hey, Pete! Don't jinx us! We're going to come out and swing the bats like we've been doing the last four games." With 9-0 "Mr. Thursday" Captain Jackson Goulder taking the mound, atypically on a Tuesday, I like the Falcon chances. They've handily won their away games at Shadow Mountain and P.V.
Now they're home, set to finish off their regular season at an impressive 21-6.

Senior pitcher/third baseman Mike Basco, after sitting out the 2008 season to concentrate on competitive golf (he captained the 2008 Boy golfers), didn't have to play baseball this spring – he wanted to. And what a difference "Mimi" (his affectionately-bestowed nickname) has made! Trimmed down from 245 lbs. to 210, the streamlined Mike Basco is noticeably quicker at third, more productive as the Falcons #5 hitter and has become the Falcons' reliable #2 starter. From this writer's perspective, Basco is the difference between the '08 and '09 Falcons.

Congratulations, Mike, on your solid season to date. I hail the unselfishness of your decision to rejoin your Falcon teammates. At P.V. Basco gave up one unearned run in the 1st; held the Trojans to a measly two hits; and struck out six in 5 1/3 innings. Senior reliever Greg Clifton, came on to record the last two outs, the second (and final) on a punctuation point swinging K.

Coach Scala is undecided on his starting pitcher for Saturday's State 1st Round, 11 a.m. first pitch. Depending upon Goulder's pitch count on Tuesday, he could make him "Mr. Saturday," then run him out for Friday's semifinals or "the big one" on Saturday. Basco or Ismael Castro, who's looked sharp in his recent relief appearances, would be Coach Scala's likely choice for Wednesday's quarterfinals.

But first, the Falcons must advance from Saturday's 1st Round. "They could … go … all … the … way!" And I'm sticking by my prediction that they will.

Photo by Pete Mohr
Warm-up for Senior Day? (standing, l. & r.) Starting and winning pitcher Mike Basco and reliever Greg Clifton throttled the P.V. Trojans on one run/two hits; (kneeling, l-r) Logan Davis, "Ozzie" Edwards and Jackson Goulder each had three hits in the Falcon 13-1 rout.

Softball Seniors shine on their exciting 'Day!'
By Pete Mohr | May 6, 2009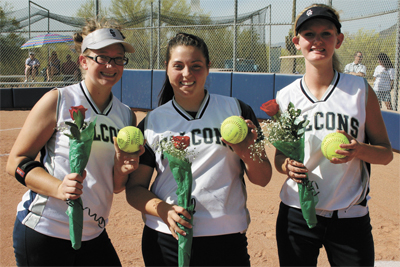 This writer suspects Head Softball Coach Danica Gianni must have structured the scenario for the Lady Falcons' 3-2 victory over Paradise Valley on Senior Day. Knotted 2-2 in the bottom of the 7th, senior 1st baseman Tia Jorde led off with a single, advanced to 2nd on an error, and then came home on Co-Captain Carey Riner's "walk-off" single to right. (l-r) The jubilant LadyBirds: Riner, Co-Captain Kilee Ferguson and Jorde. Ferguson had a double earlier in the game. Sophomore Camile McIver started and went the distance for the win. What a great way to finish at home, Ladies!

"Senior Day" Honorees
(in alphabetical order; parents in parentheses)
Mike Basco (Cindy & Frank)
Jay Burke (Angela & John)
Ismael Castro (Margarita & Ismael)
Greg Clifton (Robin & Greg)
Austin Edwards (Stacey & Kevin)
Jackson Goulder (Charlie & Andy)
Steffen Miner (Christie & Jim)
Anthony Pena (Diane & Frank)
Chris Sabanosh (Kristen & Jay)

Courtesy Photo
Youth Football Registration

When: Saturday, May 9, 9 a.m. to Noon
Where: Black Mountain Elementary cafeteria
Flag Football: Ages 6-8 (no weight restrictions) Fee $125
Tackler Football: Ages 7-14 (weights 45 lbs. min.;
169 lbs. max.) Fee: $135
Association Fees (by beginning of season):
Flag, $85; Tackle, $175
– Registrant and a legal guardian must be present
– Proof of residency (original plus one copy)
– Birth certificate (original plus two copies)
CCCYF website: www.cavecreekfootball.com