Falcons stop 0-3 'bleeding' • Bats, 'Mr. Thursday' top Saguaro
By Pete Mohr | April 29, 2009
CSHS now #4 in Power Points rankings

FALCON FIELD – Swept by McClintock (3-7, 1-2,) and bumbling (four errors) at Saguaro (2-5, April 21), the Falcons needed a win at home over the 'Cats. It only took 'em only the bottom of the 1st to get the job done.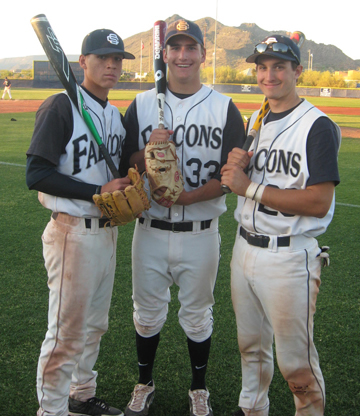 Leading off for the HomeBirds, shortstop Anthony Pena crushed a first-pitch fastball over the Palo Verdes beyond the right field fence. Captain Jackson Goulder walked, stole second and came home on Mike Basco's RBI single. Basco took second on a passed ball and was knocked in by Ismael Castro's first of two hits. Up 3-0, the Falcons never trailed, adding three runs in the 2nd (two on Goulder's seventh HR that nearly hit the flagpole) and three more in the 5th on Steffen Miner's line shot to right center (his 2nd of the season, and 4th RBI of the game) ended the Sabercats' hopes for a sweep. The 'Cats had gotten their only two runs in the top of the 4th, before Pena more than atoned for a muffed ground ball earlier in the frame with an amazing stop and throw from his knees to start an inning-ending 6-4-3 double play. Highlight film stuff!

Falcs need to run the table (two each), vs. #27 Shadow Mountain, April 28 (H) & 30 (A) and #17 Paradise Valley (May 4 (A) & May 5 (H), to win the Desert Sky Region title over #8 Chaparral. But Head Coach Tom Scala isn't counting any D-Sky "chickens" before his team "hatches" the highest possible seeding for the State Tournament, which most likely will have the Falcons hosting their 1st Round game on Saturday, May 9, opponent and starting time to be determined. Coach Scala to Sonoran News: "We definitely want the Region championship; but what we need most is to win these next four games to get ready for State."

So … two "last calls" for Falcon Field baseball: Tues., May 5 (regular season finale vs. P.V., 4 p.m. first pitch) and Sat., May 9 (State opener).

Photo by Pete Mohr
'09 WAS FINE! Seniors (l-r) shortstop Anthony Pena lined the first pitch for a HR and turned in the defensive Play of the Game; pitcher Jackson Goulder (Mr. Thursday) helped himself to 8-0 with a two-run shot in the 2nd; and catcher Steffen Miner's homer in the 5th plated three to put away visiting Saguaro, 9-2, Thurs., April 23.

Tennis ladies ending season
By Pete Mohr | April 29, 2009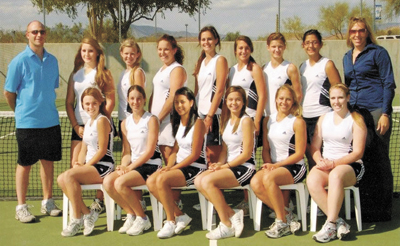 Head Coach Stacie Fitzgerald and Assistant Coach Lance Seveska guided the Tennis Lady Falcons to a solid 8-6 season, highlighted by winning the Higley Invitational (Feb. 27-28) and upsetting (at home) Chaparral, 5-4, April 14. Senior Nicole Farrell captained the LadyBirds.
The doubles tandem of senior Liz Shoulders and junior Anna Torosian went unbeaten in regular season play. On Tues., April 28, in State (team), the #13 CSHS Ladies went for their second upset of #4-ranked Chaparral; and sophomore Zoe Hoffmann is competing in State (individual), playing her singles match Friday morning, 9:30 a.m., at Paseo Racquet Center. (front, l-r) Tessia Fields (JR), Katie Maroney (SO), Pauline Lam (FR), Katie Radez (FR), Carolina Nick (JR), Farrell; (back) Seveska, Rachel Mellon (FR), Elizabeth Wilson (FR), Hoffmann, Shoulders, Beau Bremer (SO), Torosian, Michelle Abou-Eid (JR), Fitzgerald. Coaches Fitzgerald & Seveska express their special appreciation to home-court host, Winfield, and to the Lady Falcons parent community. ~ Pete Mohr

Courtesy Photo
Twenty two Seniors in final Regionals!


PHOENIX – Sonoran News wimped out (nasty weather!) on Track's Senior Day, Wed., April 15; but one week later, following their tri-meet with host Shadow Mountain and Notre Dame, 20 of 23 seniors obligingly posed – with minimum verbal harassment! Some faces (3rd & 4th rows) are partially obscured, but the bodies are all in there! (1st, l-r) Cody Williams, Kyle Short, Gus Myers (who vaulted 14'3" on April 15 to break his own CSHS record), Brandon Calderone, Cody January; (2nd, l-r) Kaylee Hutchings, Lacey Modzeleski, Jackson Donahue, Andrew Kezele, Noelle Crow; (3rd, l-r) Veronica Leech, Kurt Gilbertson, Lindsay Nunn, Jessica Smith, Ben Cresswell; (4th, l-r) Jordan Bagnall, Travis Bals, Natalie Omundson, Kevin Hildebrandt, Rudy Jiminez.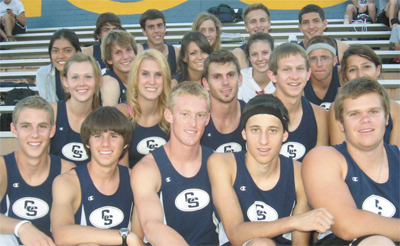 Not available for photo: Nick Bennett, Tommy Nevin, Alec Stapp. Desert Vista's "Freshman Showcase" and Glendale Invitational (both April 25) ended regular season competition.

Shadow Mountain will be the site of Regionals, Tuesday, May 5, and Friday, May 8.

Photo by Pete Mohr