2009 Fiesta Days Parade winners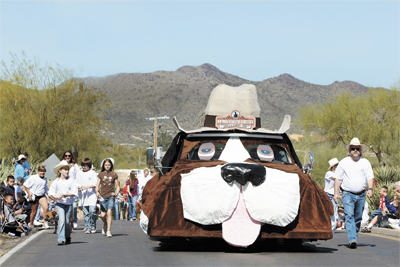 Color Guard - American Legion Post 34
Royalty Queen - Gilbert Days Royalty
Horse Drawn Entry - Bison Ranch
Motorized Group - Sheriff Joe Arpaio
Marching Group - Desert Cactus Kickers
Mounted Costume Riders - Wild Women of the West
Youth Float - Arizona Twirling Athletes
Misc. - Beckham Dental
Civic Float - American Legion Aux. Post 34
Commercial Float - Animal Health Services (shown above)
Antique Vehicle - Sun Country Model T Club
Band - Cactus Shadows High School
Comic - Frontier Town/Silver Spur
Mounted Riders - Glendale Desert Riders
Parade Chairman's Choice - M & I Bank

Photo by Curtis Riggs
Scottsdale/Paradise Valley YMCA Girls take Gatorade Championship

April 15, 2009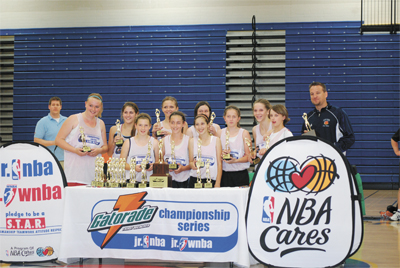 Courtesy Photo:
The Desert Foothills Athletic Club (DFAC) 13U girls basketball team playing out of the Scottsdale/Paradise Valley YMCA won the Girls Division of the Phoenix Gatorade Championship Series Basketball Tournament held April 5 at Shadow Mountain High School. The DFAC Falcons defeated teams from Glendale, Mesa and Chandler in route to their championship. Players were from left to right, Sierra Van Fleet, Brooke Cappell, Sierra Dolezal, Kassidy Burns, Abby Roberts, Kendall Hagerty, Taylor Hartman, Hannah Chamberlin, Makayla Spinas, and Hannah Kessell. The team is coach by Ryan Pletnick, girls varsity basketball Coach at Cactus Shadows High School.
Kiwanis Pancake Breakfast denies weather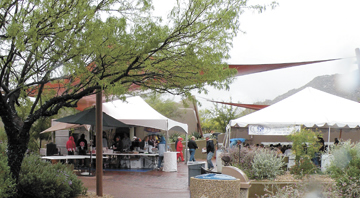 Brian Kunkel, recent Kiwanis President, made last minute adjustments and leased rain shedding tents to hold the Kiwanis Pancake Breakfast. Although the crowd was diminished by the inclement weather, die-hards had their pancakes and sausage on schedule.

Scottsdale Pantry having Grand Opening
Support the Foothills Food Bank, Gourmet Drink Mixers and Gourmet Salsa unveiled and Customer Appreciation Give Away!!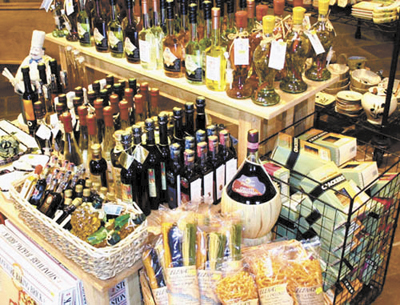 SCOTTSDALE – Scottsdale Pantry, formally known as Paul's Pantry, located at el Pedregal, is having a grand opening celebration from 10 a.m. – 5:30 p.m., Sunday, April 26. Come support the Foothills Food Bank, sample free food and drinks, win free gourmet gifts, and celebrate the flavor of Scottsdale.
On April 26, Scottsdale Pantry will donate 10 percent of all sales in support of the Foothills Food Bank (www.foothillsfoodbank.com). In addition, drop off a needed food item (meats, cereal, peanut butter,jelly, pasta sauce, canned pasta and canned fruit) for the Foothills Food Bank and receive 26 percent off any item in our store.
More...

RisingSun Kids keep on rolling

By Howard Gossack | April 15, 2009

The children are rising up in Cave Creek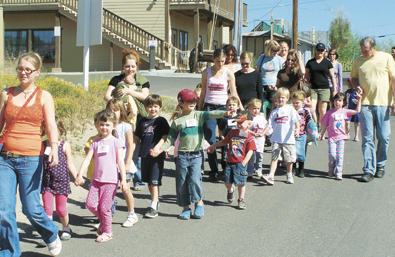 CAVE CREEK – Children from RisingSun Montessori Day School are getting ready for one more community action event as they close out their school year.

RisingSun families will be participating in a Roadside Clean Up of Cave Creek Road right through the core section of town on Friday, April 24. This is the final community service event for the children this year.
More...


'Thank You,' K-Lou Odell!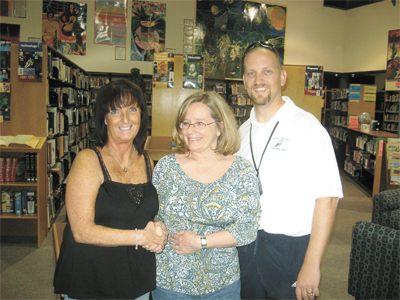 In the CSHS library, Tuesday evening, April 7, an impromptu "going away" thank-you honored outgoing Boosters President K-Lou Odell (center), who's "labored in the vineyard" the last six years. Incoming president, Creeker Ruth Varner, and Athletic Director Bill Dolezal provided the photo-op congratulations. Varner and husband Howard have more than a vested interest in the ongoing effectiveness of Boosters as a financially-supportive organization to Cactus Shadows athletics and school activities. They parent twin Varsity cheerleaders, rising seniors Jaime and Taylor. Well done, K-Lou – and good luck, Ruth!

Photo by Pete Mohr