Baseball 'Birds 5-4 thriller nets non-Region sweep!
By Pete Mohr | April 15, 2009
14th (H) & 16th (A) tests vs. McClintock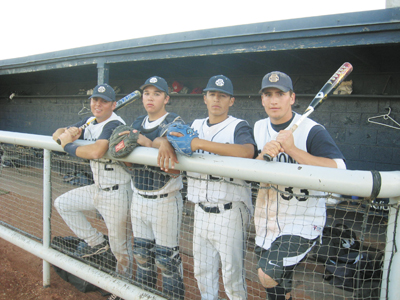 FALCON FIELD – April 9. For his "battling," #1-ranked, 16-3 (4-0 Region) Falcons, Head Baseball Coach Tom Scala could not have scripted a more exciting finish to their undefeated-in-six-games non-Region schedule. After "mercying" visiting Raymond Kellis, 19-9, in the April 8 "Wind Bowl," the Falcs toughed out a thrilling 5-4 come-from-behind home win the next afternoon over the #11-ranked Apollo Hawks.

Next up for the 'Birds, eight consecutive Region contests to finish the '09 regular season, starting at Falcon Field, Tues., April 14, against the #2-ranked McClintock Chargers, 4 p.m. first pitch. Then it's down to ChargerLand, April 16, followed by home-and-away dates with current #6 Saguaro (week of April 20), #25 Shadow Mountain (week of April 27) and #12 Paradise Valley (week of May 4). Barring a New York Mets-proportions collapse, the Falcons should, at least, host their 1st Round, 4A-I State Tournament opener on Saturday, May 9. [For April 14 results, please see Front-Page Sidebar.]

Leading 4-3 at the end of 4 1/2 innings, the Hawks brought in their ace, smoke-throwing righthander Gabe Gutierrez. Big Gabe, who no-hit the Falcons at Apollo last season, already stood to be the Star-of-the-Game, having crushed a Jackson Goulder fastball for a three-run homer to give the Hawks a 4-2 lead in the 3rd.

But the bottom half of the Falcon batting order was not to be intimidated. With two out and Jay Burke on third, sophomore catcher Connor Sabanosh, solidly filling in for starter Steffen Miner (cracked rib), smashed an opposite field single to right, sending Burke home with the tying run. It was the young backstop's third hit and second RBI of the game. The Falcon "Davids" had more than gotten the attention of "Goliath" Gabe!

With the bases loaded and two out, an obviously-tiring Goulder hung tough to get a fly ball third out in the Apollo 6th. Then, with Chris Sabanosh on second after a 1-6-3 double play attempt had misfired, Austin Edwards, batting sixth, lofted a fly that somehow fell in front of the Hawk leftfielder for what would prove to be the game-winning RBI. "Ozzie," postgame to Sonoran News: "I guess I got lucky – but I'll take it!"

"Fireman" Mike Basco came on to get the save, snuffing the 2-3-4 Apollo batters on only nine pitches, the last out recorded on a deft snag-and-tag play by first baseman Sabanosh. Nine pitches? That's closing, fans."Oh, b-r-o-t-h-e-r!" Thank you, Al McCoy.

Photo by Pete Mohr
"WIND BOWL" WINNERS: (l-r) "The Saba-togers," Senior first baseman Chris Sabanosh and not-so-little brother, soph backup catcher Connor Sabanosh (seven RBIs between them), senior Ismael Castro (pitched the distance, went 4-for-5, including HR and "walk-off" single), senior rightfielder Jackson Goulder (three-run homer) powered the Falcons to a 19-9 "mercy" win over Raymond Kellis at Falcon Field, Wed., April 8.

The sky's his limit!
By Pete Mohr | April 15, 2009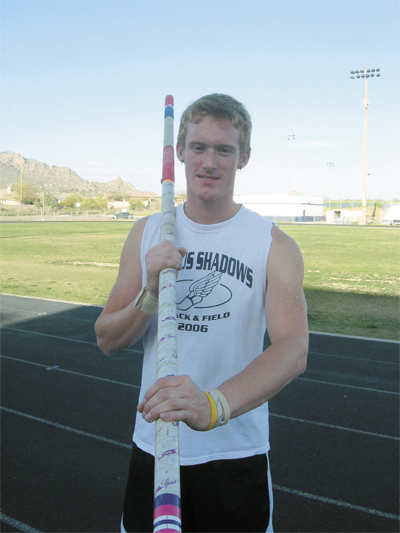 Well, Falcon track followers, figuratively speaking, you might say. For right now, senior pole vaulter Gus Myers (below) will "settle for" 16 feet. The son of Cave Creek chiropractor Todd Myers and RuthAnne Kruse, Gus told Sonoran News several weeks ago, "Vaulting is where I'm at!" Earlier this spring, he vaulted 13'6," breaking Michael Gorraiz's previous CSHS record by a foot! As a Track freshman, he was a high jumper, long jumper and ran the 100m & 200m. "I was mediocre at best," he candidly remembers. "I really wanted to excel … to be the best. I couldn't take my eyes off the vaulters." In his sophomore year, a persistent Myers, now 18, and a Valley resident since age 5, vaulted 10'6" at State 4A-II. One spring later, he was at 11' 6" – and "really lovin' it!" With a new (and stronger) pole, he's done 14'6" last summer and in practices – under good conditions, i.e., little or no wind. Will he make his own "Sweet 16?" Vaulting Coach Mike Markham, himself once an Olympic prospect, sees that goal as perhaps a little on the ambitious side; but he was quick to point out to this writer, "With Gus's speed, strength and determination, I wouldn't bet against him." Go for it, Gus!