#2-ranked Falcs down "A.J." twice; three non-region games, April 7-9
By Pete Mohr | April 8, 2009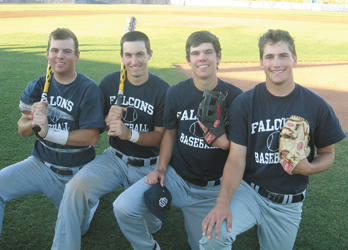 FALCON FIELD - It took 'em four days, Monday, March 30 through Thursday, April 2; but the Falcons righted their ship when they got home, closing out the Prospectors, 11-8, in the darkness-suspended game at Apache Junction, March 30, then solidly winning, 11-3, in the nightcap of the unintended doubleheader. In the "first" game, senior Mike Basco deservedly got the win, yielding only one run in six strong innings of relief. At home, with help from "Maria" that confounded (three times) the Prospector defense, senior Jackson Goulder went six solid innings, with Basco coming on for a three up/three down 7th.

Fans, depth and versatility have powered this Falcon team (13-3; 4-0 Region) to a #2 ranking in A.I.A. Power Points, as of Monday, April 6, trailing top-ranked (and Desert Sky rival) McClintock by 0.1389 power point. Mark your sports calendar for Tuesday, April 14, when the Chargers come to Falcon Field for the opener of a two-game home-and- home series. The 'Birds will travel to McClintock, Thursday, April 16.

Take a close look at the schedule for this week: away, April 7, at #15 Sandra Day O'Connor (2008 Runner-Up to 4A-I Champions, Chaparral); then back home on April 8 (vs. Raymond Kellis) and April 9 (vs. #11 Apollo). Apollo's Gabe Gutierrez no-hit the Falcons last season, but will likely be held out to pitch against their Region rival Sunnyslope on Saturday. [This sportswriter fan is hoping for a surprise appearance by Gutierrez: "Our best against their best." Great baseball!]

Three games in three days. That's tougher on a high school pitching staff than the State Tournament; but the Falcons have the depth to handle that challenge. Basco will start against SDO, with Davis in planned relief; Ismael Castro will get the ball against Kellis (where Dale Nicol is the "A.D."); and Goulder rested-and-ready for Apollo. Three front-line starters: that's the major difference (positive) between the '08 and '09 Falcs.

Baseball weather – minus a little "Maria" every now and then – is finally here; and Assistant Head Coach Shawn Rieck has painstakingly groomed Falcon Field into impressive condition. Come on out, fans! Take it from "Dino": these "battlers" (Head Coach Tom Scala) won't disappoint you.

Photo: POWER & PITCHING produced two Region wins (11-8, March 30, away; 11-3, April 2, home) over Apache Junction. (l-r) senior Chris Sabanosh's two-run monster "jack" in the 1st and game-tying single in the 7th saved the Falcs from an embarrassment at A.J.; senior Steffen Miner's 2nd inning blast, his first of the season, off the left field light tower, got the 'Birds off to 3-0 "never-trail" start at home; Logan Davis continued his valuable all-around performance; and pitching ace senior Jackson Goulder hurled six solid innings to get the April 2nd win.
Photo by Pete Mohr
100+ Falcons On-Track!
By Pete Mohr | April 8, 2009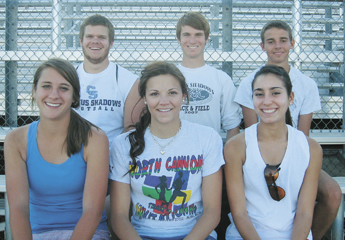 FALCON STADIUM – When former (and near-legend!) Head Track Coach Patty Egan elected to retire at the end of the 2008 season, there was understandable concern about the future of Falcon Track. Either former Athletic Director Monica Barrett or her successor, Bill Dolezal, made the right call, bringing in "Mr. Falcon" himself, CSHS algebra/ calculus teacher Jim Marando, to take the reins of the successful program. Athletes numbering approximately 110 (I did not head-count the Track Roster on right) verify that Track hasn't missed a beat. For Sonoran News first track photo of the 2009 season, Coach Marando nominated (front, l-r) sophomore Beau Bremer (middle distances), junior Bailey Bowers (pole vault), junior Jesse Hass (distances); (back, l-r) senior Cody January (shot, discus), junior Geoffrey Byers (sprints), junior Austin Miles (distances). Wednesday, Apr. 15: Track will host Apache Junction and Youngker (Buckeye) in the last home meet of the season. Start time: 4 pm.


Ladybirds eke out 1st D-Sky win at A.J.
Thursday, April 2, at Apache Junction: Sophomore pitcher Camille McIver went the distance for the shutout; Lady Falcons committed zero errors; and Co-Captain & senior Carey Riner led off the 4th with a double to the right-center fence, eventually scoring the game's only run on a passed ball, as the LadyBirds recorded their first Desert Sky win of the season."Awesome!," exulted Head Coach Danica Gianni to Sonoran News.
~ Pete Mohr