4th Annual Kiwanis Science Fair sets new records

CAVE CREEK – What kind of music makes your heart beat the fastest? What exactly is in the water we drink? Is there more energy stored in a marshmallow or a piece of popcorn? These are a few of the questions that the award-winning students took on in their projects for the 4th Annual Kiwanis Community Science Fair.

This year, the Fair climbed to new heights in terms of student participation and attendance. Almost 3,325 students from 11 different schools submitted 2,079 science projects, a 10 percent increase in projects submitted from the 2008 Fair. The total project count represents an eight-fold increase since the first fair was held in 2006.

The Kiwanis Community Science Fair is sponsored and operated by the Kiwanis Club of Carefree's Science Education Committee in cooperation with the schools in the region of the Cave Creek Unified School District (CCUSD). Carefree Kiwanis President Dave Bell stated, "Kiwanis members are thrilled to be able to assist the students to better understand the scientific method. This experience will be remembered by each student and someone will decide to enter the scientific field as a career because of the Science Fair."
Addressing the Fair's benefit to the CCUSD, Superintendent Debbi Burdick commented, "The Science Fair is a tremendous opportunity for our students to explore their science creativity, work through the scientific method and learn from each other after attending the fair. I am amazed each year at the growth and obvious learning afforded our students through this wonderful partnership with Kiwanis. I learned many new things after reading their hypotheses and results. Kiwanis has helped CCUSD expand and instill science interest and learning!"

On March 11 hundreds of community members as well as students, parents and teachers
visited the Fine Arts Center to view the best of show projects on display. Awards Ceremonies in the late afternoon honored about 100 projects prepared by more than 300 students as individuals, teams of 2 or 3 students or class projects.

A new feature of this year's Open House was the introduction of "Way Cool Science," a series of science demonstrations sprinkled around the Fine Arts Center and performed by enthusiastic students from Black Mountain Elementary School 4th and 5th Grades with expert guidance from teacher Debby Horton and Kiwanian Paula Scully.

A very special prize this year is the $2500 scholarship offered by Grand Canyon University to all participating High School students. The top 5 (and ties) projects will be invited to submit an application for a competition to win this Scholarship. The winner will be announced later when the competition is complete.

The Gold Medals and the Best of Fair trophies are called Rudy Becwar awards, named in honor of Mr. Rudy Becwar, the late Engineer who left a generous bequest to Carefree Kiwanis for the purpose of Science Education.

Get ready for largest hands-on Outdoor Expo in Arizona
PHOENIX – Want to catch a fish, hike a nature trail, shoot all types of firearms, see live wildlife, watch exciting rock crawler and ATV demonstrations, refine your archery skills or witness exciting mounted cowboy action shooters?

Then get ready for lots of fun and excitement at the largest hands-on outdoor exposition in Arizona on March 28-29 at the 1,650-acre Ben Avery Shooting Facility on Carefree Highway just west of I-17. It's free.

This year, the Arizona Game and Fish Department's Outdoor Expo promises to be the largest and most interesting ever. Last year, this popular outdoor event attracted 26,000 people.

"The word is out," this is the fun place to be on the last weekend in March. You'll discover a multitude of exciting outdoor activities and interesting booths at the Game and Fish Outdoor Expo.

You can:
• Try out firearms from Sturm, Ruger & Co., GLOCK, and Smith & Wesson in a safe, supervised shooting range setting
• Have your kids catch a fish at the large kids fishing pond
• See lots of live wildlife demonstrations from birds of prey to amazing reptiles
• Take an archery class or try out 3D archery on a walking course through the desert
• Kids can shoot .22s and air guns while learning more about firearm safety
• Try your hand at different specialty shooting disciplines, such as cowboy action shooting, black powder, tactical pistol, plus rifle and pistol silhouette
• Learn everything you wanted to know about off-highway vehicle recreation. View quads, side-by-sides, and 4x4s, plus see rock crawler, trial bike and ATV demonstrations
• Visit with more than 100 exhibitors – sportsmen's organizations, conservation groups, shooting clubs, government agencies, and commercial vendors of outdoor products and services
• Hike a nature trail/field course
• View exciting shooting competition by the cowboy mounted shooters at the brand new cowboy action riding ring
• Attend informative workshops on fishing, hunting, and wildlife conservation
• Get fishing tips from local tournament anglers and fishing guides at the huge fish demonstration tank
• Visit the enhanced Clay Target Center and shoot skeet and trap in a supervised environment
• Learn about all kinds of outdoor skills, including Stone Age camping

One segment being expanded this year is the Family Adventure area. This area was a big hit last year. Game and Fish is adding some new attractions, such as a fishing demonstration tank with local experts sharing their secrets on various fishing techniques.
So you don't miss a thing, trolley transportation is available throughout this huge shooting complex, which is located on Carefree Highway, just west of I-17 – follow the signs.

Admission and parking are free. Bring a little money for food and beverages, or for the nominal ammunition fee if you want to try out firearms on the range.
Gold sponsors for this year's Outdoor Expo are Pierce Bullet Seal Target Systems, the Weatherby Foundation, and the American Red Cross, Grand Canyon Chapter.
For more information visit www.azgfd.gov/expo.
100 Hours of Astronomy
This year marks the 400th anniversary of Galileo's invention of the telescope. What he saw through his simple, home-made instrument changed our view of the Universe, and supported Copernicus' theory that Earth orbited the Sun.

One fine night in early 1609, Galileo Galilei (1564-1642) became the first person to observe the night sky using something more powerful than eyes. He confirmed that the Moon had topographic features like the Earth, Venus showed phases like the Moon (proving Venus also orbited the Sun), Jupiter had its own system of four moons, the Milky Way consisted of stars too numerous and distant to count, and Saturn had rings, although through his crude instrument Galileo could best describe them as "ears." Over a few evenings of observations, Earth's place in the cosmos changed forever.

To recognize this accomplishment, professional and amateur astronomers world-wide have declared 2009 the International Year of Astronomy (IYA 2009). Part of this celebration is the "100 Hours of Astronomy" marathon, running from April 2-5. These dates were chosen to provide the best views of the Moon, one of Galileo's main targets. Observatories, science museums, and astronomy clubs around the globe will be hosting the public and providing tours of the night sky through their telescopes.

Observing the Moon through a telescope is an amazing experience. You'll be able to see, even better than Galileo, the Moon's mountains, craters, and valleys. It was these features that convinced Galileo the Moon was a solid body like the Earth with familiar geographic structure, and not some ethereal body composed of non-terrestrial elements. Suddenly, on that one paradigm-smashing evening 400 years ago, there was another "place" besides the Earth. A place we might some day visit.

The Desert Foothills Astronomy Club (DFAC) will be hosting their public event at the New River Kiwanis Community Park on Saturday, April 4 from 7 – 9 p.m. There is no charge for attending. All North Valley families are welcome. This is your opportunity to see the night sky like you've never seen it before. Many fascinating celestial objects will be clearly visible. More information and a map to the NRKCP are available on the DFAC website at: www.dfacaz.org. As events like this are occasionally shut down by bad weather, check our website for updates before you make the drive to NRKCP. We hope for clear dark skies.

Celebrate the Grand Re-Opening of Cave Creek's Gateway Desert Awareness Park

March 25, 2009
The Desert Awareness Committee is pleased to announce the Grand Re-Opening of Cave Creek's best kept secret: Gateway Desert Awareness Park. First dedicated in April, 1996, the park is an outstanding example of what community spirit can accomplish.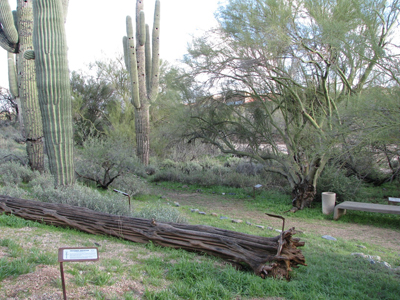 The ceremonies begin at 2 p.m. on Thursday, April 2nd and will include a Native American Blessing ceremony, a proclamation by Cave Creek Mayor Vince Francia, and presentations to individuals and organizations instrumental in the original formation of and the current re-furbishing of Gateway Park. The public is encouraged to join us and participate in the ceremonies to be held in the Vista Amphitheater, as well as the guided tours of the park offered by the Desert Awareness Committee.

Located in the heart of Cave Creek's Historic Town core along Galloway Wash, a block north of Cave Creek Road at Vermeersch Road, this 26 acre low impact park offers native habitat walking and horse trails in the flood plain. Picnic along the banks of Galloway Wash amidst a forest of native trees.

The focal point of the park is the native southwestern-inspired interpretive center, known as the Desert Heritage Center which highlights the region's complex relationship between past and present man, native plants and animal life. New, interpretive signage along the trails, made possible through a donation from the Gertrude A. Hurme Trust, and administered by the Desert Awareness Committee, explains how our native Sonoran Desert foothills provide abundant food and shelter, and why it is important to maintain natural wildlife habitats and corridors.

An open natural amphitheater situated at the highest point of the park's northeast corner, affords spectacular views of the surrounding desert and opportunities for educational and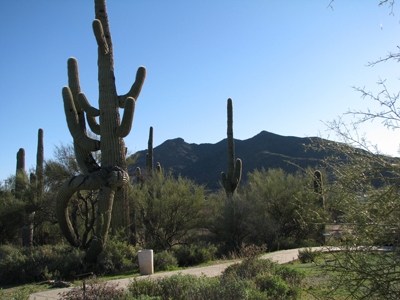 community gatherings.

Understanding the role of native plants in our ecosystem along the nature trails, one comes to realize the importance native vegetation plays in reducing erosion, providing shade and shelter, and maintaining viable wildlife corridors.
Come and join us as we walk the trails … smell the scents … look for clues to desert survival … unravel the mysteries of the desert. Equipped with a better understanding of this unique place, you too can join us in our goal of preservation.

The Desert Awareness Committee has been involved in education and stewardship of our desert foothills environment for four decades. We are a body of those who wish to learn more about the Sonoran Desert and how to live sustainably within it. We invite you to join us for a regular meeting, held the third Thursday of each month, October through May, 9:00 a.m. at the Cave Creek Museum, corner of Basin and Skyline Drive, Cave Creek.

Call Fran at 480 595-5501 or Diane at 480 488-5477 for more information.

Courtesy photos: Picture 1: Illustrated informational signs, like this one about the Saguaro Skeleton, appear along the Saguaro and Nature Trails. Picture 2: Black Mountain is in perfect view between the Desert Discovery Center and the Vista Amphitheater.
RisingSun food drive a success
March 25, 2009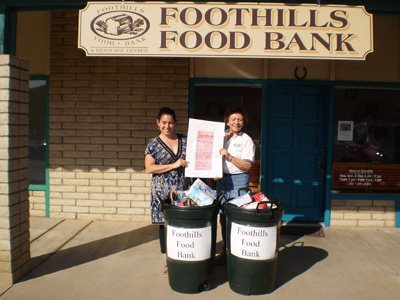 The RisingSun Montessori Day School community was successful in reaching their goal to help the Foothills Foodbank. Pictured are Mara Fishman Gossack, Head of School at RisingSun Montessori Day School and Pam Dipietro, Director of the Foothills Foodbank on the day the school delivered the goods collected during their drive.
Palm Sunday Walk for the hungry
CAREFREE – On Palm Sunday, April 5, the 18th annual Walk for the Hungry will be held in Carefree. The 5k walk is free, but donations from walkers and supporters are encouraged. The walk originates from Christ the Lord Lutheran Church (9205 E. Cave Creek Road) in Carefree. Funds raised from the walk will be used to support the hunger relief efforts of the Foothills Food Bank, WHEAT (World Hunger Ecumenical Arizona Taskforce), and Church World Service. In addition to monetary donations, donations of non perishable food items are also welcomed.

Registration for the walk is at 1:30 and the walk begins at 2:00 p.m.

Please join together with family and friends in collecting donations and enjoy a fun day while helping those less fortunate. All are welcome!

For more information please call 480 488-2081 or 480 488-1412 or email admin@ctlcarefree.org.