Best of the best will be at Bev Heaven
By Curtis Riggs | March 25, 2009
Focus of new Carefree Station venue

CAREFREE – The folks at Carefree Station seem to have come up with the answer to the age-old question about whether there is a bar in heaven.

To Carefree Station owner Robert Gabrick the downtown Carefree eatery's new Bev Heaven goes a long way toward answering the question.

"Do people think that heaven would not have a bar?" he asks to explain his reasoning for creating Bev Heaven. "People wouldn't want to go there if it didn't"
The concept behind Bev Heaven is similar to what Carefree Station has done with its wine list. Bev Heaven showcases the lesser-known liquors distilled by unknown companies because they don't have the money to advertise.

"They make millions of cases every year. Their quality can't be as high as the artisans," he said.

"We want to bring the smaller distilleries to the attention of people who can be their voice. The idea is they can't buy their way into heaven so their products need to be great."
He said many Canadian whiskies have more flavor than Canadian Club whiskey, but few people know about them.

He uses Appalachian Estate rum, which he says is much higher quality than Bacardi, as another example of what will be showcased at Bev Heaven.
Bev Heaven is located in the 80-seat upstairs patio at Carefree Station. A retractable awning can be rolled out when the temperatures begin to climb.

The stairway leading to the upstairs patio, and Bev Heaven, is referred to as the Stairway to Heaven by Carefree Station regulars. Restaurant staff are now working on coming up with the Ten Commandants, which will govern Bev Heaven.

Fiesta Days celebration to showcase CC's Western lifestyle
By Curtis Riggs | March 25, 2009

April 2 through 5

CAVE CREEK – The Fiesta Days community celebration in early April will be a weekend of parades, rodeos and horses, horses and more horses.
Nicole Fisher and Niki Crooks have been crowned queen and attendant for this year's Fiesta Days celebration.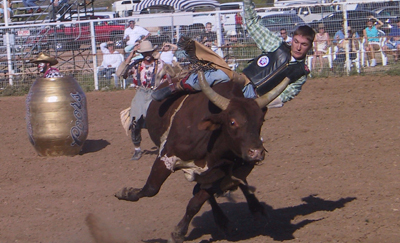 Fiesta Days, which will be celebrating its 31st annual event April 2 through 5, emphasizes the Cave Creek equestrian lifestyle with its rodeos, Mutton Bustin' (kids riding sheep) competition, queen contests and the ever-popular Fiesta Days Parade, which is sure to attract thousands to Cave Creek on Saturday April 4.
Many enjoyed last year's parade more than ones in previous years because it started and ended in Cave Creek. The theme for this year's parade is "Cowboys Around The World."

It will begin at 9 a.m. at Spur Cross and Cave Creek roads and go east to Stagecoach Village. (The westbound lanes of Cave Creek Road will be closed to traffic that Saturday morning.)

Parade co-chairwoman Patty Coyle said there are already over 100 parade entries this year. "The parade just gets bigger and better every year," she said.
Six-time bareback riding rodeo champion Bruce Ford will be the Grand Marshal of this year's parade. Ford will give a bareback riding clinic at Cave Creek Memorial Arena, 32nd Street north of Carefree Highway, from 10 a.m. to 3 p.m. on Wednesday April 1.
Fiesta Days P.R.C.A. (Professional Rodeo Cowboy Association) rodeos will be held at Cave

Creek Memorial Arena at 1 and 7 p.m. on Saturday April 4. The final rodeo performance will be at 1 p.m. on Sunday April 5.

Fiesta Days lovers look forward to the Friday night (April 3) Mutton Bustin' competition, which provides wagons full of hilarity as the young 'uns try to stay on the backs of sheep long enough to win the coveted Mutton Bustin' championship belt buckle. Mutton Bustin' championships will be held at 1 p.m. at the arena on Sunday, April 5.

The Desert Foothills Community Association puts on Fiesta Days. D.F.C.A. officials remind people the best way to see the rodeos, and Mutton Bustin, is with a membership to the Stockman's Club, which includes a catered meal and free drinks. For information about the Stockman's Club call Beth Cornell at 623-293-8445.
Fiesta Days kicks off on Thursday, April 2 with the annual golf tournament at Rancho Mañana Golf Course.

Fiesta Days rodeo dances will be held at Harold's on both Friday and Saturday (April 3 and 4). Both Mogollon and Young Country will be playing for the dances.
For information about all Fiesta Days events visit www.fiestadaysrodeo.com.

Photo: Curtis Riggs. Fiesta Days bull riding competition is one of the few rodeo events, which still has a sponsor for the April 3 through 5 community celebration.