Knox, Frederiksen, Stauth head Basketball honors; Freshmen (19-0), JV (17-2) brighten Falcon future
By Pete Mohr | March 11, 2009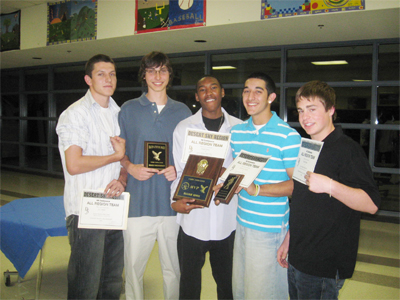 CSHS – You gotta hand it to Falcon mothers: they sure know how to put on a spread at awards events! Wednesday evening, March 5, it was the Boys Basketball Moms who provided the (more than) good eats before Head Coach Dirk Walker emceed the upbeat year-ending program.

Freshman coach Troy Freese and JV mentor Tyler Dummett, in turn, recognized their squads who compiled 19-0 and 17-2 records, respectively. Congratulations, Guys! Your outstanding performances brighten the future of Falcon Basketball. Rosters below.

Help me out, older readers. Was it not proclaimed by the Westinghouse advertising slogan, "Progress is our most important product!"? So it was with the Varsity Falcons, who broke even at 13-13, improving upon their 2007-2008 record of 9-17. Only a fraction of a second (Brock Frederiken's waved-off "game-winner" in the Senior Night finale against Paradise Valley) denied the Hoop Guys a winning regular season – and a berth in the 4A-Division I State Playoffs. But you don't hear Coach Walker, Assistant Coach Brent Demmitt and their guys cryin': just this sportswriter! A bad break, fellas. Next year, a critical call will go your way.

Tri-Captain & senior Elijah Knox was a double awards winner, named the squad's "Most Valuable Player" and selected to 2nd Team – All Region; Tri-Captain & senior Brock Frederiksen received "Falcon Attitude" recognition; and Tri-Captain & junior Andrew Stauth also "doubled", honored as "Mr. Defense" and Honorable Mention - All Region. Seniors David Byrne and J.J. Miller also won Honorable Mention - All-Region berths.

Congratulations to the Varsity Falcons and coaching staff. You gave Cactus Shadows basketball fans an exciting, "never-quit" season.

BASKETBALL ROSTERS
(in alphabetical order)
Freshmen:
Aaron Braude
Adam Breitenbucher
Kyle Brindlinger
A.J. Hess
Blake Jarvis
Eric Johnson
Dylan Lenzen
Paul Magtibay
Sean O'Grady
Trevor O'Hearn
Dell Oliver
John Seavey
Alec Stewart
Garrett Swanson
David Toomey
JV:
Jack Bennett
Carlos Carranza
Logan Casey
Keegan Collins
Max Gersh
Austin Horton
Ben Leech
Casey Perrin
Ryan Robinson
John Seavy
Alex Wambach

Photo By Pete Mohr: FIVE WHO SHINED: (l-r) Seniors J.J. Miller (Region Honorable Mention), Tri-Captains Brock Frederiksen ("Falcon Attitude"), Elijah Knox ("MVP"; Region 2nd Team) & junior Andrew Stauth ("Mr. Defense"; Region Honorable Mention) and senior David Byrne (Region Honorable Mention) led winners at Basketball's awards dinner, March 5.
Beautiful day, fun softball!
By Pete Mohr | March 4, 2009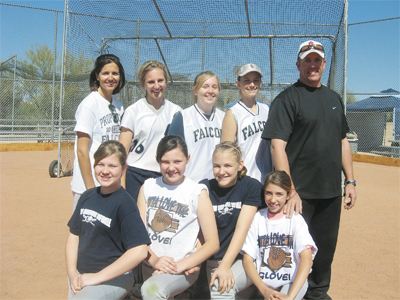 Nothing like a beautiful midday with softball players of all genders and ages having fun to erase last Thursday's 1-2 extra innings disappointment at Raymond Kellis. Sophomore starting pitcher Amber Underdown was "outstanding" (Head Coach Danica Gianni) in going the distance.

At Softball's annual "Marathon," Sat., March 7, Coach Gianni happily observed, "Parents had the most fun of anyone!" Nineteen adults participated in the "Home Run Derby," and the more limber dads manned various positions in the continuous softball game. When the in-field dust had settled, Softball initially counted $3,500 to benefit this season's program. Coach Gianni: "The Girls and I thank everyone for making our 'Marathon' a success!"

2009 VARSITY ROSTER
(in alphabetical order)
Maria Carranza JR IF/OF
Lauren Clepper JR 2B/OF/C
*Kilee Ferguson SR P/OF
Samantha Franke SO OF
Gracie Goulder SO SS/OF
Elyssa Hartsock SO C/OF
Kristin Hillier FR 3B/2B
Tia Jorde SR 1B/OF
Camille McIver SO P/OF
*Carey Riner SR 3B/SS
Shea Smothermon SO OF
Amber Underdown SO P/1B
*Co-Captains
Assisstant Coach: Bill Ferguson

Photo By Pete Mohr: Front, l-r Valentina Bertrand (11), Riley Richards (12), Kelly Hajek ("Gonna be 12 in 18 days!), Bailee Walker (just turned 10!); (back, l-r) Danielle Amann (FR, JV pitcher), Kristin Hillier (FR, 3B/2B), Lauren Clepper (JR, 2B/C) and Louie Walker (Bailee's dad!)

Baseball Falcons, 2-2, at Tucson; Here, March 13-16
By Pete Mohr | March 11, 2009

At Tucson's "Cactus Classic," March 5-7, Baseball Falcons broke even, 2-2, defeating (Tucson) Flowing Wells, 9-5, and Centennial, 5-3, before their bats went silent (only three hits) against (Tucson) Canyon Del Oro, losing 2-8, in the Semifinals. Playing for 3rd place against Ironwood Ridge, the 'Birds led 4-0 at the end of five; but the Tucson nine rocked the Falcon bullpen for six runs in the 6th to register a 6-4 comeback victory. Starter Jackson Goulder got the win, his 2nd, against Flowing Wells, with Ismael Castro belting a solo home run in the 4th. On Friday, Castro was the winning pitcher vs. Centennial. Mike Basco picked up the save. Falcons travel to Peoria, Thurs., March 12, before playing their first game at Falcon Field in the "Spring Classic" tournament, Friday, March 13, 1 p.m., vs. Copper Canyon. The 'Birds host Agua Fria, Saturday, at 7 p.m., before their home doubleheader on Monday, March 16: Prescott, 4 p.m.; then Queen Creek, 7 p.m.. Tuesday, March 17, 7 p.m.: Semifinals at Thunderbird, matching the "Thunderbird" and "Cactus Shadows" sites winners. Finals at Grand Canyon University, Wed., March 18, 7 p.m.