D.A.M.S. hoops uniquely honored
By Pete Mohr | March 4, 2009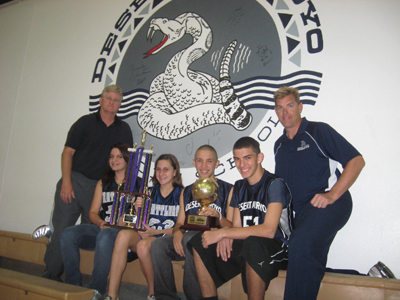 The Desert Arroyo Middle School component of Falcon Basketball's "farm system" scored a unique "first" on February 16, 2009, as 8th Grade Boys, coached by DAMS Athletic Director Don Larson, and 8th Grade Girls, coached by DAMS physical education instructor Tom Scala, both won their NBA All-Star Jam Session Invitational Championships at Phoenix Convention Center. It was the first time in All-Star Jam Session history that boys and girls tournament champions came from the same school. On February 7, 8th Grade Girls won their State Championship, finishing their season unbeaten at 21-0! Co-Captain Monica Turley was named Tournament MVP. Boys Co-Captain Drew Bender was Boys State Tournament Co-MVP. (above, l-r) Coach Scala, Co-Captains Turley and Danielle Zalewski, Co-Captains Jordan Williams and Bender, Coach Larson. Girls roster: Turley, Zalewski, Genevieve Pirotte, Brooke Cappel, Sarah Torosian, Carissa Miller, Abby Schmidt, Nicole Sonnenburg, Christine Boisson and Mackenzie Swaney. Boys roster: Williams, Bender, Cody Baird, Jake Colombo, Connor Mayer, Jack Daley, David Adams, Cody Folts, Connor Folts, Hayden Hill, Parker Manahan and Adam Bednar. Congratulations, Rattlers!

Photo By Pete Mohr
Softball's annual fundraiser
By Pete Mohr | March 4, 2009

9 a.m. – 2 p.m. Saturday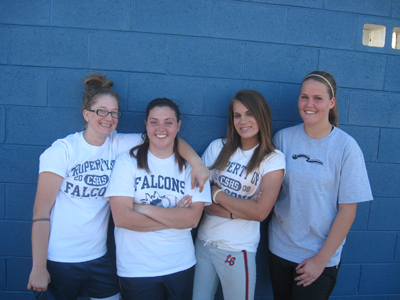 Head Coach Danica Gianni, Assistant Coach Bill Ferguson and the Lady Falcons invite fans and friends to their "Softball Marathon." The team's annual fundraiser is Saturday, March 7, 9 a.m. – 2 p.m. at Varsity Field (westernmost boundary of CSHS campus). "There'll be plenty of fun, food and softball," Coach Gianni encourages. "We'd especially like to have our friends from Little League, Desert Arroyo and Sonoran Trials."

Counting on the Lady Falcons to carry over the momentum from their solid six-game win streak at the end of last season, this writer predicts that 2009 will be a break-out year for the LadyBirds. Coach G. concurs. "We have a lot going for us this year: pitching depth (three starters), across-the-team experience (from Falcon Fastpitch club ball) and better facilities." Coach Gianni exp-ressed her special appreciation to CCUSD's Dennis Roehler for significantly improving the outfield surface, and to softball parent "Charley" Goulder who was instrumental in the Districts installation of fencing around the entire field.

Leading the Lady Falcons will be (l-r) Co-Captains Carey Riner and Kilee Ferguson and sophomore pitchers Amber Underdown and Camille McIver. LadyBirds "stumbled a little bit" (coach Gianni) in going 1-3 at last weekend's "Dorado Classic" (Tucson's Canyon del Oro), but she was quick to highlight Underdown's no-hitter in t he 10-0 win over a team from Irvin, Texas, and junior Lauren Clepper's play behind the plate.

Photo By Pete Mohr

"MAC", 52 - CSHS, 42 in Semis; 3rd quarter doomed LadyBirds
By Pete Mohr | March 4, 2009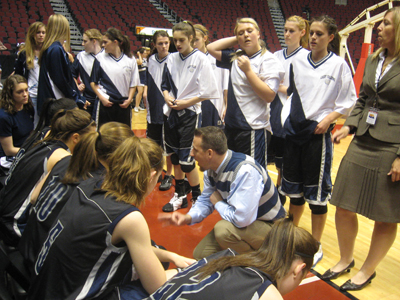 Feb. 26. at Jobing.Com Arena: Don't congratulate Head Girls Basketball Coach Ryan Pletnick on the Lady Falcons' outstanding 27-5 season. He doesn't want to hear it. For the fifth consecutive "Final Four", the LadyBirds couldn't get over the Semifinals hump, losing to Amy Patton and her Lady Charger compatriots by ten.

So what happened? The Lady Falcons, riding a nine-game winning streak, came out tight and were never in synch, offensively or defensively, after Gracie Goulder "sat" with two fouls only 2:00 into the game. They did lead, 10-8, at the end of the 1st on Co-Capt. Alex Easterbrook's "three" at the buzzer; but she would not score again, frustratedly closing her outstanding four Varsity seasons (the last three as a co-captain) when she fouled out with 3:24 left in the game. Congratulations, "A.E." You always played your hardest. Good luck at Fort Lewis State!

Deadlocked 22-22 at the half, what the LadyBirds feared most unfolded early in the 3rd. Patton took charge, netting 10 of the Lady Chargers' 18. The Lady Falcons, flat, could manage but six, digging themselves into a 28-40 hole at the end of three.

The LadyBirds went down, 30-46, with 4:23 on the clock. Then Maria Carranza (high scorer for the LadyBirds with 18) and Kate Accola fought back, literally, gamely scoring 12 unanswered points -- with Accola at the line shooting two. Clearly fatigued, she couldn't connect; and with CSHS having to foul for possession, she ran the last six points to the 52-42 final.

Coach Pletnick and I have a gentlemen's understanding: when his Lady Falcons lose, I take no photos. Coach, I'm confidently expecting to be back at Jobing.com next February, my digital Canon at-the-ready!