CSHS fifth straight "Final Four!" Take on "Amy Patton-tock" in Semifinals, Feb. 26
By Pete Mohr | February 25, 2009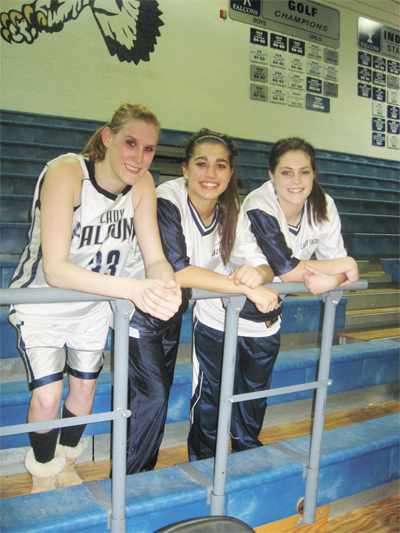 BARRETT GYM - Feb. 20. Karen Dolezal sings our "National Anthem" as it was written to be sung; "A.D." Bill Dolezal mans the P.A. mike; Tennis Coach Bob Dice keeps (as usual) the home scorebook; and CSHS Social Studies teacher Allison Zilka has the thankless task of time- keeper. Then Head Coach Ryan Pletnick's #3-seeded Lady Falcons went out and took care of business, methodically downing #7-seeded (Tucson) Sahauro, 44-27, sending the LadyBirds into their fifth consecutive "Final Four" at Jobing.com Arena, Thursday, Feb. 26, 2:30 p.m. tip.

If the Hoop Gals can defeat McClintock (a/k/a above, "Amy Patton-tock") for the second time this season, they will advance to the March 3 Finals against the winner of #1-seeded (Tucson) Canyon del Oro vs. #4-seeded Shadow Mountain. Coach Pletnick confidently has his fingers crossed for an All-Desert Sky Region Finals: his Lady Falcons against Shadow Mountain's Lady Matadors, with whom CSHS split regular season contests.

But first, comes the Lady Falcons' third encounter with the dangerously-talented Ms. Patton. Coach Pletnick to Sonoran News, Monday, Feb. 23: "We've got to slow her down, forcing McClintock into a half-court game. We know that she's going to get her points; but what we can't allow is for her to control the tempo of the game." In the Hoop Gals' 65-59 win at "Mac", January 30, Liz Shoulders, Chelsea Zalewski and Kara Curley frustrated Patton; but Curley is on crutches from February 17 knee surgery, so Coach Pletnick has decided to rely upon the Shoulders-Zalewski tandem.

In spite of his less than impressive 2008 predictions for Falcon Football, "Dino" sez, "If the Fightin' LadyBirds, with their backs to the doggone wall, could beat the Lady Chargers at McClintock, they'll get it done at Jobing.com: CSHS, 52 - "Mac", 48."

I'll be at courtside, minding my "Pursuing Victory with Honor" manners. Go get 'em, Ladies!

All-Region Honorees
1st Team: Co-Capt.
Alex Easterbrook (SR)
Gracie Goulder (SO)
2nd Team:
Maria Carranza (JR)
Kate Accola (SO)
Honorable Mention:
Co-Capt. Nicole Farrell (SR)
Lacey Modzeleski (SR)
Chelsea Zalewski (JR)

Photo By Pete Mohr: ON TO STATE SEMIS! (l-r) Seniors Lacey Modzeleski (determined rebounding) & Co-Capt. Alex Easterbrook (early scoring spark) and junior Molly Shoulders (tough "D") led the Lady Falcons to a decisive 44-27 Quarterfinals victory over visiting (Tucson) Sahuaro, Friday, Feb. 20. All the way, Ladies, to CSHS first State Championship!
Baseball Falcons get 11-4 jump-start in annual scrimmage against (Cottonwood) Mingus
By Pete Mohr | February 25, 2009

Head Coach Tom Scala tests eight pitchers

FALCON FIELD – Feb. 21. A near-perfect Saturday mid-day for baseball. Falcon Field impressively in near-perfect condition, thanks to Assistant Baseball Coach Shawn Reick's beyond-the-call devotion. Play ball!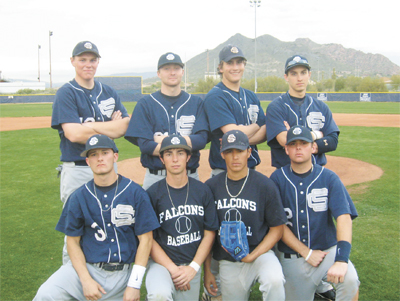 And that they did, their "overall performance" praised thusly by Head Coach Tom Scala. "For our first time out, I thought our offense was out-standing. Same for our defense, which committed only one error."

Bottom of the 1st, junior Logan Davis (a Chappie transfer!) smashes a triple to deep left center. Senior infielder Austin Edwards walks. Senior starting pitcher Jackson "LOG" Goulder strikes out swinging; but senior first baseman (moved from third because of a right shoulder still healing from off-season surgery) gets the first Falcon RBI with a line-shot caught in right center. Look for the Davis-Sabanosh combo to be an offensive threat this season. Welcome to Cactus Shadows, Logan!

Coach Scala saw the Falcons encouragingly "take charge of the game in the middle innings." Note that the visiting Marauders defeated Notre Dame to win the 2008 4A-II State Championship.

Eight Falcons pitched one inning each, an indication of pitching depth, which would definitely be a plus over the '08 campaign: in order, "LOG", Ismael Castro (SR), Jaron Long (JR), Davis, Nick Francis (JR), Gregg Clifton (SR), Jordan Hartman (JR) and Mike Basco (SR). Some game-tested arms in that crew, especially with Basco taking a spring sabbatical from golf. Welcome back, Mike!

"LOG" Goulder? Yep, as in "Last of the (Baseball) Goulders", a nickname affectionately bestowed in the tradition of older brothers "P.V." ["Palo Verde"] (first baseman Albie, CSHS '04), "Scrappy" (catcher Ollie, CSHS '06) and "Jake" (outfielder Jacob, CSHS '08). The Goulders (Andy, Charlie & Sons): "The First Family" of Cactus Shadows Baseball.

Falcons open the regular season at Higley, Thursday, Feb. 26. First home game, Thursday, Mar. 12, against Peoria.

Photo By Pete Mohr
Senior octet: (front, l-r) Jay Burke, Austin Edwards, Ismael Castro, Chris Sabanosh; (back, l-r) Mike Basco, Gregg Clifton, Jackson Goulder, Steffen Miner. Best wishes for a great "Senior Season!"
Only for their parents!
By Pete Mohr | February 25, 2009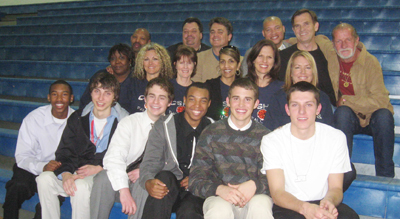 It was tough to smile after their 80-89 double OT loss to PV; but these six Falcon seniors bravely came out to be photographed by Sonoran News with their proud parents on "Senior Night," February 10. (l-r, with Moms & Dads behind them): Tri-Captain Elijah Knox (Yvonne & Eugene), Tri-Captain Brock Frederiksen (Kristi & Chris), David Byrne (Susan & Shawn), Blake Smalley (Daljit & John), Nick Bennett (Carol & George), J.J. Miller (Denise & James).
Congratulations, 'Bird seniors — and your #1 fans!