Challenger encouraging art nights in downtown Carefree
Back in his Carefree gallery
By Curtis Riggs | February 11, 2009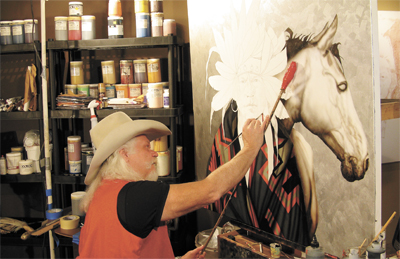 CAREFREE – Acclaimed Southwestern painter J.D. Challenger is back from, Taos, N.M. and will be painting in his studio in the Carefree Galleria for the next couple of months.

"People can come in, pull up a chair and watch me work," said Challenger, a mixed media painter who specializes in transferring Native American themes to canvas.

Challenger paints into the evening (8 or 9 p.m.) at his studio on Hum Road. He invites all art lovers to come and watch him work.

He hopes his evening work and artistic abilities help to create atmosphere and action in downtown Carefree while he is in town. He envisions beginning a Friday and Saturday Art Walk to help attract people to downtown Carefree.

"We are trying to get other stores and galleries to stay open too," he said. "We are looking at doing something different every weekend."

Challenger will hold a pre-Valentine's Day evening of art, music, wine and hors d'oeuvres from 6 to 9 p.m. at his Carefree Challenger Gallery, 37555 Hum Road, on Thursday, Feb. 12.

Another event is planned the weekend of March 13 through 15.

"I'm for anything that brings people in," he said about encouraging restaurants, shops and galleries to work together on evening and weekend events, which could draw large crowds.

"Some people are hurting. We hope we can get together and make something happen," he said. "We hope to get everybody to pull together on the evening events."

Another reason Challenger is back in the Desert Foothills is to be near his many collectors who live at Desert Mountain, the Boulders and other areas of the Desert Foothills.

New additions to the Challenger Gallery are the acrylic paintings of his wife, Denise Challenger.

To go along with his Native American portraits and themes, Challenger is also now doing some landscape painting.

"I'm stretching and growing as much as I can," he said. "I'm going for brighter, different color palettes," he said about one change. "I'm also mixing in some contemporary in with the traditional for what it's worth."

Visit www.jdchallenger.com to find out more.

Photo by Curtis Riggs: Acclaimed Southwestern painter J.D. Challenger will be painting in his downtown Carefree gallery through April.

Two hundred heads are better than one

By Stephanie Habib and Katie Stilson | February 11, 2009

This winter, the Cactus Shadows Shadowbox Players begin their 2009 season with the classic musical, West Side Story. This production will be unlike any other with a cast of 55 students, a dozen teachers volunteering both backstage and onstage, and parents and community members helping the show "feel pretty."

The end of February will bring the timeless story of love and loss to Cave Creek for a two weekend run at the Cactus Shadows Fine Arts Center, located on 60th Street, south of Carefree Highway. Before the show can open, however, a network of 200 people will come together to transform the main stage into one of New York City's roughest areas, and the actors and actresses into the young men and women who inhabit this region.

In order for this to happen, the Shadowbox Players and the Cactus Shadows Orchestra separate into crews, which tie every aspect of the musical together. Students can choose a focus of Publicity, Sets, Props, Lighting, Costumes, Front of House, or Sound, along with a heavy eight week rehearsal schedule which includes dancing and singing. The crews are led by director Linda Garvin and two student directors, freshman Melissa Dragone and junior Jessica Dragone.

Directing all aspects of this show is a league of community adults who are completely dedicated to seeing the students succeed. Each adult has a specific role: Kevin Glenn heads the cast's singing rehearsals, Gary Wykoff leads the school's orchestra and there are three dance instructors: Liz Lincoln, Lori Hart, and Elissa Erickson. Students received lessons in staged combat from stage combat expert Rick Alpers.

Also contributing backstage are the families of the cast members. Director Linda Garvin has recruited three teachers; Mr. LaVigne, Mr. DelGrosso, and Mr. Burns from Cactus Shadows to perform alongside the students.

For West Side Story, the Shadowbox Players are inaugurating a new system: tickets can be purchased online at www/ccusd93.org/tickets or by phone starting February 12 at 480-575-2076. Performances are at 7:30 p.m. on February 26-28 and March 5-7. Ticket prices are $10 for adults and $8 for students to help cover the estimated $15,000 production cost of the show. With so many people from the community adding to this production – and always opportunities for more to join in – it is certain the Cactus Shadows Shadowbox Players' 2009 season will be one to remember!