'06, '07, '08, '09 Champs: remarkable!
Cheer honored (the late) Bea Saltwick
By Pete Mohr | February 4, 2009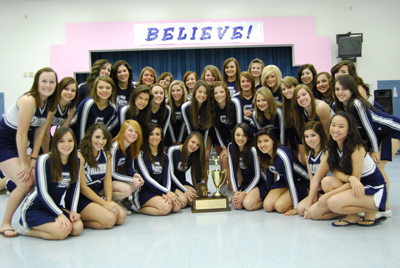 By this time, most readers are aware that Coach Rika Cuff's Competition Cheer squad and Coach Melissa Valez's Dancers won an unprecedented (and likely never to be repeated) fourth consecutive Arizona Interscholastic Association "Spirit Line" (State) Championship, Saturday, Jan. 17 in Prescott Valley, Ariz. Remarkable! For all you Paul Harvey fans, I'm beyond pleased to share with you …"the rest of the story."

Cheer took to the stage for their 2.5 minute performance (Dance was allotted only one minute!) reduced (by scholastic ineligibilities and team rules violations) from an optimum 30 performers (for judging visibility) to a stalwart 22. That made the quest for a "Spirit Line" grand slam more than difficult enough; but more emotionally impacting, on December 10, 2008, beloved "Cheer Mom," Creeker Bea Saltwick, mother of sophomore cheerleader Kiersten Saltwick, suffered a massive heart attack and died five days later. I never had the privilege of meeting Bea Saltwick, but from the expressions of love and admiration by those who were touched by her energy and unselfishness, I know this very special lady will be greatly missed – and already is.

Wearing pink hair ribbons embossed with a single heart, loving and supporting Kiersten, Cheer and the five-member Stunt Team dedicated their performances to honor Bea Saltwick. Both won! With Dance's solid 2nd (to Chaparral), Cactus Shadows' "Spirit Line" brought home what I believe will always be remembered as their most significant championship.

God rest your great spirit, Bea Saltwick. These Desert Foothills will never forget you.

Courtesy Photo
Boys win, Girls lose "Senior Night" shootouts; both advance to State
By Pete Mohr | February 4, 2009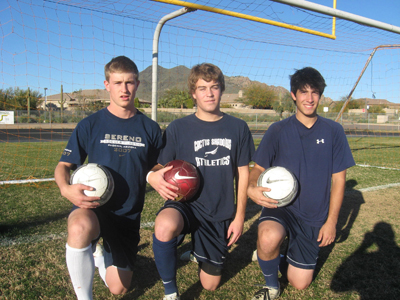 FALCON STADIUM - Jan. 29. The hated Chappies were on the brink of spoiling Soccers' "Senior Night." Goalkeeper Megan Baldacci's heroics had kept the Lady Falcons close, 1-1, in regulation; but after two scoreless ten-minute overtimes, the Lady Firebirds prevailed in a shootout (3-1) to win the Desert Sky Region title. "She (Baldacci) did everything a great goalkeeper is supposed to do," praised Head Coach Jeff Vittorio. "I believe this game, tough loss though it surely was, is just going to make us hungrier in the State Tournament."

So up stepped Head Coach Mat Evans' Soccer Lads. Scoreless at the end of regulation, senior striker Tyler McClendon netted a rebound at the ten-minute mark of the 1st overtime.

The Chappies got the typing goal only 36 second later. "G-r-o-a-n!" went the "Senior Night" home crowd; but in what Coach Evans described as "the hardest-fought soccer match I've been privileged to coach," the Falcons blew away the Firebirds, 3-1, in the match-deciding shootout.

The victory vaulted the Soccer Lads into the #1 seeding at State. On Tuesday evening, Feb. 3, they hosted #16 Nogales. [See Front-Page Sidebar for results.] The Lady Falcons, seeded #7, were at home to face the #10 Sunnyslope Lady Vikings, Wednesday, Feb. 4. The winner will meet the survivor of Sandra Day O'Connor vs … who else? … Chaparral!

Photo by Pete Mohr
FALCON SHARPSHOOTERS! (l-r) Seniors Tyler Bradshaw and Max Hammer and junior Jordan Hartman "hosed" the Firebirds with three consecutive penalty kicks in the 2-1 victory that made the Soccer Lads Desert Sky Region Champions in the nightcap of "Senior Night," January 29.
Girls, 7th (Tie); Boys, 17th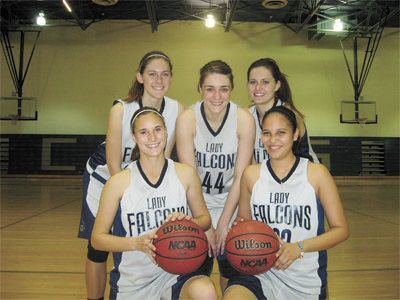 Jan. 30: Putting the defensive clamps on McClintock's Amy Patton were (back, l-r) Chelsey Zalewski, Kara Curley, Liz Shoulders, while Grace Goulder (front, l.) and Maria Carranza supplied the scoring power with 21 and 18 points each. Lady Falcons (A) beat "Mac," 65-59, to stay in the hunt for the Desert Sky title, moving into a 7th place tie with "Mac" in A.I.A. Power Points Rankings. After rallying to defeat A.J., 68-54 (H, Jan. 27), Boys stumbled to a 69-80 home loss to McClintock, falling to 17th in PPR. With three regular season games left [Saguaro (H), Feb. 3; Shadow Mountain (A), Feb. 6; and P.V. (H), Feb. 10] Boys still have a fightin' chance to make State. Girls should play at least their State 1st Round at home.

Photo by Pete Mohr
Hard-luck Shane Sullivan

By Pete Mohr | February 4, 2009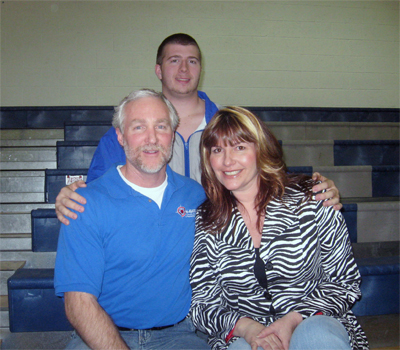 Defensive tackle Shane Sullivan was down in a three-point stance to have a big senior season for the Football Falcons. Practicing for the opener against Higley, he broke his left leg and never played a snap. Returning to action as Head Wrestling Coach Merle Nelson's only senior, he recently suffered a season-ending elbow injury; but Shane was still smiling as he and his parents, Creekers Ken & Stacey Horvath, were photographed on "Senior Night," Jan. 28, after the Falcons had defeated Saguaro in the last match of the 2008-2009 campaign.

Shane, your upbeat attitude is a winner. Congratulations!

Photo by Pete Mohr