My View
By Don Sorchych | January 14, 2009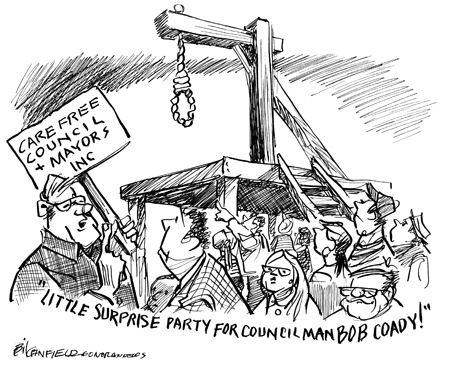 Carefree's lynching • Kees Rietsema

The Carefree council meeting on Jan. 6 was vintage Carefree.

The execution of Councilman Bob Coady was prepackaged neatly by the Carefree council and mayor, three ex-mayors and a few steadfast followers.

For starters, the council agenda was changed at the last minute so Coady didn't know he was an agenda item. He had sought to be placed on the agenda twice and was refused by Mayor Wayne Fulcher.

The council meeting clearly showed group planning to unseat Coady's initiative to have a direct vote for the mayor rather than the current vote by council.

Before Coady's hanging there were major tears shed because Town Administrator Jon Pearson had resigned, effective in May. Former Mayor Dave Dennison even said Pearson had a twenty-two year run without ever getting on Sorchych's really bad list.

Not true.

I reported Pearson removed documents from his files and hid the information I wanted in the town clerk's files. Diane Threadgill, the legendary town clerk of many years, told of regular illegal meetings in the mayor's office with quorums of council members.

We printed that she called Pearson a "butt smacker."

That nickname explains why Pearson survived all those administrations. Former Mayor Hugh Stevens called his tenure a strength, but of course Stevens would praise anyone who only knew "yes."

If there was ever proof of the dishonesty, group think and fever to remain councilmen this meeting provided it.

First of all it was a setup. The questions framed by everyone except Coady were obvious but told with passion combined with condescension.

In one way or another, "If it ain't broke don't fix it" was repeated ad nauseum by a half dozen townies.

And who said it isn't broken? Why stakeholders of course, councilmen and ex-mayors.
Here is an example. I warned Ex-Mayor Ed Morgan both privately and publicly for years that the Desert Advocate wasn't paying the Carefree 3 percent tax and they weren't.

Only after Cave Creek already had gotten one judgment and was seeking a second through Carefree's auditor, did Carefree audit.

So the Desert Advocate owes Carefree $73,000! Has Carefree done anything to get paid?

No.

And during the whole period, Carefree published illegal legal ads in the Advocate, even though we complained.

Yes, well managed all right.

So the braggadocio about 22 years of excellent management is plain nonsense. It is broke and seriously needs fixing.

The direct vote of Mayor is one way to begin to stop illegal actions by the town leaders.
Fulcher, Vice-Mayor Lloyd Meyer, Stevens and the "consultant" former mayor and embarrassment Ed Morgan were the most vocal and their messages overlapped a great deal.

They argued the initiative ignored the 50 percent plus one statute. They kept asking Coady why?

Why indeed. To break the tyranny of Carefree and its illegal actions.

The town attorney was, of course, all on the side of the six and was afraid of future law suits. Rigged.

What wasn't discussed was the council, less Coady, wants four year terms. What could be more obvious than the wish of six to half their competition?

One strength of Carefree is the large population of retired citizens. The retirees can be full time employees of the town and often are.

Further, the responsibilities assigned to each councilman are a strength.

But both strengths create a monopoly for council and commission positions. So does
Kiwanis, churches, clubs and part time voters.

What Carefree needs is an elected mayor and continuing two year elections. I hope town residents listen to candidates and town activists for a change. The continuing two year terms is not broke, so why is the council so dedicated to change it?
Kees Rietsema
Not only did the Scottsdale Republic print a vitriolic attack on Cave Creek Mayor Vincent Francia but so did the Foothills Focus.

The Republic titled Rietsema's slanderous assault, "Contrasts stark between Cave Creek, Carefree mayors."

The title is correct, the article is trash. Wayne Fulcher couldn't carry Francia's tennis shoes. There is no comparison.

The Focus was even more unfocused. They titled Rietsma's trash heap, "Cave Creek residents need to reevaluate town's leadership."

Ahem. What should Cave Creek do since Francia is unopposed for the next two year term? And why is he unopposed? Obvious, at least to us.

So why would the Gannett editor print such tripe? Maybe Editor Leger is too busy managing predatory pricing, which is what his rapidly depleting rag does. You will hear much more about that soon.

Rietsema's title of "Doctor" is a Ph-d. According to Google, he spends 5 months of the year in New Mexico.

I remember a Rietsema complaint list sent to the mayor and town manager a while ago. I read it and thought, "This guy thinks Cave Creek is Tidytown." He complained about potholes, road conditions etc.

What was surprising, Town Manager Usama Abujbarah immediately jumped over the priority list and fixed the "terrible" conditions Rietsema complained about.

Next I read a nasty memo from Town Engineer Wayne Anderson to Abujbarah. Anderson made it clear the staff had plans and priorities and he didn't appreciate Abujbarah meddling with his stuff.

Good deed, bad result, except maybe for Rietsema's glee.

Why did they bother? This guy will never be happy in Cave Creek. I heard, but have no proof, Rietsema thought he was in Carefree when he bought here. He sure does think the sun rises and sets there and I'm sure they would love him as a citizen. He bought Fulcher's propaganda 100 percent.

He, like other Dark Side people, likes to criticize the town for the nationwide economic slowdown. No city or town in this state has been immune; the bottom simply fell out.

Hindsight is always accurate.

Rietsema also had knowledge about the phony complaint to the AG's office (concerning the Bob Moore exodus) from his buddy Terry Zerkle. Where did that come from? The essence of that complaint is towns don't have a right to fire incompetents.

Thank God they did.