DMX's new reality show - court and jail
By Linda Bentley | January 7, 2009
Looking for a new lease on life as a minister?

CAVE CREEK – Earl Simmons, also known as rapper DMX, wasn't signing autographs in front of Cave Creek Municipal Court this time around when he was brought into court from custody in a Maricopa County striped jail uniform.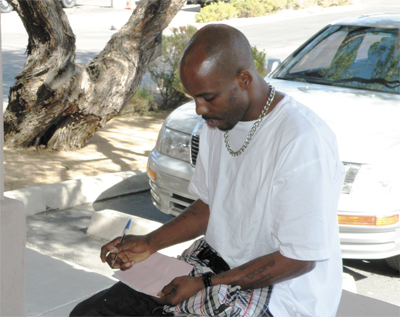 Due to Simmons' numerous failures to appear in court, Maricopa County Sheriff Joe Arpaio offered a $5,000 reward last month for information leading to Simmons' arrest.

Simmons was arrested that very same night in Florida, awaiting extradition to face felony charges in Maricopa County Superior Court for crimes ranging from theft of services from the Mayo emergency room, where he was admitted in April using the name Troy Jones to skip out on his bill, to animal cruelty, drug and weapons charges.

At the time he was arrested in Florida, 500 tickets had already been sold for DMX to appear in a few days at the Ultra Pulse Lounge in Boca Raton, which Arpaio said were no longer worth the paper they were printed on.

Simmons was brought to Cave Creek Municipal Court last Wednesday for failure to pay fines totaling approximately $5,000 for a variety of civil and criminal traffic offenses. Simmons had been charged locally for driving left of center while approaching a curve or crest, driving on a suspended license, no proof of insurance, failure to show a license or ID, failure to appear and other violations.

Simmons, 37, who appeared without council before Cave Creek Municipal Court Judge George Preston, said he was currently studying to become a minister and was looking into the possibility of having his own reality TV show.

In the interim, Simmons' reality is the Fourth Avenue Jail in lieu of $120,000 bond ($40,000 per case), while felony charges in three separate cases are pending in Maricopa County Superior Court.

Due to previous failures to appear, Simmons recently forfeited $10,000 bond and has another forfeiture hearing set for Feb. 24 for the $70,000 posted prior to his recent failed appearances.