Lane says its time to reassess preservation efforts
By Curtis Riggs | August 27, 2008

Up against Manross, Crawford on Sept. 2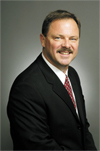 SCOTTSDALE – With the Sept. 2 primary elections less than a week away the focus has shifted from discussions about height and density to how best to complete the McDowell Sonoran Preserve by acquiring more State Trust Land.

City Councilman Jim Lane will be opposing two-term incumbent Mayor Mary Manross and write-in candidate Bill Crawford in his bid to become the next mayor of Scottsdale. Eight candidates for City Council (including incumbents Betty Drake and Ron McCullagh) will be vying for three open council seats in the primary and general election.
MORE ...

Town Center improvements ahead of schedule
By Curtis Riggs | August 27, 2008

Turn lanes in; lights, signs coming soon
CAREFREE – The right-turn (deceleration) lanes into the downtown area have been installed and should be striped soon.
MORE ...