Cracked Crab – Cave Creek's original seafood restaurant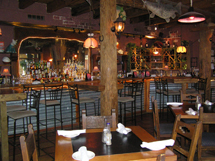 Bob Haas' Cracked Crab, 6006 E. Cave Creek Road, Cave Creek, has a whole new, entirely revamped "River's Dry Dock" menu, with an emphasis on affordable Appetizers, Salads, Sandwiches and Entrees.

For a starting appetizer try the new Seafood Dip with spinach, artichokes, cheese and Shrimp, just $10.95! Steamed Little Neck Clams for $9.25 or 1 dozen Oysters on the Half Shell for $8.95.

Sandwiches include: Blackened Chicken w/pepper jack cheese, only $8.95, or Jordan's Philly Cheese Steak w/mushrooms and onions on a French Roll for just $8.75, a Fish Sandwich of Icelandic Cod Breaded & Fried w/cheese is $9.25 … and more. All sandwiches are served with French Fries.

If it's salad you want, they have several to choose from: Grilled Chicken Salad for $10.95, Shrimp Salad for $11.95, Grilled Salmon Salad for $12.95 or Greek Salad only $9.95.
Entrees are of the decidedly Seafood variety with a grilled, pan fried or blackened Walleye for $15.95, Fried Shrimp for $12.95, pan fried or deep fried Catfish - $12.95. Or try the Salmon, grilled or blackened for $12.95 or Stuffed Salmon, with spinach, artichoke, cheese and shrimp, only $15.95.

But if you want a little beef in your diet there is a 12 oz. Bone in Ribeye for $14.95 or a 12 oz. NY Strip for $15.95.

For information, or to make reservations, call 480-488-0800. Stop in to Cave Creek's original seafood restaurant – taste for yourself what Bob's new menu is all about!