Unique retirement community expanding options to range from independent to assisted living
December 24, 2008
PHOENIX – Although the average age of residents is 82 in the independent living patio homes at Baptist Village, you would never know it from the conversation at a recent noon meal at the clubhouse. Ages of those enjoying a delicious hot lunch ranged from mid-60 to the elder looking forward to her 95th birthday in January. Topics ranged from a recent outing for pizza in the evening to shopping for gifts for grandchildren to the new golf cart one resident recently acquired to "zip" around the community.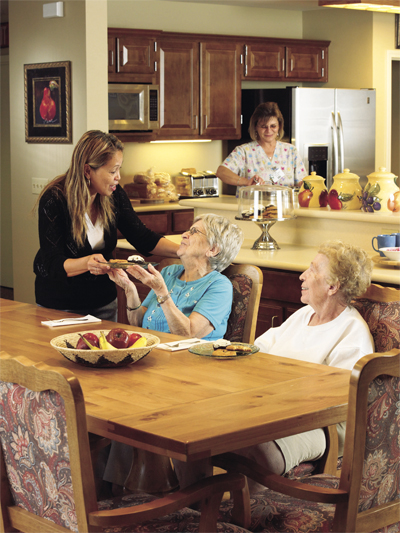 Conveniently located off Cave Creek Road just north of the 101, the 20 year old community consisting of 77 patio homes was acquired by Arizona Baptist Retirement Centers (ABRC) 15 years ago. It is a unique, private setting where residents of all faiths enjoy the privacy of their own individual maintenance free homes. With sizes ranging from one bedroom/one bath to two bedroom/two bath, each unit has a private carport, utility room, full kitchen and a 24 hour response system. Amenities include an on-site Chapel, indoor swimming pool, activities and transportation as well as a woodworking shop.
There are four communities in the Valley owned and operated by ABRC and they recently opened three assisted living homes at the west Valley campus. The three GREEN HOUSE® Homes under construction at the Northeast Phoenix campus are well under way to opening in February 2009. According to Lori Paetz, Vice President of Marketing, "we wanted to be able to offer our residents a higher level of care right in the community where they have been living."

The innovative concept of GREEN HOUSE® Homes was developed by leading gerontologist and Harvard-trained physician, Dr. William Thomas. Each 7,000 sq. ft. home will have ten private rooms, each with individual bathroom, which open onto a common area for socializing and dining around a large family style table. Paetz commented that "the unique design encourages the residents to socialize and participate in everyday activities such as meal planning and setting the table."

Three meals a day will be provided at the GREEN HOUSE® Homes. Residents of the homes have access to all of the amenities of the community. Care ranges from minimum supervision to directed care. There are caregivers on site 24 hours a day. Each receives over 120 hours of training including CPR, first aid, activities and food preparation.

Lori Paetz has first hand experience at caring for an aging parent who suffered a stroke. She has developed a workshop for the public—Caring for An Aging Parent—which covers topics from medical conditions to creating a notebook with copies of all important documents to legal issues. "All of us want to do as much as we possibly can in caring for our parents, even bringing them into our homes. However, sometimes their care is just beyond our ability, especially in cases of dementia, Parkinson's, Alzheimer's or the aftereffects of a stroke."

Paetz is very excited about bringing the level of care provided at the GREEN HOUSE® Homes to the Northeast Baptist Village campus. On a recent tour of the construction site she commented, "we already have people from our community here signing up and requesting specific rooms. In the case of a couple, where one needs more assistance than the partner can provide, one can stay in the patio home and visit with their partner daily."

For more information or a tour of the new GREEN HOUSE® Homes, contact Lori Paetz at 602-569-0508 or lpaetz@abrc.org. The website for Arizona Baptist Retirement Communities is www.abrc.org.

Courtesy Photo: New GREEN HOUSE® Homes at Baptist Village Northeast Phoenix community will be staffed 24/7 by caregivers with over 120 hours of training.
John C. Lincoln North Mountain Hospital earns highest accreditation as Chest Pain Center

December 24, 2008
PHOENIX – John C. Lincoln North Mountain Hospital in Phoenix has been granted the highest possible accreditation as a Chest Pain Center with PCI (percutaneous cardiac intervention, also known as angioplasty) in recognition of its rapid and effective medical care for heart patients.

Of the 6,000-plus hospitals in the United States, only about 1,500 carry this designation, awarded by the international Society of Chest Pain Centers.

North Mountain's track record – consistently evaluating the cause of emergency patients' chest pain and starting appropriate medical treatment in less time than the national 90-minute standard – was a key factor that led to its accreditation.

"Our Level I Trauma and Emergency Department staff exceeded all of the current guidelines and recommendations for acute heart attack care – and our technology is on the cutting edge," said Gary Kauffman, MD, FACC, interventional cardiologist and director of Cardiology Services at North Mountain Hospital.

Quick medical attention is of utmost importance when patients have a heart attack, Dr. Kauffman said. When patients have heart attacks, flow of fresh oxygenated blood to the heart muscle is restricted or totally blocked. Without fresh blood, heart muscle starts to die.

Balloon angioplasty restores blood flow to the heart, and 90 percent of the time, North Mountain patients receive that treatment in less time than the national standard.
"The faster you can get the artery open, the better the outcome is going to be for a patient to resume normal activities because less damage will be done to the heart," Dr. Kauffman explained.

To be credentialed as a Chest Pain Center with PCI, a facility must successfully meet the Society's standards in eight key areas:
•Emergency Department integration with the state's Emergency Medical System.
•Timely assessment, diagnosis and treatment of patients with chest pain.
•Observation program to monitor/evaluate low-risk patients with no obvious cause for chest pain as well as to avoid discharging patients with undiagnosed but serious problems.
•Facilities designed for optimal care.
•Leadership, physicians and nurses trained to specialize in care for patients with heart attack symptoms.
•Operations based on continuous quality improvement to ensure quality care and proper use of resources.
•Commitment to community outreach to educate the public to promptly seek medical care if they have chest pain or other disease symptoms.
John C. Lincoln Deer Valley Hospital also is accredited as a Chest Pain Center with PCI, and both John C. Lincoln Hospitals have been credentialed by the state of Arizona as Cardiac Arrest Centers in recognition of their state-of-the-art treatment of patients whose hearts have stopped beating.