Rural/Metro firefighters playing Santa Claus this season
Curtis Riggs | December 17, 2008
CAREFREE/CAVE CREEK – Rural/Metro firefighters in both Desert Foothills communities are doing all they can to ensure needy area children have at least a few Christmas presents under the tree this year.

MORE ...
Ten vying for Carefree Town Council in March 10 primary
Curtis Riggs | December 17, 2008
Seven incumbents joined by Koteas, Stavoe, Vanik
CAREFREE – Ten candidates for the Carefree Town Council met the Dec. 10 filing deadline and will be on the March 10 primary election ballot.

Planning and Zoning Commissioner Susan Vanik, downtown businessman Doug Stavoe and longtime resident Peter Koteas placed their names into contention for the seven open council seats along with the present council incumbents. Councilmen Bob Coady, Greg Gardner, Bob Gemmill, Glenn Miller, David Schwan, Vice Mayor Lloyd Meyer and Mayor Wayne Fulcher also turned in nominating petitions with the signatures of 40 Carefree registered voters, qualifying them for the March 10 ballot.

If any candidate does not receive 50 percent, plus one, of the total votes cast in the March 10 primary they must advance to the May 19 general election.
Christopher Diamonds – A cut above the rest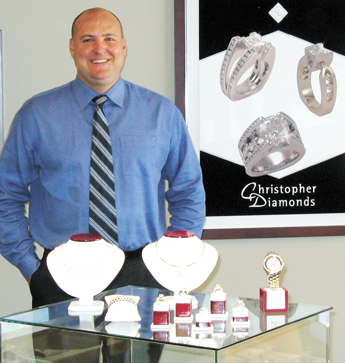 SCOTTSDALE – Christopher Diamonds is the reigning neighborhood jeweler in the Cave Creek / Carefree / N. Scottsdale community for many reasons. Two that come immediately to mind are price and integrity. Owner and jewelry designer Chris Uptain often sells his diamonds at better price than the 'bigger' diamond chain stores do.

The sales staff at Christopher Diamonds doesn't need to sell an extended warranty with your purchase. Chris says, "I don't sell warranties – I personally guarantee all of my jewelry." Now that's integrity!

Hurry in now! The 20% Off Sale continues through Christmas Eve! That's Christopher Diamonds at the Summit in Scottsdale: (480) 488-9144.