Guy hoops on 80-point rolls!
By Pete Mohr | December 10, 2008
Buckeye, 'Slope, Chap next
BARRETT GYM – I love it! Coach Dirk Walker's Basketball Falcons are flyin' high – and excitingly! Jim Marando, "The Voice of the Basketball Falcons" has returned to his courtside P.A. post; and the "Birds' Nest", as tauntingly raucous as ever ("Thanks for prac-tice!"), is back in full force, with Soccer Captain Matthew Moorer following brother Michael (CSHS '06) as the leader of the pack. Yes, Cactus Shadows basketball is fun again; and for you students and fans who haven't made a game yet, mark your sports calendar for this Friday night, Dec. 12, when the hated Chappies come calling, certain to have in tow their "Birdcage." I predict that A.D. Bill Dolezal will face his first serious fan control test! Look out, 'Nest! He'll pass.

For the (believed to be) first time in CSHS Basketball history, the Falcons rang up at least 80 points to win games #1-3: Dec. 1, at Copper Canyon, 84-58; Dec. 2, home opener, 80-52, over (Flagstaff) Sinagua; and the next night, at home, an 88-50 runaway (nailing 10 of Marando's "trifectas"!) vs. "new" (Gilbert) Williams Field. Friday night, Dec. 5, the Falcs survived some "home cookin" officiating to win in double OT, 77-73, at (Tucson) Sahuaro. In the 2nd overtime, Elijah Knox & Andrew Stauth hit critical threes and Kyle Gunter sank a game-sealing free throw.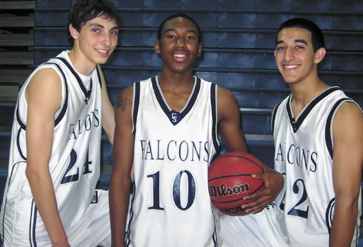 Back home, Tuesday, Dec. 9, they welcomed the Buckeye Hawks, then traveled on the 10th to their biggest test of the young season at #1-ranked Sunnyslope.

Two nights later, here come the Chappies!

Wanting a photo-op after Sinagua, Sonoran News asked, "Coach, can you send me out your three stars?" Coach Walker enthusiastically answered, "How 'bout my sending everybody?! Togetherness: that's what we're striving for." And it shows. These Falcons come at opponents in waves: tenacious "D," aggressive rebounding and fresh legs. Coach Walker: "We're scoring off our defense and quickness in transition."

Not to mention putting up "dagger" three-pointers. In the Williams Field 1st quarter, up by two on Tri-Captain Blake Smalley's steal, Tri-Captains Stauth and Knox and junior P.J. Ubides (3-for-3 from long range in the 1st half) turned out the lights on the outmanned Black Hawks with "treys" on three consecutive possessions. The Falcon bombers went quiet for the 3rd; then in the final eight minutes, Tri-Captain Brock Frederiksen (from his favorite spot-up at the top of the arc), and bench players sophomore Casey Perrin (two, one from Dr. Donna Lewis's office!) & junior Ben Leech N-B-Ned the last four of the 10 Falcon threes. The 'Nest went crazy!

Just how good is this team? Holiday Break is still ten days away; but their three games this week (Buckeye, 'Slope and Chaparral), followed by "A.J." at home on Dec. 15, should provide a start to the answer.

Photo: FALCON FLIGHT LEADERS: Tri-Captains for the 2008-2009 CSHS Basketball 'Birds are (l-r) seniors Brock Frederiksen, Elijah Knox and junior Andrew Stauth.

Photos by Pete Mohr
Football honors '08 progress
By Pete Mohr | December 10, 2008
Campbell 1st "Triple Crown" winner
SCOTTSDALE – Don't be thrown off by the Varsity Falcons consecutive 3-7 seasons: Both, especially '08 could easily have been State Playoffs-eligible 5-5. Didn't happen; but Cactus Shadows football is alive and well, convincingly evidenced by the 100 young men who were honored at the Program's annual awards event, positively emceed by Head Coach Chad DeGrenier.

"Coach D." emphasized to the audience, "The coach of every team we played respected us." Post-banquet, Defensive Coord-inator Matt Bradshaw to Sonoran News: "No question. We were more competitive this year." The Saguaro and Chaparral games, alone, solidly support Coach Bradshaw's evaluation. Had junior placekicker Bryce Redmond's 42-yard field goal attempt correctly been called "Good!" (clearly shown in the game film), the Falcs are winners at McClintock, ride that "mo" to a Senior Night" victory over "A.J.", and head for the Playoffs. Fans, if ah'm lyin', ah'm dyin'!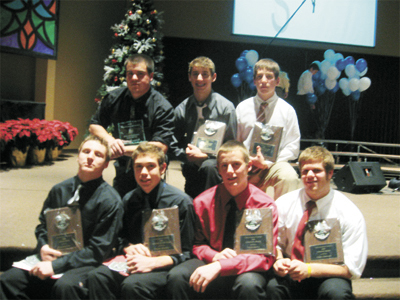 Coach DeGrenier had special praise for his squad's 13 seniors: "They began the season as 'boys' and ended as 'men'. I couldn't be prouder of them – and appreciative of the example they set for our younger players." He also recognized longtime Assistant Coach and Statistician Jake VanDerStad, CCUSD Facilities Manager Dennis Roehler, Equipment Manager Kevin Sterner, Varsity volunteer assistant John Leonard, Sideline Student Assistant Jeffrey Donley and "Laundry Moms" Andrea Boat and Lena Campbell (a smelly task, theirs!).

Senior Bo Campbell became the first recipient of the "Triple Crown Award," a new honor recognizing academic, spiritual and athletic leadership. Junior Danny Trittler (who did everything except sell tickets!) was named "Most Valuable Player." Other individual awards winners: "Practice Player of the Year" - Paul Walsh; "Utility Man" - Zach Sexton; "Rookie of the Year" - Tommy Murphy; "Lineman" - Tyler Souva; "Unsung Hero" - Cody January; "Special Teams" - Bryce Redmond (10 field goals, 25 P.A.T.s); Defensive "Player of the Year" - linebacker Kenny Prodan; and Offensive "Player of the Year" - quarterback Dillon Classen.

Congratulations also to Coach Jerry Cumberland's freshmen (7-2) and Coach Matt Mason's JV (5-2-1, the tie, 28-28, against Saguaro). There's encouraging size and speed among these future Varsity Falcons!

Kudos to football seniors' parents, "quarterbacked" by Lori January, who coordinated the upbeat evening.

Photo: INDIVIDUAL "HARDWARE" to (front, l-r) Zach Sexton, Tommy Murphy, Tyler Souva, Cody January; (back, l-r) Kenny Prodan, Bryce Redmond, Paul Walsh. Not available for photo: Dillon Classen. Congratulations, guys!

Photo by Pete Mohr