Boy's, Girl's State attendees honored by American Legion
By Curtis Riggs | November 19, 2008
Post 34 sent four to Arizona conferences
CAVE CREEK – Four Cactus Shadows students were recently honored for their first-hand participation in democracy.

Kevin Hilderbrandt, a Cactus Shadows senior, attended Boy's State, which was held at Northern Arizona University in Flagstaff over the summer. Cave Creek American Legion Post 34 sponsored Hilderbrandt's participation.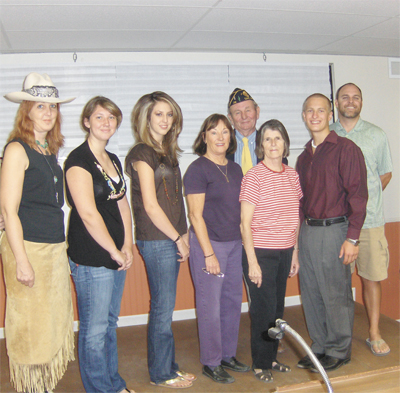 Cactus Shadows seniors Jessica Duran, Kayla Chester and Tara Fee attended Girl's State at the University of Arizona in Tucson. The Cave Creek Unit 34 Auxiliary of the American Legion sponsored the girl's participation.

It is customary for students to participate in the Boy's and Girl's State conferences between their junior and senior years in high school. Both conferences were held in the first week of June.

Each state sends representatives to attend a national government program in Washington, D.C. where they run for political office, try to get mock legislation passed and meet with U.S. Congressmen and Senators. The week at the national conference is capped off by a meeting with the President of the United States at the White House.

Boy's State chairwoman Barb Owings said attendance at the two mock government events can be "very important" to a student's career especially if they are considering going into politics or government.

"It's a great way to try to get into a military academy," she said.

The conference attendees were recently honored at a lunch sponsored by the local Legion Auxiliary, where the students spoke about their experiences with the programs.

Photo: Cave Creek's American Legion Post 34 Auxiliary recently held a luncheon where Boy's and Girl's State participants were honored. From left are Legion Auxiliary President Patsy Nyberg, participating students Kayla Chester, Jessica Duran, Girl's State chair-woman Judy Reardon, Boy's State chair-woman Barb Owens, participating student Kevin Hilderbrandt and Cactus Shadows Guidance Counselor Mike Aaraino. Post 34 Commander Al Morgan is in the back.
Courtesy photo/Vern Willer