Jeep Rentals now available in Cave Creek
November 19, 2008
CAVE CREEK – Jeep Arizona, based in Sedona, announces a new location in Cave Creek at the Branded Bullfrog Powersports.

The Branded Bullfrog Powersports opened Oct. 31, 2008, offering Joyner buggy sales and rentals, which are two- or four-seat off-highway vehicles. They recently added Farabee Jeeps to expand their customer base. Says Kim Agee of the Branded Bullfrog, "The Jeep appeals to the whole family, and offers versatility for on- or off- highway exploring. It's a lot of fun to have different vehicles available to meet different interests."

The Jeep rentals are aimed at scenic tourism, with staff providing trail recommendations, detailed maps, driving tips and operating instructions.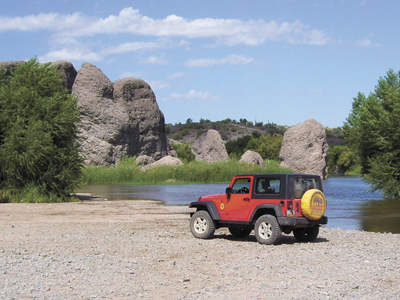 Cave Creek is close to many public trails, like Camp Creek Wash, New River Mountains, and the Great Western Trail, all of which offer beautiful desert scenery and fascinating history. "Whether you want to see old mines, ancient ruins, spectacular river canyons, or just the classic cactus-studded desert, we have it in Cave Creek," says Agee.

But, don't people get lost or stuck? "Rarely," says Nena Barlow, Operations Manager for Jeep Arizona, "We don't just turn people loose to run willy-nilly with only a Jeep commercial as an example of how to drive—we prepare them properly, by helping them select trails appropriate for them, explain what they need to be aware of, and demonstrate how to properly use the functions of the Jeep. We are setting them up to have a hassle-free self-guided tour. People like that they can just go out and explore on their own. The Farabee Jeep is set up to get them wherever they want to go with ease and comfort."

The famous "Farabee" Jeeps, a Jeep Wrangler modified to the specifications of Jeep rental pioneer Richard Farabee of Moab, Utah, are customized specifically for 4-wheeling in the rough backcountry of the southwest, with suspension lifts, reinforced undercarriage, heavy-duty tires, and easy-wash floors and seats. In addition to the new Cave Creek location, Farabee Jeeps can be rented in Sedona AZ, Lake Havasu AZ, Moab UT, Ouray CO, Telluride CO, Lake City CO, and Durango CO. "Richard Farabee perfected the Jeep and the rental process to make the experience as safe and worry-free as possible for our guests," says Barlow, "Many people are surprised that our Jeeps have automatic transmissions, air conditioning and satellite radio".

With Jeep rental rates at $165 for a half-day rental, and $265 for a full-day rental, it is a very affordable adventure for the whole family. Barlow says that business has stayed steady at their various store locations, even in this shaky economy. "We are a less-expensive activity compared to guided tours or many other activities. And now that people are reluctant to spend money on buying big-ticket toys, like boats and Jeeps, we get a lot of locals renting from us to play tour guide for their own friends and family."

For more information, visit www.JeepArizona.net or call toll-free 1-877-970-JEEP. Contact the Branded Bullfrog at (480) 437-2383 or stop by the shop at 6738 E. Cave Creek Road, next to the Horny Toad Restaurant.
Photo: Picnic spot at Needle Rock on the Verde River, off of the Camp Creek Wash trail.
Courtesy Photo