Last Friday's heartbreak …
By Pete Mohr | October 29, 2008
TEMPE – "A faint heart never filled a flush!" James Garner as "Maverick," from the 1950s TV series of the same name. McClintock Head Coach Mike Gibbons was anything but "faint-of-heart" when, as the Chargers were trailing 26-27 in 1st overtime, he "drew" to the last-card "flush" calling for a successful swing pass to the man-in-motion that sent the Homecoming crowd at Jim Lyons Stadium into 28-27 delirium!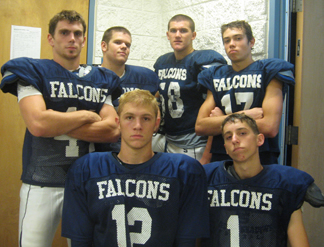 "Wasted" were outstanding performances by (front, l-r) quarterback Dillon Classen [17 out of 30 for 243 yards, two TD passes (both to Danny Trittler), one rushing TD], Bryce Redmond [two 1st half field goals and the potential game-winner on the last play of regulation that the "Zebra" behind the left upright saw as inches wide]. Readers, it could've just as easily been called "Good!" but alas, there's no instant replay in high school football; (back, l-r) Jackson Donahue, 71-yard kickoff return for the tie-breaking TD in the 4th quarter, called back by the head linesman who ruled (terrible call!) that Donahue's knee had touched as he fielded the short kick; defense "warriors" linebacker Cody January, tackle Tommy Nevin (fumble recovery), DB Tommy Murphy (another key INT). Not available for photo: wideout wouldn't-go-down Danny Trittler (14 catches for 225 yards, two TDs, the second in OT).

And so with two games left (A.J. for "Senior Night" this Friday and at Chaparral, Nov. 7), the Falcons cling to a #15 Playoffs ranking, tied with 'Slope and two power points ahead of Apollo, Catalina Foothills and Nogales. After last Friday's pitiful "no-show" at McClintock, there can be no excuses for not filling (and overflowing) the West Stands.

This Friday, "A.J." here …
Nickname: Prospectors
Colors: Vegas Gold & Black
Head Coach: Rich Milligan
Last season: At "A.J." – Prospectors, 27 - CSHS, 0. Beat-up Falcons got beaten up even more (season-ending injuries to QB Dillon Classen (concussion) and Quad-Captain Chris Manship (elbow) in getting skunked at The Junction. Prospector tailback Shane McCullen (now committed to ASU) torched the Falcon "D" for 228 yards, two TDs on 25 carries.
This season: Falcons, 3-5, have their Playoff backs to the wall. #10 ranked Prospectors (tied with Tucson Sabino), 6-3, have been whacked in their last two games: 7-28, P.V. (away) and 0-42, Saguaro (home).
What Falcons must do to win: Coach DeGrenier, frustrated by his offense's continuing Red Zone failures: "Score more points! We can't rely on Bryce (Redmond) to kick us into the Playoffs. Defensively, we've got to hold down (Shane) McCullen. Friday night, our Playoffs chances are on the line; and for our 16 seniors, it's their last home game. Those two incentives ought to be enough. We'll see."
"Crow" predicts: Falcons will shake off last Friday's stunner and protect their "house" on "Senior Night" say, 20-17.
Cross Country headed to Regionals!
By Pete Mohr | October 29, 2008

Are the Cross Country Guys and Gals peaking at the most opportune time? Coaches Cara Van Eck (Boys) and Patty Egan (Girls) believe they might well be. In their last pre-Regionals meet against Greenway, Millennium and Verrado, Boys pitched the Cross Country equivalent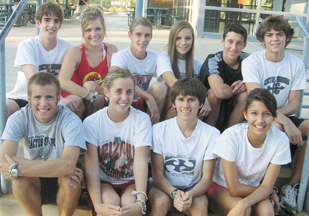 of a "perfect game," placing 1-2-3-4-5. Girls won also. Coach Egan: "Our kids have worked hard from summer on and done everything we've asked them to do. What more could we coaches want?" Coach Van Eck hopes her Boys will outrun Shadow Mountain. Coach Egan's Girls will have a tougher mountain to climb in last year's champion Saguaro. Ten Seniors head to their last Regionals: (front, l-r) Co-Captains Ben Cresswell, Natalie Omundson, Kyle Short, Noelle Crow; (back, l-r) Alec Stepp, Hillary Buchek, Cody Williams, Beth Bowen, Brandon Calderone and Jordan Bagnall. Good luck, Harriers!
"Send 'em down to Tucson …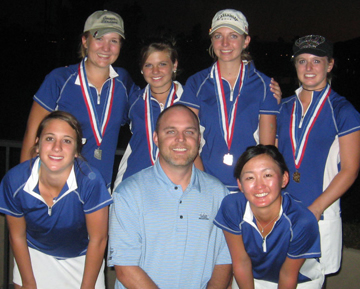 … and (they'll) get the job done!" Credit Country Music legend Mel Tillis with that send-off for Girls Golf Coach Mike Sarraino and his Lady Falcon Desert Sky champions (by 62 strokes!). (Back, l-r) Lily Bartell, Lindsey Weaver, Captain Reba Schneider, Lauren Weaver; (front, l-r) Beau Bremer, Coach Sarraino, Kelli Nakano. At Tucson's Randolph Park courses, Nov. 5-6, LadyBirds will be shooting for their first back-to-back State titles – and their fourth in the last six seasons. I'm bettin' on these talented golfers!
These two can "dig" it!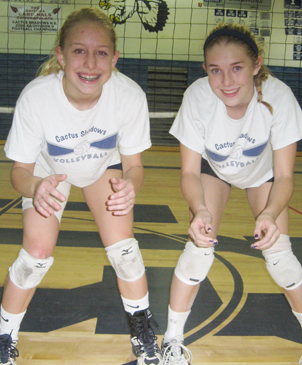 After Monday's Oct. 27 practice, Head Coach Tom Gardner praised his defensive specialists, junior Kelsey Janke (l.) and sophomore Jordan Smith, as "the heart and soul of our team." By shutting out McClintock (at home, Oct. 23), Lady Falcons clinched Desert Sky Region championship. Congratulations, Coach Gardner, Assistant Coach Emily Eichmann and Ladies! If the LadyBirds, currently ranked #5, can win out next week against "A.J." ("Senior Night," Nov. 4) and at "P.V." (Nov. 5). Coach Gardner believes his squad could move up to #4, thereby earning home court advantage in the first two rounds of State. Count on these Lady Falcs to do just that!



Photos by Pete Mohr