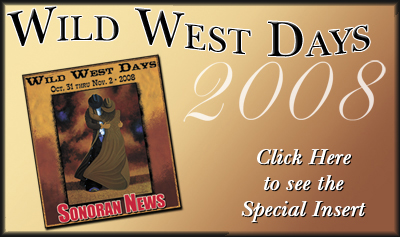 Concierges get Cave Creek Wild West Days tour
By Curtis Riggs | October 22, 2008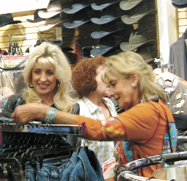 Quarterly tours planned
CAVE CREEK – The Cave Creek Merchant's Chamber of Commerce officials recently provided Valley resort concierges with a glimpse of what will be happening during the Wild West Days community celebration, Oct. 31 through Nov. 2.

CCMCC board members Annette Spino and Carol Reill took a dozen concierges on a tour bus and showed them the best of what Cave Creek has to offer.

MORE ...

Fifth annual Rita Cohen Memorial Dog Walk this Saturday
October 22, 2008
Annual event raises money for Foothills Animal Rescue
CAVE CREEK – Foothills Animal Rescue (FAR), a no-kill animal shelter, is holding its 5th Annual Rita Cohen Memorial Dog Walk on Saturday, Oct. 25. In previous years, over 350 people have attended the event to be held at the Carefree Amphitheater, Carefree. Registration is at 8 a.m. with the dog walk starting at 9 a.m.

The dog walk will consist of both a short and long course with maps provided. There will be a one half-mile "Chihuahua Cha-Cha" course and a one-mile "Terrier Trek" course, with an opportunity for those who want longer distance to repeat the walk.

The event will also include raffles, a silent auction (including donations from Sonoran Arts League and local artists), approximately fifteen vendors and a doggy costume contest. A doggy fashion show, sponsored by Scottsdale store Classy-Jazzy, will follow the event with the purpose of helping raise money for FAR.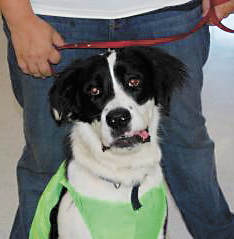 This annual dog walk event was started five years ago to honor outstanding FAR volunteer Rita Cohen. Not only was Rita a FAR founding mother, but she also served as vice president of the board of directors and chief fund-raiser for the group for many years. In addition, she always jumped right into any job needing to be done at the office/cattery and was always at the forefront of any effort to aid FAR.

This year, the dog walk event is an extremely important fund-raising event for FAR. Having lost its home base at the end of September, FAR's hope is that enough tax deductible donations will be raised to make the dream of a new home for the no-kill shelter a reality. Out of dedication to the animals, FAR volunteers are currently fostering all the cats previously located at the shop cattery. A minimum of $200,000 is needed in order to purchase a commercial location for a new FAR home in the Cave Creek/Carefree area.

The services Foothills Animal Rescue provides are vital to our community. The organization's mission is to provide shelter, care and adoption services for the many domestic cats and dogs that, due to the present economic situation or other domestic problems, are given up, abandoned, lost, or stray in north Maricopa County. FAR also sponsors a spay/neuter program, community pet safety education and a pet lost and found service.

Those interested in signing up for the 5th Annual Rita Cohen Memorial Dog Walk can do so at the FAR website www.foothillsanimal.org in advance or register on the day of the event. Adoptions will not occur at the event, but participants are encouraged to inquire about a specific type of dog or cat through FAR volunteers at the event or at 480-488-9890.

Photo: One of the many animals Foothills Animal Rescue cares for that will benefit from the Dog Walk is Misu, a Newfoundland/Border Collie mix who is up for adoption.
Courtesy Photo