Falcons raced to 17-7 lead before "Sag" Prevailed, 35-17
By Pete Mohr | October 15, 2008
CSHS – Who's afraid of the big, bad 'Cats? The Football Falcons surely weren't; and on undefeated Saguaro's "Senior Night" (not Homecoming, as previously reported), the 'Birds put up a gallant fight, trailing only 17-21 at the half, before the Sabercat defense and another "Bo" (Jackson) running back, this one last-named "Burton," pulled away to a 35-17 decision.

The loss evened up the Falcons at 3-3 (1-2 Region) going into their last four games: Oct. 17, hosting Prescott; Oct. 24, at McClintock; Oct. 31, at home, hopefully "tricking" Apache Junction on Halloween; and at Chaparral for the Nov. 7 regular season finale. To have a realistic shot at making the 4A-I State Playoffs, the 'Birds must win at least two out of those four. "Crow," ever the "homer," predicts they'll do that.

After gifting the 'Cats an early touchdown following a terrible call (a Dillon Classen fumble that was obviously "intentional grounding"), Danny "Big Play" Trittler electrified the Falcon Faithful (disappointingly too few in number) with a 95-yrd kickoff return to the "Sag" two. QB Dillon Classen sneaked over left guard for the score; Bryce Redmond converted; and it was 7-7 with only 5:20 gone in the 1st quarter.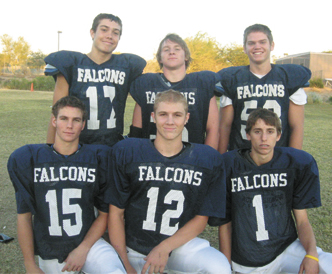 Falcs failed to turn Jake Krum's fumble recovery into points, but came right back, after Zach Sexton's big hit and takeaway, to go up 10-7 on Bryce Redmond's 23-yard field goal at 10:25. As the 2nd period got underway, Tommy Murphy's pick-and-return had the 'Birds 1st-and-10 at the Saguaro 38. On the first snap, Classen found Trittler wide open down the left sideline for what looked like a TD; but the head linesman ruled #14 down at the one. Classen again sneaked in; Redmond booted the point after; and at 0:54, the Falcs were stunning the 'Cats, 17-7! Ah, the late/great Jack Buck: "I don't bee-leeve what I just saw!"

But you don't tug on Superman's cape! The 'Birds would not score again, while Burton & Co. ran off 28 unanswered points. After Monday's spirited practice, "Coach D." lamented two missed scoring opportunities in the 3rd period; but overall, he seemed pleased with his squad's more-than-competitive performance as he emphasized to Sonoran News, "We're getting better!" Coming at just the right time, Coach.

Photo caption: SIX LED THE FIGHT: (kneeling, l-r) Danny Trittler, two big plays that set up both Falcon touchdowns; QB Dillon Classen, who sneaked for the two sixes; Bryce Redmond, one FG, two P.A.T.s. (standing, l-r) Jake Krum, fumble recovery, Zach Sexton, a highlight film takeaway; Tommy Murphy, INT that triggered the Falcs' second (and last) TD.
Photo by Pete Mohr

This Friday, Prescott Here …
Nickname: Badgers
Colors: Blue & Gold
Head Coach: Lou Beneitone
Last season: At Prescott: Badgers, 17 - Falcons, 13. Tied 7-7 at halftime, Falcon "O" went as cold as the late October night before Danny Trittler's spectacular 87-yard kickoff return for a TD with only 0:27 left in the game: not "too little," but frustratingly, "too late."
This season: Badgers, like the Falcs, are 3-3. Whacked (at home) by Saguaro, 56-0, and hammered (away) by Chaparral, 54-0, in their first two games, Prescott comes into Falcon Stadium off an impressive 35-10 win (at home) last Friday over Sunnyslope. This game has State Playoffs implications – big time – for both squads.
What Falcons must do to win: Coach DeGrenier: "Prescott is big – and physical. We have to match their physical strength and play with the same intensity as we did in the 1st half at Saguaro."
"Crow" predicts: Falcons, 31 - Badgers, 17.
~ Pete Mohr
20-0 Girls Golf Teeing Up For Regionals, State
By Pete Mohr | October 15, 2008

CSHS – You'll find this definition of 'dynasty' in the Oxford College Dictionary: "a succession of people from the same family who play a prominent role in a certain field." Like Cactus Shadows Girls Golf? Never in a million years would Coach Mike Sarraino, now in his sixth season, use that term to describe his Lady Falcons, but I shall! State Champions in 2003, 2006 and 2007, these Lady Birds are focused, make that determined, to be the first Girls Golf team to win back-to-back State titles come the 2008 State Championships in Tucson, November 5-6. But first up are the Desert Sky Regionals, October 20-21, at Scottsdale's McCormick Ranch Golf Club.

In an October 13 telephone interview, Coach Sarriano volunteered to Sonoran News, "Top-to-bottom, this is the most talented group I've been privileged to coach. These gals are just amazing!" If you know Mike Sarriano, he's not given to superlatives. Low-keyed and modest of words is this native Ohioan…and golf devotee.

In Regional Championship play, five golfers compete on each of the two days, with the lowest three scores tallied. For the Lady Falcons, the probable competing line-up will be; at #1, Lauren Weaver; at #2 , her younger sister Lindsay; #3, Lily Bartell; #4, Captain Rebecca Schneider, with Kelli Nakano and Beau Bremer battling for the #5 slot.
Congratulations Ladies on your unbeaten regular season. Now bring home those Desert Sky and State Championships!