Return of the Silver Spur Saloon

By Linda Bentley | October 1, 2008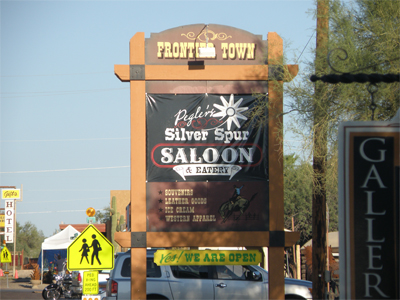 CAVE CREEK – After holding a contest to rename the former Satisfied Frog restaurant, Frontier Town owners Julian, Beverly and Marc Peagler decided on resurrecting the name Silver Spur Saloon, based on three entries out of the 1,000 or so received from across the globe.

The three winners will each receive $200 in savings bonds plus dinner for two.
Cave Creek Mayor Vincent Francia has plenty of memories from his days working in the kitchen of the Silver Spur Saloon when Armand and Ellen Christopher owned the popular restaurant for about a decade beginning in the early 1970s, shortly after Frontier Town was completed.

Frontier Town, which the Peagler family has owned for 38 years, was developed with a theme to pay tribute to the miners, ranchers and cattlemen who settled in Cave Creek during the late 1800s.

Only minutes from Scottsdale and Phoenix, it remains a popular tourist destination, with its specialty shops and artifacts from the Old West interspersed throughout.

Former Satisfied Frog restaurant owners Ed and Maria Chilleen, who were locked out of the premises in February for being nearly $500,000 in arrears on their rent, sued the Peagler family earlier this year for use of the Satisfied Frog name, logo and trademark.

The parties recently signed an agreement precluding the Peaglers from using the Satisfied Frog name and requiring all references to the name, logo and trademark to be removed by Sept. 30, which is what "spurred" the renaming contest.

The new signs reading "Pegler's Silver Spur Saloon & Eatery," that went up late last Thursday afternoon with thumbtacks, appeared temporary, with Peagler misspelled on each and every one of them.

However, Sonoran News later learned the misspelling was intentional to eliminate any confusion over how to correctly pronounce their name.

Photo by Linda Bentley
Desert Foothills Theater preparing to kick off new season

"Broadway & Beyond" Theatricale Fundraiser on Tuesday, Oct. 14 at
Cave Creek Coffee Company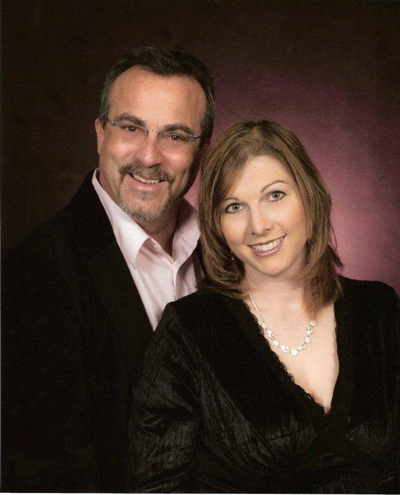 CAVE CREEK – Desert Foothills Theater (DFT), a division of
the Foothills Community Foundation, kicks off its new season with "Broadway & Beyond," a theatricale fundraiser set for Tuesday, Oct. 14 from 6:30 to 9 p.m. at Cave Creek Coffee Company, 6033 E. Cave Creek Road, in Cave Creek.

Acclaimed performers Ken and Brenda Goodenberger will sing a variety of Broadway favorites in beautifully blended voices. Ken is a featured tenor with the Phoenix Symphony for select concerts. Tickets are $50 and include hors d'oeuvres and wine.

"We're very excited to have Ken and Brenda perform at our first theatricale of the season. Audience members who attended our Foothills Follies talent show this past April will remember Ken and Brenda as the parents of eight children, several of whom also perform," said Meribeth Reeves, DFT managing director.

Reeves said guests to "Broadway & Beyond" will be treated to a memorable, musical evening.

"Ken has been a prominent member of Phoenix's musical scene for more than 20 years. Among his long list of accomplishments, he was recently appointed as artistic director of the West Valley Chorale. He is also a featured tenor with the Phoenix Symphony for select concerts," she said. "Brenda is a versatile singer, dancer and actress, whose credits include Broadway, pop, and sacred music. Together, they create a dynamic duo not to be missed!"
Save up to 25 percent with
Season Subscription

Season subscriptions are now available and offer a savings of up to 25 percent. In addition to the discounted price, subscriptions include lost ticket replacement, ticket exchange privileges and additional single ticket purchase discounts. Donors receive additional subscription discounts and priority ticket sales to DFT theatricales and other special events, and more.

To purchase a subscription or order tickets, visit their website at www.desertfoothillstheater.com or call 480-488-1981.
Courtesy Photo
"Broadway & Beyond" theatricale fundraiser features acclaimed singers Ken and Brenda Goodenberger, hors d'oeuvres and wine at the Cave Creek Coffee Company.