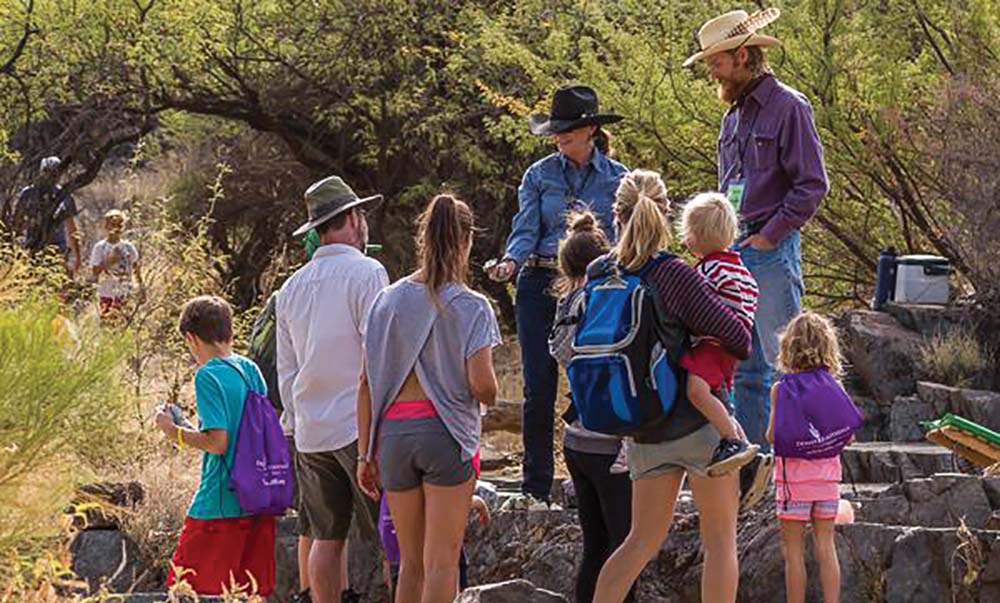 As the mild fall and winter temperatures of the Valley beckon us outdoors in search of adventure, Desert Foothills Land Trust invites nature lovers of all ages to join them at the beautiful Jewel of the Creek Preserve for a day of exploration and discovery. The 9th annual Desert Discovery Day will take place on Saturday, November 13 from 10 am to 2 pm. Due to capacity limits, pre-registration is required. Participants will enjoy the health benefits of hiking in nature as they take in breath-taking views and participate in interactive experiences at discovery stations along the Harry Dalton Trail. Each station will be focused on the unique flora, fauna, and history of our amazing Sonoran Desert.

Don't miss this true community event sponsored by Kiwanis of Carefree and Carefree Physical Therapy. Other community organizations partnering with the Land Trust for this educational event include Cave Creek Museum, Desert Awareness Committee, Desert Foothills Family YMCA, Desert Foothills Library, Rattlesnake Solutions, LLC, Southwest Wildlife Conservation Center, Spur Cross Ranch Conservation Area, and Wild At Heart. It's sure to be a day full of fun and adventure – and it's free!

"Whether you're a seasoned hiker, or exploring the desert for the first time, this is an event that people of all ages can enjoy," stated Land Trust executive director Vicki Preston. "We love to see the sheer excitement on the faces of the lucky who find a "nugget" while panning for gold, or the wide eyes of those seeing an owl up close for the first time. This is a great opportunity for everyone to learn something about the unique Sonoran Desert we call home."

The Land Trust connects people to nature through land acquisition and long-term stewardship, as well as events and activities, like Desert Discovery Day, that allow the community to use and enjoy the lands that have been protected. Future generations will benefit from this incredible legacy of conserved land! Pre-registration is required to attend Desert Discovery Day, to register or for more information about the Land Trust visit www.dflt.org or call 480.488.6131.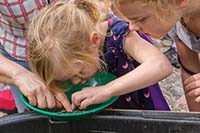 DESERT DISCOVERY DAY EVENT DETAILS:
Date: Saturday, November 13, 2021
Time: 10 am – 2 pm
Cost: Free!
Location: Jewel of the Creek Preserve, Cave Creek, AZ
Directions: Jewel of the Creek Preserve is located on Spur Cross Road, 4 miles north of Cave Creek Road. Parking is available at Spur Cross Ranch Conservation Area which is located less than ¼ mile north of the preserve at the end of Spur Cross Road.
Registration: Due to capacity limitations, pre-registration is required to attend the event. Visit www.dflt.org to register or call 480.488.6131
Other: At the time of the event, current Covid-19 health and safety guidelines set forth by the CDC will be followed. Due to the natural slope and rocky terrain of the preserve it is not ADA accessible. Attire and footwear appropriate for the weather and rough terrain are highly recommended for your comfort and safety.
ABOUT DESERT FOOTHILLS LAND TRUST:
Desert Foothills Land Trust works with landowners, communities and partners to protect the most special and important natural areas in the Arizona communities of Carefree, Cave Creek, North Scottsdale, North Phoenix, Anthem, Desert Hills and New River. To date, the Land Trust has permanently protected over 900 acres on 27 preserves, many of which are open to the public for exploration and passive recreation. The Land Trust is accredited by the national Land Trust Accreditation Commission – a mark of distinction in the land trust community. More information is available at www.dflt.org or 480.488.6131