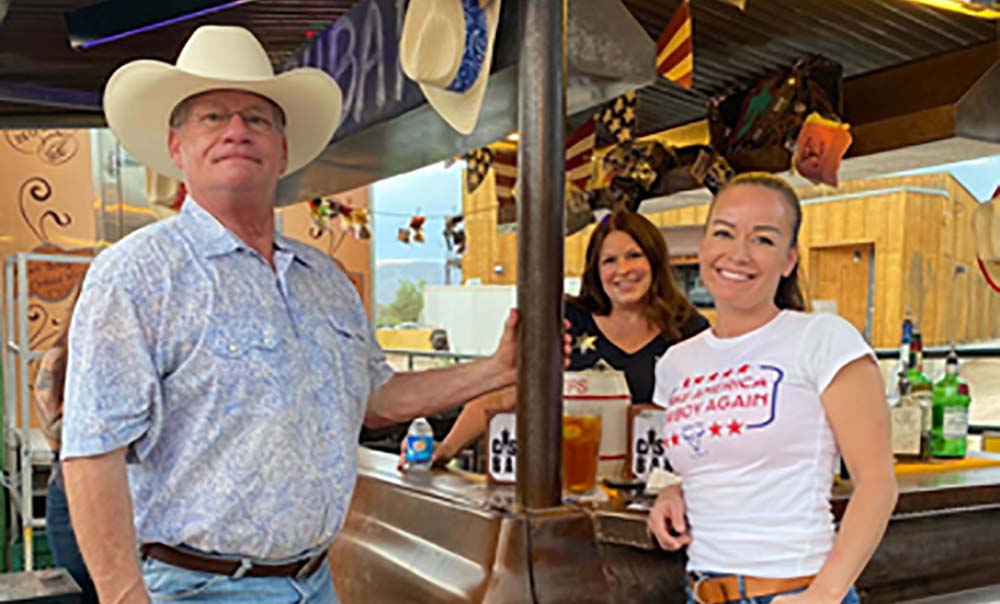 Emma Scott
(Editor's note: while this article was written just prior to Larry's passing, Sonoran News did delay publishing out of respect for the Wendt family and friends)
PHOENIX — Nestled in the saguaro-covered hills of the northern Phoenix cowboy town of Cave Creek sits a hidden gem: The Buffalo Chip Saloon. The saloon, famous for its live bull riding nights which attract roughly 4,000 spectators, was making one million dollars a month pre-pandemic.

During the height of enforced health and safety restrictions, the saloon was making less than a tenth of what it previously made.
"We were closed for takeout only for three months, and then an 8 p.m. curfew for a couple of months, and then under severe distancing and face mask requirements for six months. So really we're just now kind of getting back on top," owner Larry Wendt said.
Wendt had to lay off over 70 staff to be able to stay open, as well as put a stop to entertainment such as live music, dancing and bull riding due to social distancing regulations. The business is currently still under stadium law, which means that it can hold 500 or more people but the amount of people coming in and out has to be controlled.

"We don't have a strict social distancing or any facemask requirements, but we do kind of limit the number of people in and out. The reason for that is quite frankly, we just cannot hire enough staff to keep up with the demand that we've got. There is a lot of pent up demand out there from COVID to get out and see bull riding or dance or listen to a live band and eat some good, award-winning barbecue," Wendt said.

Phoenix Magazine voted the establishment "Best of the Valley," and True West awarded it "Best Western Saloon," calling it one of the "last truly great cowboy saloons."

The saloon has faced many hardships over the years. The original Buffalo Chip Saloon, built in 1951, burned down in 2015 at the hands of an arsonist. It was rebuilt in 2017 after major fundraising. Wendt said his business is finally starting to recover from the pandemic, but it will take some time to recover completely. The Buffalo Chip now makes about $500,000 per month, compared to the one million it was making before the pandemic hit.

Angela Stormer, manager of the saloon, said the period after COVID-19 began to affect businesses was an extremely stressful, emotional and an uncertain time for her, as well as everyone who needs to work to get by.

"We had about 130 employees at the time, and a month into COVID – we had three left. It was very scary. As a mother, I was scared, and I will never forget the day Larry told us three office employees not to worry. He literally found jobs around this vacant, closed down restaurant for us to do and paid us with his own personal money just so we could pay our bills and feed our children," Stormer said.
Cave Creek Mayor Ernie Bunch said that lockdown restrictions seriously impacted the town. Cave Creek is a popular western tourist attraction and entertainment area, but with saloons and places of mass gatherings closed, many people lost their jobs and the town and its residents and businesses suffered financially.

"The story of the Buffalo Chip is about resiliency of the brand. COVID started in March of 2020, and just five years before that on Thanksgiving Day the place burned to the ground. The resiliency of the ownership makes it a special story; we're talking in a period of five years, two major catastrophes affected that business. In one of them, it was completely destroyed, and then the other brought it to its knees, but it's back," Mayor Bunch said.

Mayor Bunch said that once the valley lost Rawhide, the western atmosphere kind of disappeared from the area, but the Buffalo Chip brings to Cave Creek what Rawhide brought to Scottsdale.

"The Buffalo Chip is just another prime example of what Cave Creek has to offer the valley," Mayor Bunch said.
The saloon might be Cave Creek's main attraction, and for good reason. The venue is family friendly and hosts a wide array of events aside from bull riding, such as dance lessons, sports game watch parties and live music.

Wendt said Waylon Jennings, Garth Brooks and Asleep at the Wheel and many more have played at his business.
As for the main attraction, about 20-30 amateur and professional bull riders are recruited from all over the country for every show. Occasionally, a spectator can ride a bull as long as they haven't been drinking and they sign a waiver.

Luc Pascale, 21, said he's ridden over 100 bulls at the Buffalo Chip. For those who are less daring, there is a rideable mechanical bull at the saloon.

As well as bull riding, there's mutton bustin' on Friday nights – which is when kids younger than 10 years old ride a sheep for as long as they can hold on.

"They wear their cowboy hats and everything, but these kids hang on to the sheep and run across the arena, and it's just fun to watch," Wendt said.

Kelley Francis, digital communications specialist for the town of Cave Creek, said that her family has been going to the Chip for the last 20 years.

"We don't have many places like the Chip and Harold's and the other businesses in town, and it's been around for a long time and that speaks to the heritage of this town. I think it's relevant for places like the Chip to succeed to keep the western heritage that a lot of people from around the world adore," Francis said.