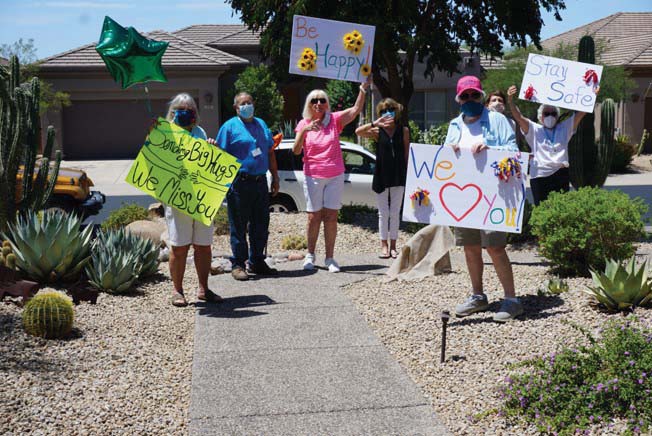 CAREFREE – The delight of older residents from the Foothills Caring Corps' "Spread Joy Convoy" is unmistakable to the volunteers bringing these seniors tokens of good cheer along with a caring smile and wave. The volunteer-driven nonprofit 501(c)(3) organization dedicated to promoting independence for seniors and adults with disabling conditions organized this joyful parade of friendly visits to connect with "neighbors" at their home who due to the current public health crisis can feel more isolated than ever before.
Twice a week in Northeast Valley areas served by the Foothills Caring Corps, volunteers decorate the organization's vans and their own vehicles to bring the people it serves, also known as "neighbors," gift bags filled with sweet treats, a face mask, word puzzles and caring messages.

The volunteers and staff receive more than they give during the convoy stops.
"Seeing the smiling faces of our neighbors when we show up honking in our decorated vehicles and carrying signs with happy messages is so very gratifying," said Michelle Moore, a volunteer from north Phoenix. "Especially now, when we haven't seen them recently and they're not able to get out much, it's a relief to see they're doing okay."

The agency, which recently celebrated 20 years of serving the community, provides a variety of invaluable services including medical and van transportation, friendly visits, mobile meals, shopping assistance and more for northeast Valley residents.