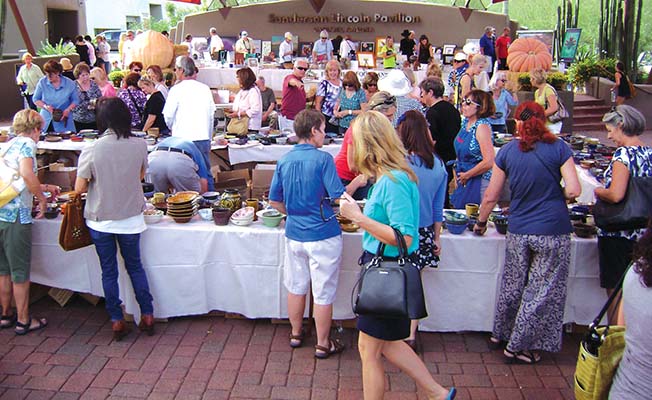 By Maja Pierce
This year's Empty Bowls Project, a fundraiser for Foothills Food Bank, will take place online beginning Tuesday, September 1st. The event was migrated online in consideration of public health measures due to COVID-19.
Empty Bowls is a grassroots effort by artists and crafts people around the world who support charitable organizations by raising money to feed the hungry in their communities.

The idea for the Empty Bowls Project began in the early '90s in a small town in Michigan. Empty Bowls founders Lisa Blackburn and John Hartom wanted to raise charitable funds for their community. Student artists within their town made dozens of ceramic bowls and invited the community to come to lunch. They served soup and bread, then donated 100% of the proceeds they raised to their local food bank. After becoming an international entity, Empty Bowls established two tenants for anyone wanting to start an Empty Bowls movement in their own community. The first requirement being that not a dime of the proceeds can be spent on anything other than to give 100% of the proceeds to the beneficiary organization, and the beneficiary organization's primary goal must be to feed the hungry.

"I read about it in 1997 that it was going on in Michigan and I thought how cool it was that I lived in the community of Cave Creek where we have tons of artists and none of us are rich. This is something we could do for the community to give back for the fact that we all get to make a decent living, at least a survivable living, doing our art in our community. The community supports us so let's support our community," said Carole Perry, organizer of the annual Foothills Foodbank Empty Bowls fundraiser.

After spending a few years helping Phoenix with their Empty Bowls project and donating bowls from local artists in town, Perry helped the Foothills Food Bank start their own Empty Bowls project in 2000.

Throughout the years, the event has been held at various locations including Center of El Pedregal, the Center of Carefree, and in recent years, Harold's Cave Creek Corral. The food has also been donated by various donors most of which were the hosts of the event. Harold's donates all the food, water, and majority of their establishment to the cause every year now.

"I think by the second year we were also including an art auction because so many artists in the Sonoran Arts League who didn't work with clay wanted to support it. So we started doing an art auction up on the stage of El Pedregal," said Perry.

The art auction has been online for years now, however this will be the first time the bowls will also be purchased online. Normally, when someone comes to the event, they pick out their bowl, make a donation, eat, socialize and get to keep the bowl they picked at the end of the night. However, this year due to the pandemic, there have been some changes.

Typically anyone can come eat at the event whether they donate or not however this year, in order to still encourage people to donate despite the event being online, Empty Bowls encourages people to donate despite the event being online, Empty Bowls is requiring a $15 donation fee. Bowls are also hand picked for donors this year. Donors can purchase their bowl online at the Foothills Food Bank website, and come pick it up anytime between October 12-16 from 12-5 p.m. at a couple of different locations which will be announced on Foothills Food Bank website foothillsfoodbank.com, and social media.

Each donor may keep their bowl and it will come with a gift certificate redeemable at Harold's Cave Creek Corral for one spaghetti dinner meal anytime between October 19-23. The art auction will be announced on October 16 at 1:00 p.m. then the event will officially close. If you have questions or concerns about participating, Carole Perry can be reached at 480-488-6070.