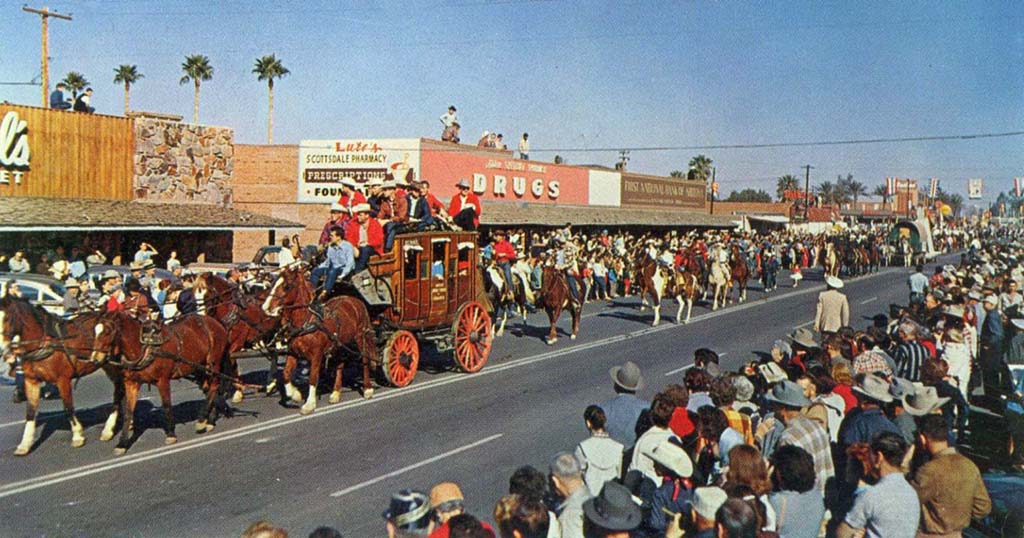 The 67th annual Scottsdale Parada del Sol parade & trail's end festival on Feb. 8 promises to be another extravaganza with our "western legends" theme this year for the parade entries," says parada president wendy springborn.  "We are proud to honor the Hopi and Navajo Code Talkers this year as Grand Marshals.   Former Navajo President and code talker, Peter McDonald, will ride in the Parade and will also serve as the Honorary Chair of the Arizona Indian Festival.  Hopi Frank Chapella will be represented by Elida Chapella, his wife and Velma Wadsworth will represent her Code Talker husband, Orville Wadsworth.
"Western Legends," the Parada theme this year honors the World War II Code Talkers. The Code Talkers Recognition Act of 2008 was signed into law by President Bush to honor the 33 tribes who used their languages as secret code to communicate tactical messages in the field.   These tribes conveyed their messages by telephone and radio in their native languages.  The language codes were never broken by the Japanese who at the start of the war had broken every code developed for communication.
The US Marine Corps recruited more than 420 bilingual Navajo Code Talkers to serve in the Pacific theater.  Peter McDonald was a 15-year-old boy when he was recruited to serve in 1944 and ultimately went to Guam and China during the War. McDonald says memorizing creation stories as a child is why he was able to memorize the words needed as a Code Talker. Navajos started learning their history early through oral storytelling and he believes that was why he was able to become a Code Talker. 
The ten Hopi Code Talkers who served during WWII in the Pacific theater used the Hopi "lavayii" (language) to baffle the Japanese intelligence and transmitted secret coded radio messages to one another during combat. Their military actions also saved countless lives of American soldiers and contributed to winning the war in the Pacific.  This information was kept secret until the 1960's when the Code Talker operations were declassified.  Hopi Code Talkers seldom talked about military service since their Hopi tradition held that once your military duties were done, you left what you did or saw behind.  Hopi men go through a cleansing ritual to remove those "bad feelings" before they are allowed entry into their home village. The last Hopi Code Talker passed away in October 2010.
The Scottsdale All Star Awards will be presented by Mayor Jim Lane on the Silverado stage. These are individuals are Scottsdale community members who have shown exceptional achievement for the City. The "Stars" this year are Gerd Wuestemann for Civic Engagement as "Citizen of the Year," Robyn Carlson "Coach of the Year for Girls Soccer Team" (State Champions for 3 years), Bob Thornburgh "State Champion Boys Swim and Dive Team,"  Zachary Weiler, "Police Officer of the Year," Jan Gardner, Arcadia Band and Orchestra Director for "Winning both divisions for Marching Bands in Arizona," Jeff Mills, "Firefighter of the Year," Jason Mohns of Saguaro High School was noted as "High School Coach of the Decade," and Terry Erickson won the Scottsdale "Drinkwater Award" for his dedication to the Mighty Mud Mania and Parada Parade
Horse lovers will revel in the sheer beauty of the variety of horses in this 120-entry parade. There are horse-drawn carriages, dancing Spanish horses, ponies, pony carts, buckboards, and stagecoaches, all parade-festooned for their debuts. "Children especially love the horses, but adults are also thrilled to be so close to the horses," said Springborn. "We have mounted horse riders from the Maricopa County Sheriff's Posse, Hashknife Pony Express riders, the Scottsdale Charros, and 50 Prescott area riders," she said. "We focus on the 'Spirit' of the old west and lore that has attracted visitors to Scottsdale for 67 years." 
After the Parade, Old Town becomes the Trail's End street festival with live music of the Raun Alosi Band, Pearl Ridge, Mogollon and the Herndon Brothers.  The Trail's End Festival features a Cowboy Kids Corral filled with farm animals, bouncy houses, cowboy drama and horse rides. The Fiesta Stage is scheduled with Hispanic singers and dancing.   
The Scottsdale Parada del Sol was created by former members of the Scottsdale Jaycees, a vibrant leadership training organization until 2009. A few of those leaders regrouped in 2009 and recreated two new organizations who manage today's Parade and Rodeo. "We are proud to manage the Parade and Festival and encourage others to support and protect this 67-year historic, multi-cultural community event," says Springborn. "Chris Lyman, Wendy Springborn, Kim Chiappetti and our small group of volunteers are committed to Scottsdale's Parada del Sol Parade and Trail's End Festival," said Treasurer Don Chiappetti.
The Scottsdale Western Week events in Old Town start on Feb. 1 and go through Feb. 9, with events scheduled as part of ScottsdaleWesternWeek.com. On Saturday there will be a colorful and fascinating cultural Arizona Indian Festival in the Civic Center Mall from 10:00 am – 6 pm and 10:00 am – 4 pm on Sunday. Arizona's 22 tribes will be demonstrating traditional foods, arts, storytelling and dancing. Then afterward you can enjoy the Arizona Native Edible Experience in the Scottsdale Museum of the West at 6:00 pm. Explore the tastes of the Native Chefs from around the country. Tickets are available on the Arizona Indian Festival website for $25.    
The Scottsdale Parada del Sol is proud to have sponsors who support efforts to keep this Parade and Festival free for our residents and visitors to Scottsdale.  Our Hometown Sponsors this year are The City of Scottsdale, Discount Tire, The Scottsdale Progress and the Scottsdale Independent.  Division sponsors include: Merestone Productions, Entertainment Solutions, AirOne Radio, Coors Light, Sunstate Equipment, Cold Beers and Cheeseburgers, Chapman Auto Group, and the Scottsdale Charros. 
You should plan on coming early with your chairs to find the perfect viewing spot along the route. You can go to ScottsdaleParade.com for more detailed information such as parking. "Like" us on social media on Instagram, Twitter: @ParadaEvents and Facebook @ParadadelSolParade, Instagram: ScottsdaleParada to keep with new additions to these events. We appreciate it.