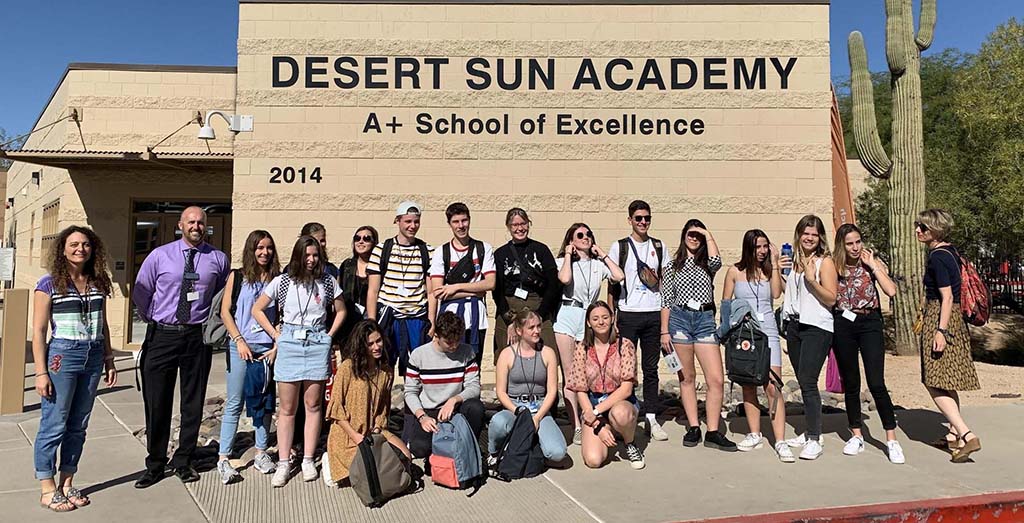 Many CCUSD students learned to say "Bonjour!" to the 17 students from France that came to visit and stay with host families at Cactus Shadows High School for 12 days.
Cave Creek Unified School District became a little more French during a recent visit from Lycee Monge, an internationally-minded, high school in France. Seventeen French students and their 2 English teachers came to Cactus Shadows High School (CSHS) for a reciprocal, 12-day visit and home family stays after an inaugural group of Creeker high schoolers visited them last summer. For many of the French students, this was their first exposure to the U.S. and our desert landscape was is a complete contrast to their hometown of Chambery which is at the foot of the majestic Alps in the countryside of France.
When Cactus Shadows High School students visited them in France last summer, the French students who hosted took the American friends to cheese-making factories, beautiful hikes in the mountains and to school. In turn, CSHS students took their French friends to football games, rodeos and the Grand Canyon. The CSHS French Honor Society invited them to a typical American breakfast and they even did community service at Desert Sun Academy, a local elementary school that houses an impressive French immersion program.
Cave Creek Unified School District World Language Director, Cristina Ladas, established the initial sister school partnership with the help of the French Embassy as a way of extending the district's world language programs beyond the classroom walls. Ladas feels that these sister school partnerships give students authentic opportunities to use the language they are learning at school and to experience first-hand, cultural similarities and differences. Today's younger generations are constantly connected through social media but seeing each other in person is quite a novelty establishing lifelong global friendships.
For more information about Cave Creek Unified School District's World Language Programs, contact Director Cristina Ladas at cladas@ccusd93.net