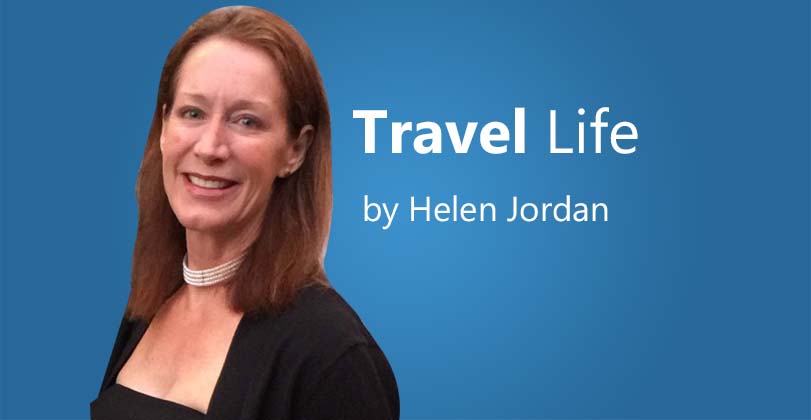 In the film La Dolce Vita, charming gossip columnist Marcello Rubini wanders through the streets of Rome and chronicles the frivolous and superficial existence of aristocrats, movie stars, playboys and high society. I had a taste of the "sweet life" when I visited fashionable Milan, artistic Florence, and glamorous St. Jean Cap-Ferrat with my partners from the Four Seasons Hotels. They offer a self-drive road trip in classic cars in your choice of a two-seat 1960 Giulietta Spider, a 1958 Mercedes-Benz 190 SL Cabrio or a 1956 Porsche 356 Speedster. Alas, we did not take the cars out on the road.
We began in the center of Milan's fashion district with lunch in the buzzy lobby bar of the Four Seasons hotel, a 15th century convent turned into a sophisticated garden retreat. You can sleep under frescoes in high-ceilinged rooms or just come to watch the local high society ladies who lunch and local business folk who stop in for the atmosphere.
We took in the stunning views of the city while walking the rooftop of the imposing cathedral Duomo di Milano just steps away from modern luxury designer shops. Lake Como, a leisurely 1 ½ hour drive or even quicker train ride from Milan, makes for a lovely day trip. I recommend a boat tour of the lake with stops for shopping and lunch in the pretty villages. As we bid adieu to Milan, our hosts surprised us with negroni cocktails, antipasti and a private opera performance in the hotel.
A fast train took us to Florence where we spent two nights at the Four Seasons. The hotel is comprised of a Renaissance palazzo and villa separated by an immense 11-acre private park. There are not many papal residences where you can sleep, so take advantage of the opportunity here as it was once owned by Pope Leo XI, who served only 26 days. During our brief stay, we took a walking tour of the city and saw the Ponte Vecchio, Duomo Santa Maria Novella, Leonardo da Vinci's Vineyard, the Bardini Gardens, and the Laurentian Library where masters (including Michelangelo) studied and honed their crafts).
Our final stop was the chic French Riviera where we stayed at the palatial Grand Hotel du Cap-Ferrat. It has an enviable perch overlooking the Mediterranean and a guest book signed by everyone from Elizabeth Taylor to Winston Churchill. Our exploration of the Riviera included a scenic drive along the coast and visit to the world-renowned Fragonard perfume house, a walk in the quaint hilltop village of Eze, lunch at La Mère Germaine in Villefranche-sur-Mer, and a peek into how the ultra-rich lived in earlier times at Villa Ephrussi de Rothschild. The pièce de résistance was a private boat ride from Cap-Ferrat to Monte Carlo for dinner and stroll through the casino.
Experience the art of travel and enjoy a memorable journey on the scenic roads in one or all three amazing cities with a classic car road trip. From buzzy Milan to the inspiring ochre lands of Tuscany to the azure sea of the Mediterranean, you can live your own glamorous Dolce Vita.
Helen Jordan is the owner of Jordan Luxury Travel, an independent affiliate of Brownell Travel, a member of Virtuoso. She can be reached at helen@jordanluxurytravel.com.
Local Travel Agent Joins "The 1%"
Helen Jordan, Founder of Jordan Luxury Travel in Tempe, recently completed an in-depth training program with Tauck, thus joining less than 1% of the company's worldwide network of travel agents who have successfully completed the program. Founded in 1925, Tauck is a leader in premium quality guided travel with over 120 land journeys and cruises to more than 70 countries and all seven continents. The company has been named both the "World's Best Tour Operator & Safari Outfitter" and the "World's Best River Cruise Line" three times by the readers of Travel + Leisure magazine.
Jordan was enrolled in the company's agent training program Tauck Academy, and by successfully completing its curriculum, she becomes a Tauck Certified agent who qualifies for special benefits and other exclusive opportunities provided by the company. Tauck Academy includes nine hours of intensive classroom training followed by a comprehensive exam. Topics covered include Tauck's history, details of the company's extensive product line, and what separates Tauck's tours and cruises from those of its competitors.
About Jordan Luxury Travel. Jordan Luxury Travel, an affiliate of Brownell Travel and member of Virtuoso, is a full-service travel agency located in Tempe, Arizona. Started in 2017, the company offers leisure travel services, with special areas of focus including luxury cruises, multi-generational family travel, and expertly designed and curated journeys for discerning travelers. Those interested in more information can contact Jordan Luxury Travel at 602-692-9379, or visit their website at www.jordanluxurytravel.com.